As I journey through my life, I've come to realize the importance of family and the love that binds us together. There's no better source of wisdom and inspiration than the sacred texts that have been passed down through generations. That's why I've turned to the Bible to guide me in strengthening my own family bonds and embracing the gifts that come with having a loving, supportive family.
In moments of joy, as well as times of hardship, I find solace in the Bible verses about family love. These verses serve as a reminder that our families are precious gifts, granted to us by our Heavenly Father. As much as we cherish our loved ones, He cherishes us even more.
In this blog post, we'll explore some of these powerful verses that have made an impact on my life and have deepened the love I have for my family. Follow along as we delve into some of the areas where our family relationships can benefit from the everlasting wisdom of the Bible. Together, let's strengthen our family bonds through scripture to create a unified, loving environment that our children will be proud to carry on for generations to come.
Strengthening Family Bonds Through Scripture
1. Proverbs 17:6
Children's children are the crown of old men; and the glory of children is their father.
2. Proverbs 3:5-6
Trust in the Lord with all thine heart; and lean not unto thine own understanding. In all thy ways acknowledge him, and he shall direct thy paths.
3. Ephesians 4:2-3
With all lowliness and meekness, with longsuffering, forbearing one another in love; Endeavouring to keep the unity of the Spirit in the bond of peace.
4. Ephesians 5:21
Submitting yourselves one to another in the fear of God.
5. Colossians 3:14
And above all these things put on charity, which is the bond of perfectness.
6. Hebrews 10:24-25
And let us consider one another to provoke unto love and to good works: Not forsaking the assembling of ourselves together, as the manner of some is; but exhorting one another: and so much the more, as you see the Day approaching.
7. Romans 12:9-10
Let love be genuine. Abhor what is evil; hold fast to what is good. Love one another with brotherly affection. Outdo one another in showing honor.
8. 1 John 4:11
Beloved, if God so loved us, we also ought to love one another.
9. Proverbs 15:17
Better is a dinner of herbs where love is than a fattened ox and hatred with it.
10. Psalm 133:1
Behold, how good and pleasant it is when brothers dwell in unity!
11. Colossians 3:12-13
Put on then, as God's chosen ones, holy and beloved, compassionate hearts, kindness, humility, meekness, and patience, bearing with one another and, if one has a complaint against another, forgiving each other; as the Lord has forgiven you, so you also must forgive.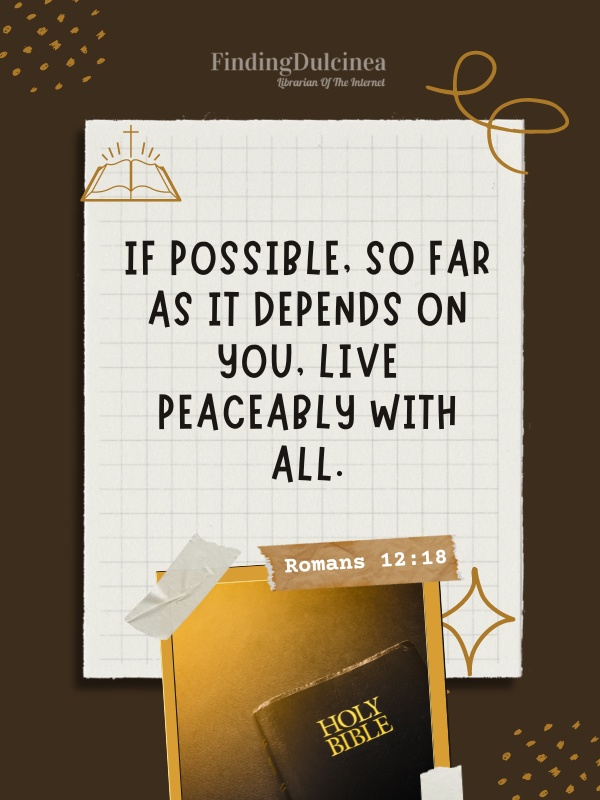 12. Romans 12:18
If possible, so far as it depends on you, live peaceably with all.
13. Proverbs 27:9
Oil and perfume make the heart glad, and the sweetness of a friend comes from his earnest counsel.
14. Ecclesiastes 4:9-10
Two are better than one because they have a good return for their labor. For if either of them falls, the one will lift up his companion.
15. Acts 2:46-47
And day by day, attending the temple together and breaking bread in their homes, they received their food with glad and generous hearts, praising God and having favor with all the people. And the Lord added to their number day by day those who were being saved.
16. 1 Thessalonians 4:9
Now concerning brotherly love you have no need for anyone to write to you, for you yourselves have been taught by God to love one another.
17. 1 Peter 4:8
Above all, keep loving one another earnestly, since love covers a multitude of sins.
18. 1 Corinthians 1:10
I appeal to you, brothers, by the name of our Lord Jesus Christ, that all of you agree, and that there be no divisions among you, but that you be united in the same mind and the same judgment.
19. Hebrews 13:1
Let brotherly love continue.
20. 1 Corinthians 13:13
And now these three remain: faith, hope, and love. But the greatest of these is love.
More Verses:

1. 110+ Bible Verses About Happiness
2. 90+ Bible Verses About Being Thankful
3. 150+ Bible Verses About Life
4. 120+ Bible Verses About Patience
5. 110+ Bible Verses About Forgiveness
6. 120+ Bible Verses About Pride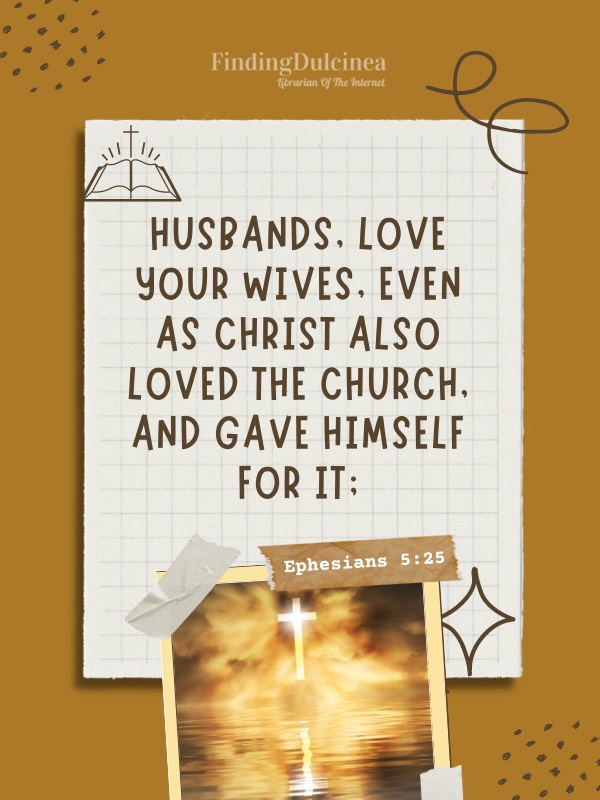 Celebrating Love and Marriage in Verses
21. Genesis 2:24
Therefore shall a man leave his father and his mother, and shall cleave unto his wife: and they shall be one flesh.
22. Song of Solomon 3:4
It was but a little that I passed from them, but I found him whom my soul loves: I held him, and would not let him go, until I had brought him into my mother's house and into the chamber of her that conceived me.
23. Ephesians 5:25
Husbands, love your wives, even as Christ also loved the church, and gave himself for it;
24. Ephesians 4:32
And be ye kind one to another, tenderhearted, forgiving one another, even as God for Christ's sake hath forgiven you.
25. Colossians 3:18-19
Wives, submit yourselves unto your own husbands, as it is fit in the Lord. Husbands, love your wives, and be not bitter against them.
26. Proverbs 18:22
Whoso finds a wife finds a good thing and obtains favour of the LORD.
27. Proverbs 31:10
Who can find a virtuous woman? for her price is far above rubies.
28. 1 Peter 3:7
Likewise, ye husbands, dwell with them according to knowledge, giving honour unto the wife, as unto the weaker vessel, and as being heirs together of the grace of life; that your prayers be not hindered.
29. Song of Solomon 8:6
Set me as a seal upon your heart, as a seal upon your arm, for love is strong as death, jealousy is fierce as the grave. Its flashes are flashes of fire, the very flame of the Lord.
30. Ecclesiastes 9:9
Enjoy life with the wife whom you love, all the days of your vain life that he has given you under the sun, because that is your portion in life and in your toil at which you toil under the sun.
31. 1 Corinthians 7:3
Let the husband render to his wife the affection due her, and likewise also the wife to her husband.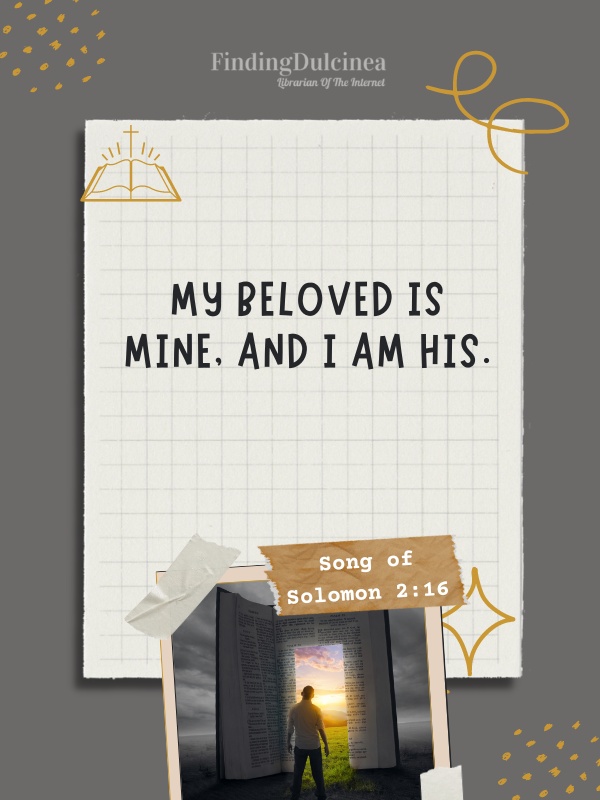 32. Song of Solomon 2:16
My beloved is mine, and I am his.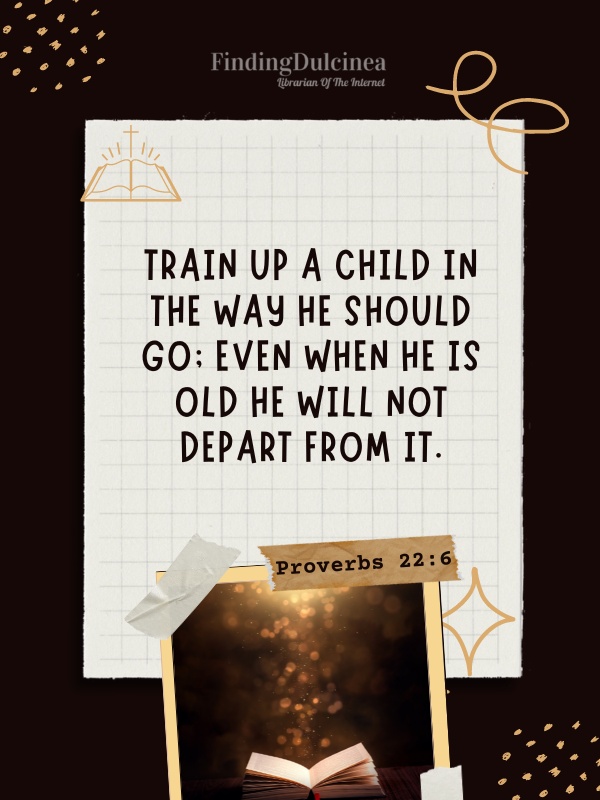 Parenting Wisdom Found in the Bible
33. Proverbs 22:6
Train up a child in the way he should go: and when he is old, he will not depart from it.
34. Deuteronomy 6:6-7
And these words, which I command thee this day, shall be in thine heart: And thou shalt teach them diligently unto thy children, and shalt talk of them when thou sittest in thine house, and when thou walkest by the way, and when thou liest down, and when thou risest up.
35. Ephesians 6:4
And, ye fathers, provoke not your children to wrath: but bring them up in the nurture and admonition of the Lord.
36. Proverbs 29:17
Correct thy son, and he shall give thee rest; yea, he shall give delight unto thy soul.
37. Colossians 3:21
Fathers, provoke not your children to anger, lest they be discouraged.
38. Proverbs 31:26
She opens her mouth with wisdom, and the teaching of kindness is on her tongue.
39. Proverbs 19:18
Discipline your son, for there is hope; do not set your heart on putting him to death.
40. Psalm 127:3
Behold, children are a heritage from the Lord, the fruit of the womb a reward.
41. Proverbs 1:8-9
Hear, my son, your father's instruction, and forsake not your mother's teaching, for they are a graceful garland for your head and pendants for your neck.
42. Proverbs 23:13-14
Do not withhold discipline from a child; if you strike him with a rod, he will not die. If you strike him with the rod, you will save his soul from Sheol.
43. Proverbs 6:20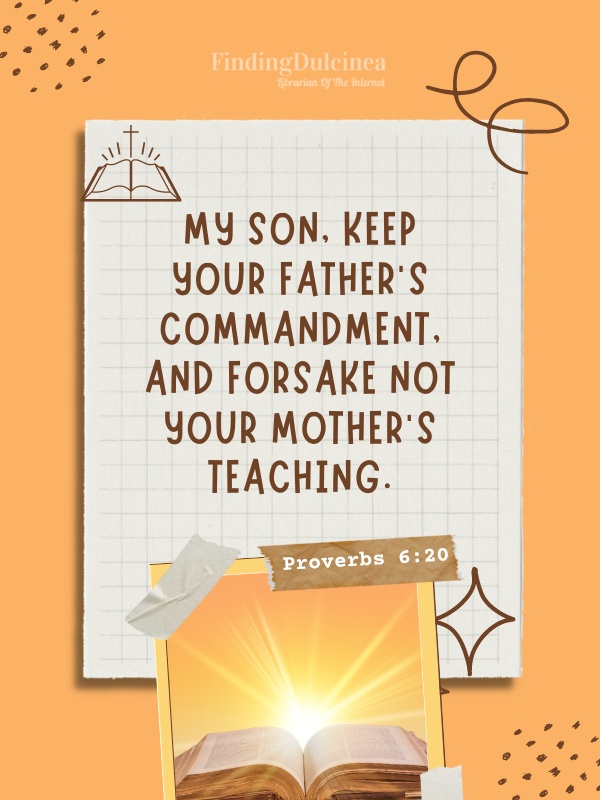 My son, keep your father's commandment, and forsake not your mother's teaching.
44. Proverbs 23:24-25
The father of the righteous will greatly rejoice; he who fathers a wise son will be glad in him. Let your father and mother be glad; let her who bore you rejoice.
45. Proverbs 13:24
Whoever spares the rod hates his son, but he who loves him is diligent to discipline him.
46. Titus 2:7-8
Show yourself in all respects to be a model of good works, and in your teaching show integrity, dignity, and sound speech that cannot be condemned, so that an opponent may be put to shame, having nothing evil to say about us.
47. Deuteronomy 4:9
Only take care, and keep your soul diligently, lest you forget the things that your eyes have seen, and lest they depart from your heart all the days of your life. Make them known to your children and your children's children.
48. 2 Timothy 1:5
I am reminded of your sincere faith, a faith that dwelt first in your grandmother Lois and your mother Eunice and now, I am sure, dwells in you as well.
49. Joshua 24:15
And if it is evil in your eyes to serve the Lord, choose this day whom you will serve, whether the gods your fathers served in the region beyond the River, or the gods of the Amorites in whose land you dwell. But as for me and my house, we will serve the Lord.
50. 1 Timothy 5:8
But if anyone does not provide for his relatives, and especially for members of his household, he has denied the faith and is worse than an unbeliever.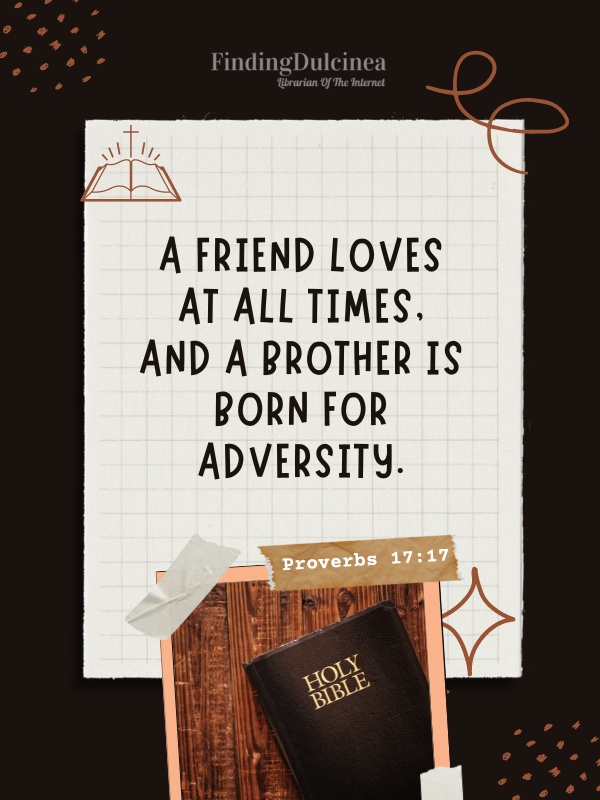 Nurturing Sibling Relationships with Scripture
51. Proverbs 17:17
A friend loves at all times, and a brother is born for adversity.
52. Proverbs 18:24
A man of many companions may come to ruin, but there is a friend who sticks closer than a brother.
53. 1 John 3:11
For this is the message that you have heard from the beginning, that we should love one another.
54. Romans 12:10
Love one another with brotherly affection. Outdo one another in showing honor.
55. 1 Peter 1:22
Having purified your souls by your obedience to the truth for a sincere brotherly love, love one another earnestly from a pure heart.
56. 1 Thessalonians 5:11
Therefore encourage one another and build one another up, just as you are doing.
57. 1 Timothy 5:1-2
Do not rebuke an older man but encourage him as you would a father, younger men as brothers, older women as mothers, younger women as sisters, in all purity.
58. Hebrews 13:1
Let brotherly love continue.
59. Ephesians 4:32
Be kind to one another, tenderhearted, forgiving one another, as God in Christ forgave you.
60. Matthew 18:21-22
Then Peter came up and said to him, "Lord, how often will my brother sin against me, and I forgive him? As many as seven times?" Jesus said to him, "I do not say to you seven times, but seventy times seven."
61. Romans 12:16-18
Live in harmony with one another. Do not be haughty but associate with the lowly. Never be wise in your own sight. Repay no one evil for evil, but give thought to do what is honorable in the sight of all. If possible, so far as it depends on you, live peaceably with all.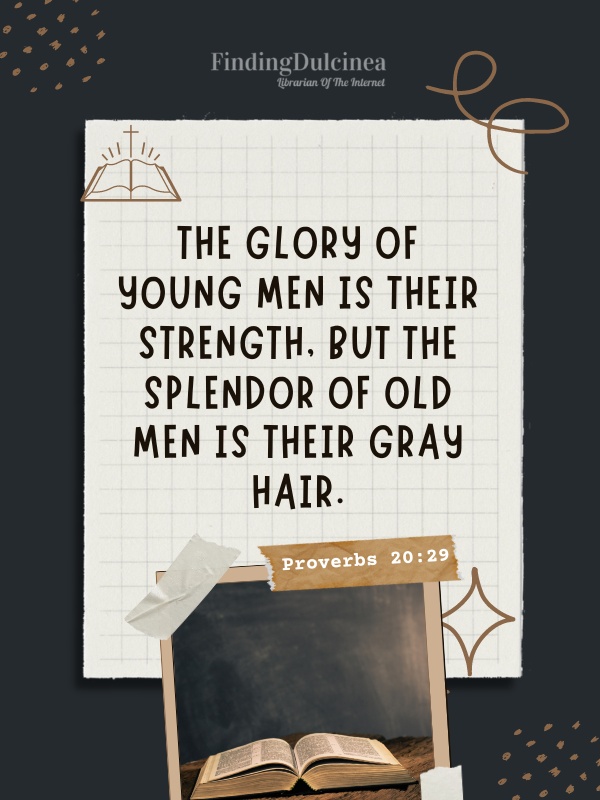 62. Proverbs 20:29
The glory of young men is their strength, but the splendor of old men is their gray hair.
63. 1 John 4:21
And this commandment we have from him: whoever loves God must also love his brother.
64. Genesis 4:9
Then the Lord said to Cain, "Where is your brother Abel?" "I don't know," he replied. "Am I my brother's keeper?"
65. Acts 17:26
And He has made from one blood every nation of men to dwell on all the face of the earth, and has determined their preappointed times and the boundaries of their dwellings.
Healing Family Conflicts Through Forgiveness
66. Colossians 3:13
Bear with each other and forgive one another if any of you has a grievance against someone. Forgive as the Lord forgave you.
67. Ephesians 4:26
In your anger do not sin: Do not let the sun go down while you are still angry.
68. Matthew 6:14
For if you forgive other people when they sin against you, your heavenly Father will also forgive you.
69. James 1:19-20
My dear brothers and sisters, take note of this: Everyone should be quick to listen, slow to speak and slow to become angry, because human anger does not produce the righteousness that God desires.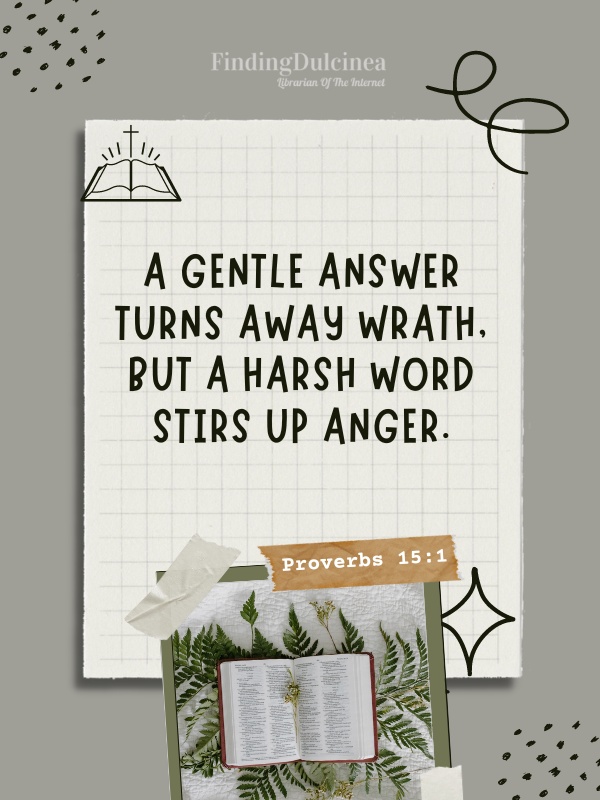 70. Proverbs 15:1
A gentle answer turns away wrath, but a harsh word stirs up anger.
71. Romans 12:19
Do not take revenge, my dear friends, but leave room for God's wrath, for it is written: "It is mine to avenge; I will repay," says the Lord.
72. Proverbs 16:7
When the Lord takes pleasure in anyone's way, he causes their enemies to make peace with them.
73. James 5:16
Therefore confess your sins to each other and pray for each other so that you may be healed. The prayer of a righteous person is powerful and effective.
74. Philippians 2:3-4
Do nothing from selfish ambition or conceit, but in humility count others more significant than yourselves. Let each of you look not only to his own interests, but also to the interests of others.
75. Proverbs 10:12
Hatred stirs up conflict, but love covers over all wrongs.
76. 1 Peter 3:8-9
Finally, all of you, have unity of mind, sympathy, brotherly love, a tender heart, and a humble mind. Do not repay evil for evil or reviling for reviling, but on the contrary, bless, for to this you were called, that you may obtain a blessing.
77. Matthew 5:23-24
So if you are offering your gift at the altar and there remember that your brother has something against you, leave your gift there before the altar and go. First be reconciled to your brother, and then come and offer your gift.
78. Luke 6:27-28
But I say to you who hear, Love your enemies, do good to those who hate you, bless those who curse you, pray for those who abuse you.
79. Matthew 18:15
If your brother sins against you, go and tell him his fault, between you and him alone. If he listens to you, you have gained your brother.
80. Galatians 6:1
Brothers, if anyone is caught in any transgression, you who are spiritual should restore him in a spirit of gentleness. Keep watch on yourself, lest you too be tempted.
Building a God-Centered Family Legacy
81. Joshua 24:15
And if it seems evil to you to serve the Lord, choose for yourselves this day whom you will serve, whether the gods which your fathers served that were on the other side of the River, or the gods of the Amorites, in whose land you dwell. But as for me and my house, we will serve the Lord.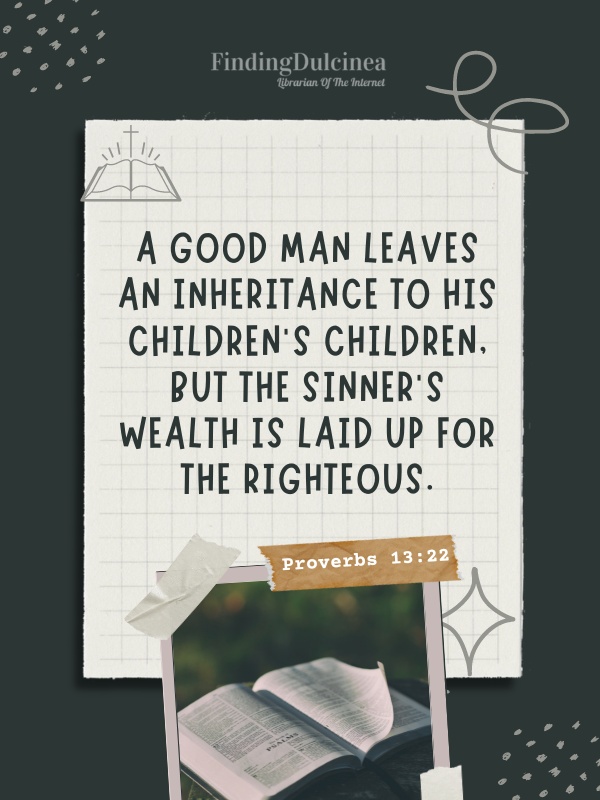 82. Proverbs 13:22
A good man leaves an inheritance to his children's children, but the sinner's wealth is laid up for the righteous.
83. Deuteronomy 6:4-9
Hear, O Israel: The Lord our God, the Lord is one. Love the Lord your God with all your heart and with all your soul and with all your strength. These commandments that I give you today are to be on your hearts. Impress them on your children. Talk about them when you sit at home and when you walk along the road, when you lie down and when you get up. Tie them as symbols on your hands and bind them on your foreheads. Write them on the doorframes of your houses and on your gates.
84. Psalm 78:4
We will not hide them from their children, but tell to the coming generation the glorious deeds of the Lord, and his might, and the wonders that he has done.
85. Psalm 103:17
But from everlasting to everlasting the Lord's love is with those who fear him, and his righteousness with their children's children.
86. Proverbs 20:7
The righteous lead blameless lives; blessed are their children after them.
87. Isaiah 54:13
All your children shall be taught by the Lord, and great shall be the peace of your children.
88. 1 Chronicles 29:19
Grant to Solomon my son a whole heart that he may keep your commandments, your testimonies, and your statutes, performing all, and that he may build the palace for which I have made provision.
89. Malachi 2:15
Has not the one God made you? You belong to him in body and spirit. And what does the one God seek? Godly offspring. So be on your guard, and do not be unfaithful to the wife of your youth.
90. Psalm 112:1-2
Praise the Lord! Blessed is the man who fears the Lord, who greatly delights in his commandments! His offspring will be mighty in the land; the generation of the upright will be blessed.
91. Ephesians 6:1-4
Children, obey your parents in the Lord, for this is right. ""Honor your father and mother" - which is the first commandment with a promise - "so that it may go well with you and that you may enjoy long life on the earth." Fathers, do not exasperate your children; instead, bring them up in the training and instruction of the Lord.
92. Proverbs 22:6
Train up a child in the way he should go; even when he is old he will not depart from it.
93. Psalm 127:3-5
Behold, children are a heritage from the Lord, the fruit of the womb a reward. Like arrows in the hand of a warrior are the children of one's youth. Blessed is the man who fills his quiver with them! He shall not be put to shame when he speaks with his enemies in the gate.
94. Deuteronomy 4:9
Only be careful, and watch yourselves closely so that you do not forget the things your eyes have seen or let them fade from your heart as long as you live. Teach them to your children and to their children after them.
95. Proverbs 31:25-28
Strength and dignity are her clothing, and she laughs at the time to come. She opens her mouth with wisdom, and the teaching of kindness is on her tongue. She looks well to the ways of her household and does not eat the bread of idleness. Her children rise up and call her blessed; her husband also, and he praises her.
96. Ecclesiastes 12:1
Remember your Creator in the days of your youth, before the days of trouble come, and the years approach when you will say, "I find no pleasure in them."
97. Proverbs 14:26
Whoever fears the Lord has a secure fortress, and for their children, it will be a refuge.
98. Exodus 20:12
Honor your father and your mother, so that you may live long in the land the Lord your God is giving you.
99. Proverbs 17:6
Grandchildren are the crown of the aged, and the glory of children is their fathers.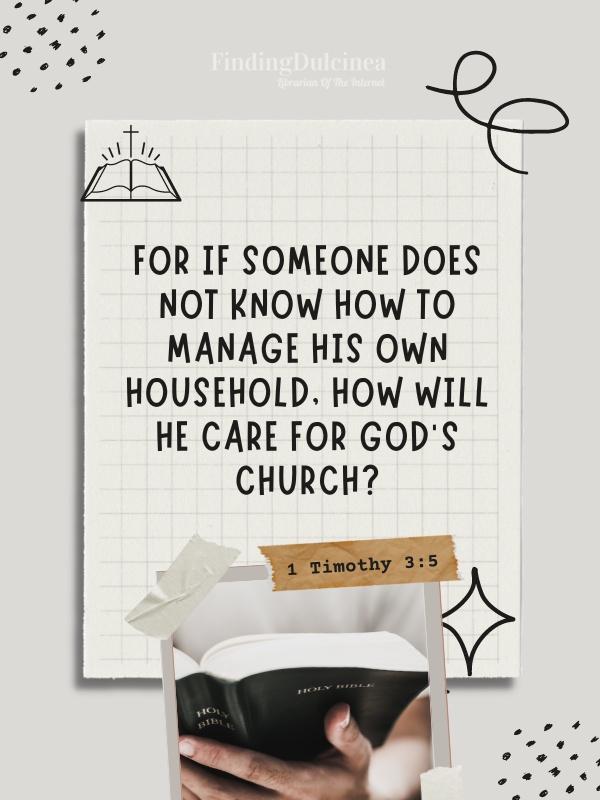 100. 1 Timothy 3:5
For if someone does not know how to manage his own household, how will he care for God's church?
101. Mark 9:36-37
He took a little child whom he placed among them. Taking the child in his arms, he said to them, "Whoever welcomes one of these little children in my name welcomes me, and whoever welcomes me does not welcome me but the one who sent me."
102. 1 Timothy 5:8
But if anyone does not provide for his own, and especially for those of his household, he has denied the faith and is worse than an unbeliever.
103. Acts 16:31
And they said, "Believe in the Lord Jesus, and you will be saved, you and your household."
The timeless wisdom found in these Bible verses about family love serves as a foundation for nurturing, healing, and strengthening the various relationships within our families. From fostering love and forgiveness to celebrating the joys of marriage, these scriptures remind us of the importance of building a God-centered family legacy that transcends generations. By incorporating these powerful verses into our daily lives, we can grow closer to our loved ones and create a family environment filled with love, support, and unity.
It is my hope that by meditating on and sharing these Bible verses about family love, you, too, will be inspired to cherish your family and create lasting connections. May we all continue to lift each other up through our love for one another, just as God has done for us. Remember, the greatest of all virtues is love; let it be the guiding force within your family as you journey through life together.