Gratitude is an essential part of our spiritual journeys and our daily lives. Expressing thanks and praise to God not only strengthens our connection with Him but also encourages us to be more content with what we have. In this sense, I find comfort in knowing there are over 90 bible verses about being thankful.
These powerful verses serve as a constant reminder to live a life filled with gratitude. No matter what season of life I am in or what challenges I may be facing, I can always look to these scriptures to help maintain a heart full of thankfulness.
The Bible verses about being thankful that I'll discuss separate into six categories: Personal Growth, Relationships, Appreciating God's Creation, Gratitude in Tough Times, Blessings Received, and Gratitude in Prayer and Worship. Through these categories, I hope you can uncover the many ways to cultivate a genuine sense of gratitude in all aspects of your life.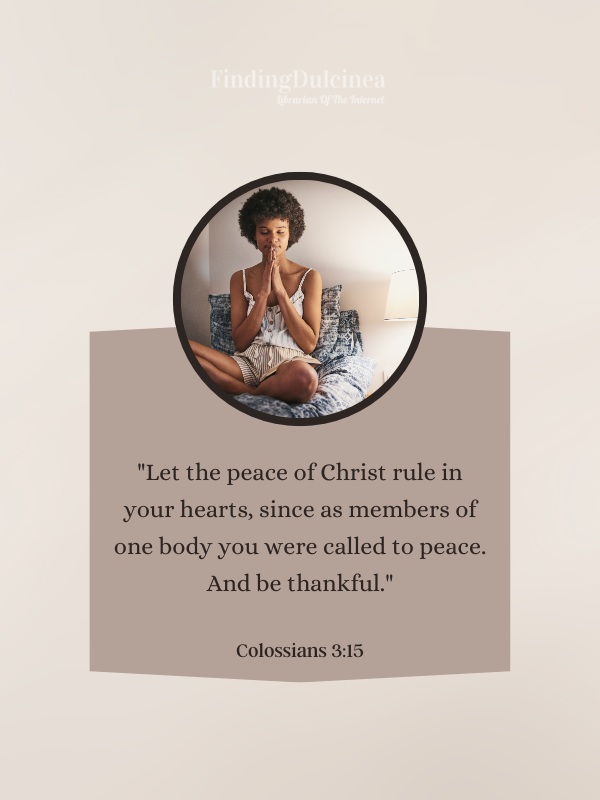 Thankful Verses for Personal Growth
1. Philippians 4:6
"Do not be anxious about anything, but in every situation, by prayer and petition, with thanksgiving, present your requests to God."
2. Colossians 3:15
"Let the peace of Christ rule in your hearts, since as members of one body you were called to peace. And be thankful."
3. Romans 1:21
"For although they knew God, they neither glorified him as God nor gave thanks to him, but their thinking became futile and their foolish hearts were darkened."
4. 1 Thessalonians 5:16-18
"Rejoice always, pray continually, give thanks in all circumstances; for this is God's will for you in Christ Jesus."
5. Psalms 92:1
"It is good to give thanks to the LORD, to sing praises to your name, O Most High."
6. Ephesians 5:20
"Giving thanks always for all things unto God and the Father in the name of our Lord Jesus Christ."
7. 2 Corinthians 4:15
"All this is for your benefit, so that the grace that is reaching more and more people may cause thanksgiving to overflow to the glory of God."
8. Colossians 3:16
"Let the word of Christ dwell in you richly as you teach and admonish one another with all wisdom, and as you sing psalms, hymns and spiritual songs with gratitude in your hearts to God."
9. Psalms 118:24
"This is the day that the Lord has made; let us rejoice and be glad in it."
10. 2 Corinthians 9:11
"You will be enriched in every way so that you can be generous on every occasion, and through us your generosity will result in thanksgiving to God."
11. Romans 12:1
"Therefore, I urge you, brothers and sisters, in view of God's mercy, to offer your bodies as a living sacrifice, holy and pleasing to God—this is your true and proper worship."
12. James 1:17
"Every good gift and every perfect gift is from above, coming down from the Father of lights with whom there is no variation or shadow due to change."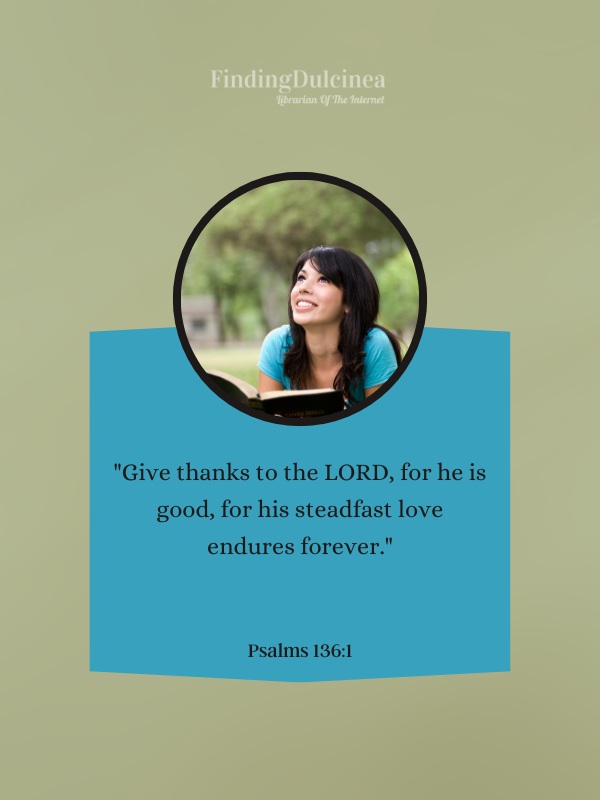 13. Psalms 136:1
"Give thanks to the LORD, for he is good, for his steadfast love endures forever."
14. Hebrews 12:28
"Therefore, since we are receiving a kingdom that cannot be shaken, let us be thankful, and so worship God acceptably with reverence and awe."
15. 1 Chronicles 16:34
"Give thanks to the Lord, for he is good; his love endures forever."
16. Colossians 2:6-7
"So then, just as you received Christ Jesus as Lord, continue to live your lives in him, rooted and built up in him, strengthened in the faith as you were taught, and overflowing with thankfulness."
17. Ephesians 1:16
"I have not stopped giving thanks for you, remembering you in my prayers."
18. Romans 6:17
"But thanks be to God that, though you used to be slaves to sin, you have come to obey from your heart the pattern of teaching that has now claimed your allegiance."
19. 1 Corinthians 15:57
"But thanks be to God! He gives us the victory through our Lord Jesus Christ."
20. 2 Timothy 1:3
"I thank God, whom I serve, as my ancestors did, with a clear conscience, as night and day I constantly remember you in my prayers."
More Verses:

1. 150+ Bible Verses About Life
2. 110+ Bible Verses About Money
3. 160+ Bible Verses About Prayer
4. 120+ Bible Verses About Patience
5. 110+ Bible Verses About Forgiveness
6. 120+ Bible Verses About Pride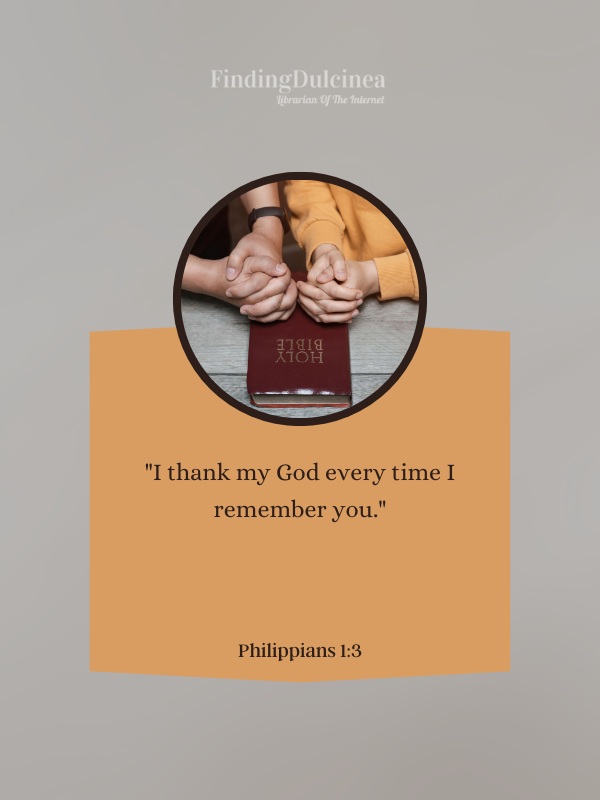 Gratitude Verses for Relationships
21. 1 Corinthians 1:4
"I always thank my God for you because of his grace given you in Christ Jesus."
22. Philippians 1:3
"I thank my God every time I remember you."
23. Colossians 1:3
"We always thank God, the Father of our Lord Jesus Christ, when we pray for you."
24. 1 Thessalonians 1:2
"We always thank God for all of you and continually mention you in our prayers."
25. 2 Thessalonians 1:3
"We ought always to thank God for you, brothers and sisters, and rightly so, because your faith is growing more and more, and the love all of you have for one another is increasing."
26. Philemon 1:4
"I always thank my God as I remember you in my prayers."
27. John 13:34
"A new command I give you: Love one another. As I have loved you, so you must love one another."
28. Proverbs 17:17
"A friend loves at all times, and a brother is born for adversity."
29. 1 Peter 4:8
"Above all, love each other deeply, because love covers over a multitude of sins."
30. Romans 12:10
"Be devoted to one another in love. Honor one another above yourselves."
31. Romans 15:7
"Accept one another, then, just as Christ accepted you, in order to bring praise to God."
32. Galatians 5:13
"You, my brothers and sisters, were called to be free. But do not use your freedom to indulge the flesh; rather, serve one another humbly in love."
33. Ephesians 4:32
"Be kind and compassionate to one another, forgiving each other, just as in Christ God forgave you."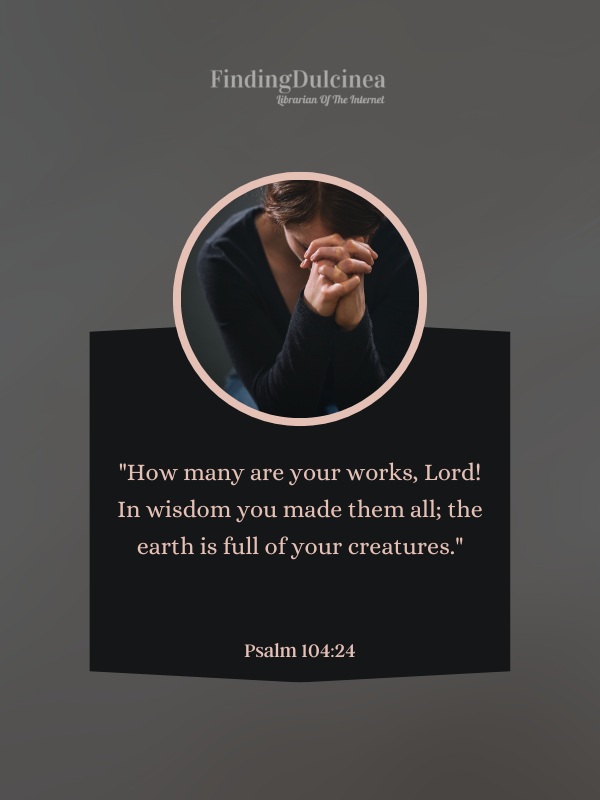 Appreciating God's Creation Verses
34. Psalm 104:24
"How many are your works, Lord! In wisdom you made them all; the earth is full of your creatures."
35. Genesis 1:31
"God saw all that he had made, and it was very good. And there was evening, and there was morning—the sixth day."
36. Psalm 19:1
"The heavens declare the glory of God; the skies proclaim the work of his hands."
37. Isaiah 40:28
"Do you not know? Have you not heard? The Lord is the everlasting God, the Creator of the ends of the earth."
38. Job 12:7-10
"But ask the animals, and they will teach you, or the birds in the sky, and they will tell you; or speak to the earth, and it will teach you, or let the fish in the sea inform you. Which of all these does not know that the hand of the Lord has done this? In his hand is the life of every creature and the breath of all mankind."
39. Psalm 95:3-5
"For the Lord is the great God, the great King above all gods. In his hand are the depths of the earth, and the mountain peaks belong to him. The sea is his, for he made it, and his hands formed the dry land."
40. Nehemiah 9:6
"You alone are the Lord. You made the heavens, even the highest heavens, and all their starry host, the earth and all that is on it, the seas and all that is in them. You give life to everything, and the multitudes of heaven worship you."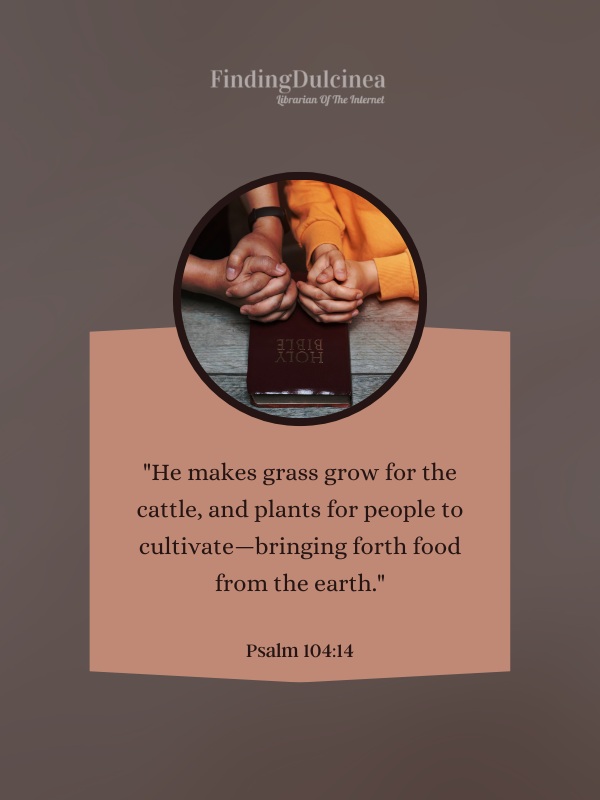 41. Psalm 104:14
"He makes grass grow for the cattle, and plants for people to cultivate—bringing forth food from the earth."
42. Isaiah 55:12
"You will go out in joy and be led forth in peace; the mountains and hills will burst into song before you, and all the trees of the field will clap their hands."
43. Ecclesiastes 3:11
"He has made everything beautiful in its time. He has also set eternity in the human heart; yet no one can fathom what God has done from beginning to end."
44. Numbers 6:24-26
"The LORD bless you and keep you; the LORD make his face to shine upon you and be gracious to you; the LORD lift up his countenance upon you and give you peace."
45. Psalm 65:8
"The whole earth is filled with awe at your wonders; where morning dawns, where evening fades, you call forth songs of joy."
46. Romans 1:20
"For since the creation of the world God's invisible qualities—his eternal power and divine nature—have been clearly seen, being understood from what has been made, so that people are without excuse."
47. Job 38:4-7
"Where were you when I laid the earth's foundation? Tell me, if you understand. Who marked off its dimensions? Surely you know! Who stretched a measuring line across it? On what were its footings set, or who laid its cornerstone—while the morning stars sang together and all the angels shouted for joy?"
Showing Gratitude in Tough Times
48. 1 Peter 5:6-7
"Humble yourselves, therefore, under the mighty hand of God, so that at the proper time he may exalt you, casting all your anxieties on him, because he cares for you."
49. Isaiah 41:10
"So do not fear, for I am with you; do not be dismayed, for I am your God. I will strengthen you and help you; I will uphold you with my righteous right hand."
50. Psalm 34:17
"The righteous cry out, and the Lord hears them; he delivers them from all their troubles."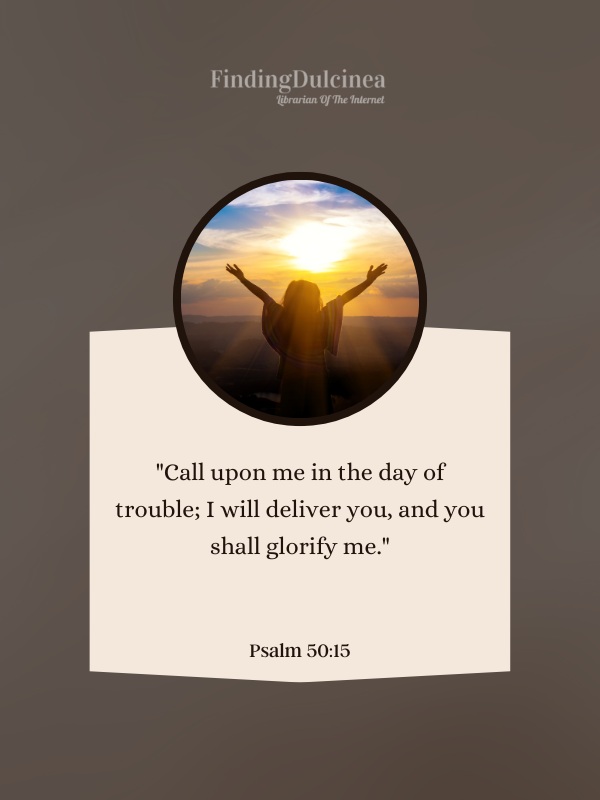 51. Psalm 50:15
"Call upon me in the day of trouble; I will deliver you, and you shall glorify me."
52. Romans 8:28
"And we know that in all things God works for the good of those who love him, who have been called according to his purpose."
53. 2 Corinthians 4:16-17
"Therefore we do not lose heart. Though outwardly we are wasting away, yet inwardly we are being renewed day by day. For our light and momentary troubles are achieving for us an eternal glory that far outweighs them all."
54. Romans 5:3-5
"Not only so, but we also glory in our sufferings, because we know that suffering produces perseverance; perseverance, character; and character, hope. And hope does not put us to shame, because God's love has been poured out into our hearts through the Holy Spirit, who has been given to us."
55. 1 Peter 1:6-7
"In all this you greatly rejoice, though now for a little while you may have had to suffer grief in all kinds of trials. These have come so that the proven genuineness of your faith—of greater worth than gold, which perishes even though refined by fire—may result in praise, glory and honor when Jesus Christ is revealed."
56. James 1:2-3
"Consider it pure joy, my brothers and sisters, whenever you face trials of many kinds, because you know that the testing of your faith produces perseverance."
57. Psalm 119:71
"It was good for me to be afflicted so that I might learn your decrees."
58. 2 Corinthians 12:10
"That is why, for Christ's sake, I delight in weaknesses, in insults, in hardships, in persecutions, in difficulties. For when I am weak, then I am strong."
59. Psalm 9:9-10
"The Lord is a refuge for the oppressed, a stronghold in times of trouble. Those who know your name trust in you, for you, Lord, have never forsaken those who seek you."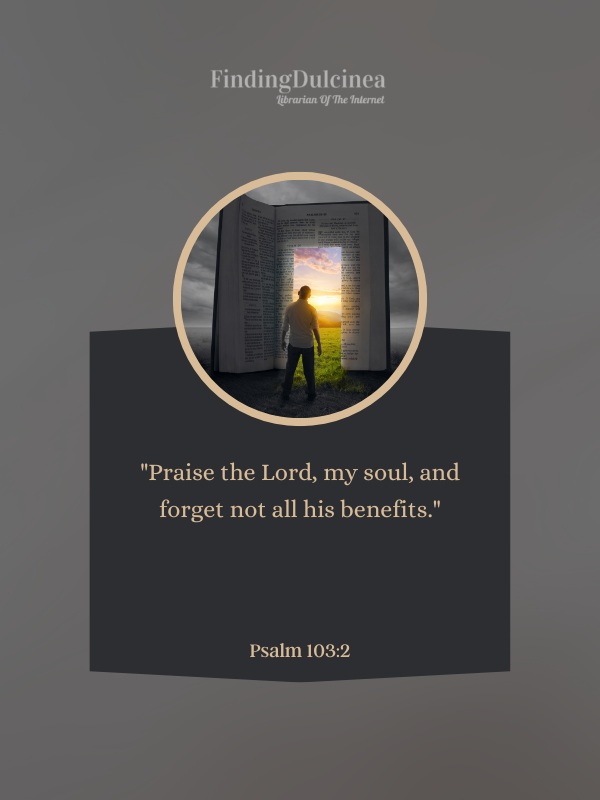 Thankful Verses for Blessings Received
60. Psalm 103:2
"Praise the Lord, my soul, and forget not all his benefits."
61. Ephesians 1:3
"Praise be to the God and Father of our Lord Jesus Christ, who has blessed us in the heavenly realms with every spiritual blessing in Christ."
62. 2 Corinthians 9:8
"And God is able to bless you abundantly, so that in all things at all times, having all that you need, you will abound in every good work."
63. Psalm 37:4
"Delight yourself in the Lord, and he will give you the desires of your heart."
64. Matthew 5:6
"Blessed are those who hunger and thirst for righteousness, for they will be filled."
65. Proverbs 16:20
"Whoever gives heed to instruction prospers, and blessed is the one who trusts in the Lord."
66. Luke 6:38
"Give, and it will be given to you. A good measure, pressed down, shaken together and running over, will be poured into your lap. For with the measure you use, it will be measured to you."
67. Psalm 115:13
"He will bless those who fear the Lord, both small and great."
68. Ezekiel 34:26
"I will make them and the places all around my hill a blessing, and I will send down the showers in their season; they shall be showers of blessing."
69. Proverbs 28:20
"A faithful man will abound with blessings."
70. Genesis 12:2
"I will make you into a great nation, and I will bless you; I will make your name great, and you will be a blessing."
71. Matthew 25:21
"His lord said unto him, 'Well done, thou good and faithful servant: thou hast been faithful over a few things, I will make thee ruler over many things: enter into the joy of thy lord.'"
72. Deuteronomy 28:2
"All these blessings will come on you and accompany you if you obey the Lord your God."
73. Deuteronomy 15:10
"Give generously to them and do so without a grudging heart; then because of this the Lord your God will bless you in all your work and in everything you put your hand to."
74. Psalm 84:11
"For the Lord God is a sun and shield; the Lord bestows favor and honor; no good thing does he withhold from those whose walk is blameless."
75. Psalm 23:1
"The Lord is my shepherd; I shall not want."
76. Psalm 29:11
"The Lord will give strength unto His people; the Lord will bless His people with peace."
77. Numbers 6:24-26
"The Lord bless you and keep you; the Lord make his face to shine upon you and be gracious to you; the Lord lift up his countenance upon you and give you peace."
Gratitude in Prayer and Worship
78. Psalm 100:1-2
"Make a joyful noise unto the Lord, all ye lands. Serve the Lord with gladness: come before his presence with singing."
79. Psalm 103:1
"Bless the Lord, O my soul: and all that is within me, bless his holy name."
80. Psalm 150:6
"Let everything that has breath praise the Lord. Praise the Lord."
81. Colossians 2:7
"Do everything in the name of the Lord Jesus, giving thanks to God the Father through him."
82. Psalm 69:30
"I will praise the name of God with song, and shall magnify Him with thanksgiving."
83. Hebrews 13:15
"Through Jesus, therefore, let us continually offer to God a sacrifice of praise—the fruit of lips that openly profess his name."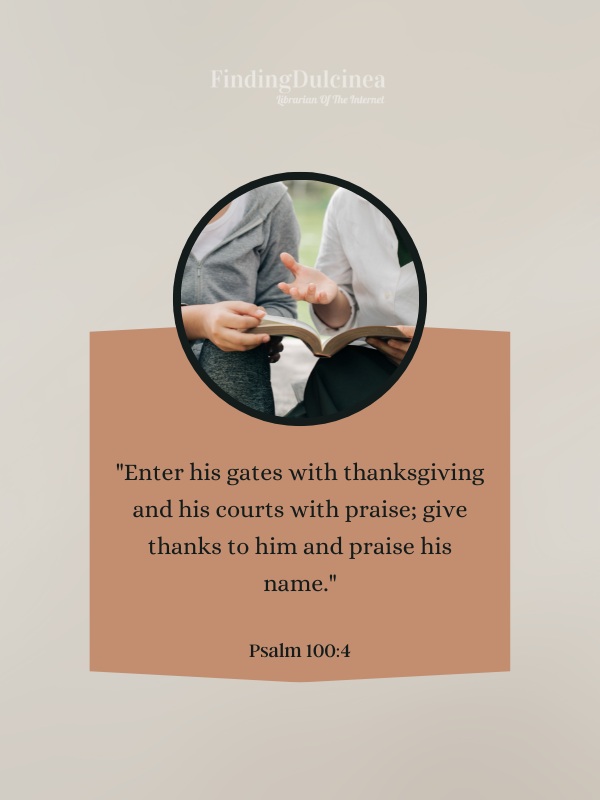 84. Psalm 100:4
"Enter his gates with thanksgiving and his courts with praise; give thanks to him and praise his name."
85. Psalm 35:18
"I will give you thanks in the great assembly; among the throngs I will praise you."
86. Psalm 28:7
"The Lord is my strength and my shield; my heart trusts in Him, and I am helped: Therefore my heart greatly rejoices; and with my song will I praise Him."
87. Psalm 95:2-3
"Let us come before him with thanksgiving and extol him with music and song. For the LORD is the great God, the great King above all gods."
88. Colossians 3:16
"Let the message of Christ dwell among you richly as you teach and admonish one another with all wisdom through psalms, hymns, and songs from the Spirit, singing to God with gratitude in your hearts."
89. Acts 16:25
"About midnight Paul and Silas were praying and singing hymns to God, and the other prisoners were listening to them."
90. Psalm 50:23
"The one who offers thanksgiving as his sacrifice glorifies me; to one who orders his way rightly, I will show the salvation of God!"
91. Psalm 7:17
"I will give thanks to the LORD because of his righteousness; I will sing the praises of the name of the LORD Most High."
92. 2 Corinthians 9:12
"This service that you perform is not only supplying the needs of the Lord's people but is also overflowing in many expressions of thanks to God."
93. Psalm 40:3
"And he put a new song in my mouth, a hymn of praise to our God. Many will see and fear the LORD and put their trust in him."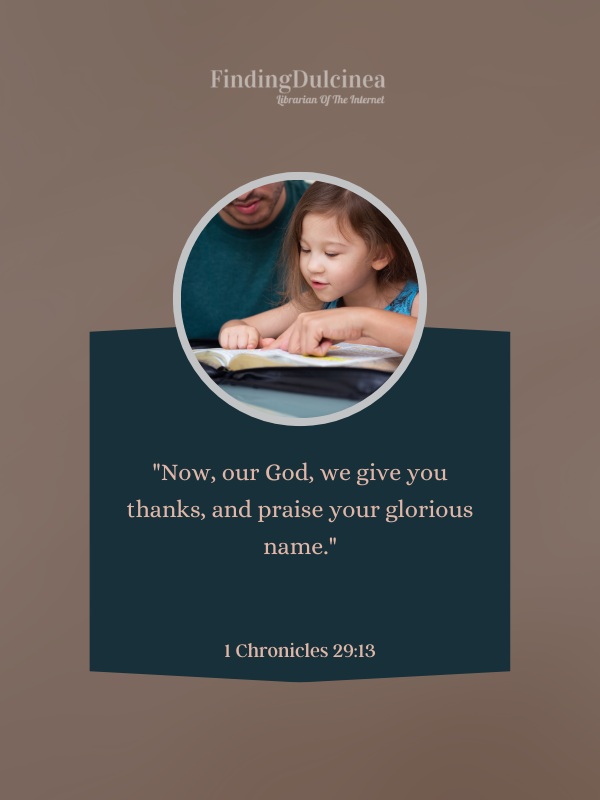 94. 1 Chronicles 29:13
"Now, our God, we give you thanks, and praise your glorious name."
95. 1 Timothy 4:4-5
"For everything God created is good, and nothing is to be rejected if it is received with thanksgiving because it is consecrated by the word of God and prayer."
96. Ephesians 5:19-20
"Speaking to one another with psalms, hymns, and songs from the Spirit. Sing and make music from your heart to the Lord, always giving thanks to God the Father for everything, in the name of our Lord Jesus Christ."
97. Psalm 106:1
"Praise the Lord. Give thanks to the Lord, for he is good; his love endures forever."
Cultivating a spirit of gratitude is an essential aspect of our faith journey. With these Bible verses about being thankful, we are reminded of the importance of expressing gratitude in various areas of our lives, such as personal growth, relationships, appreciation for God's creation, during tough times, recognizing blessings received, and during prayer and worship.
These verses serve as powerful reminders and encouragement for us to continually focus our hearts on giving thanks and praise to God. When we intentionally practice thankfulness, our faith deepens, our perspective shifts, and we become more attuned to God's blessings and presence in our lives. So, let us choose to be thankful in every season, anchoring our hearts to a God who is faithful and good.