In times of uncertainty and despair, it's not uncommon for individuals to seek solace and guidance from the Bible. This powerful collection of scriptures has been a source of inspiration and hope for countless generations, offering wisdom in navigating life's most challenging situations. The Bible's message of hope can provide comfort, encouragement, and strength when it's needed most.
In this blog post, we bring you 100+ Bible verses about hope that can uplift your spirit, restore your faith, and help you find peace in God's promises. These verses, taken from both the Old and New Testament, serve as a reminder that no matter the challenges we face, there is always hope in God.
As you read through these verses, take a moment to reflect on their meaning and how they apply to your own life. Allow the words of the Bible to resonate within you, providing guidance and inspiration as you navigate the complexities of life. Remember that with God, all things are possible, and there is always hope for a brighter tomorrow.
1. Jeremiah 29:11
"For I know the plans I have for you," declares the LORD, "plans to prosper you and not to harm you, plans to give you hope and a future."
2. Romans 15:13
"May the God of hope fill you with all joy and peace as you trust in him, so that you may overflow with hope by the power of the Holy Spirit."
3. Isaiah 40:31
"But those who hope in the LORD will renew their strength. They will soar on wings like eagles; they will run and not grow weary, they will walk and not be faint."
4. Hebrews 11:1
"Now faith is confidence in what we hope for and assurance about what we do not see."
5. Psalm 39:7
"But now, Lord, what do I look for? My hope is in you."
6. Lamentations 3:24
"I say to myself, 'The LORD is my portion; therefore, I will wait for him.'"
7. Romans 5:5
"And hope does not put us to shame, because God's love has been poured out into our hearts through the Holy Spirit, who has been given to us."
8. Hebrews 10:23
"Let us hold unswervingly to the hope we profess, for he who promised is faithful."
9. 1 Peter 1:3
"Praise be to the God and Father of our Lord Jesus Christ! In his great mercy, he has given us new birth into a living hope through the resurrection of Jesus Christ from the dead."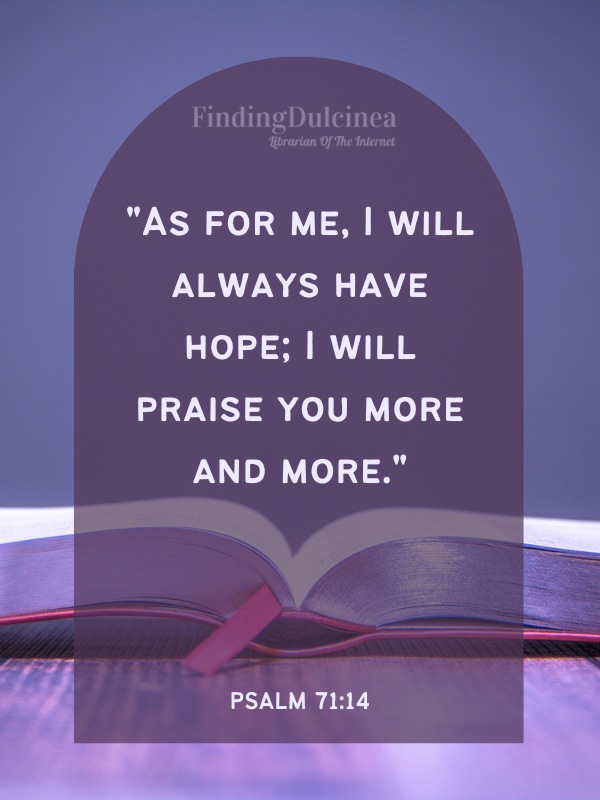 10. Psalm 71:14
"As for me, I will always have hope; I will praise you more and more."
11. 1 Peter 5:10
"And the God of all grace, who called you to his eternal glory in Christ, after you have suffered a little while, will himself restore you and make you strong, firm, and steadfast."
12. 1 Thessalonians 1:3
"We remember before our God and Father your work produced by faith, your labor prompted by love, and your endurance inspired by hope in our Lord Jesus Christ."
13. 2 Corinthians 4:16-18
"Therefore we do not lose heart. Though outwardly we are wasting away, yet inwardly we are being renewed day by day. For our light and momentary troubles are achieving for us an eternal glory that far outweighs them all. So we fix our eyes not on what is seen, but on what is unseen, since what is seen is temporary, but what is unseen is eternal."
14. Proverbs 23:18
"There is surely a future hope for you, and your hope will not be cut off."
15. Romans 12:12
"Be joyful in hope, patient in affliction, faithful in prayer."
16. Psalm 130:5
"I wait for the LORD, my whole being waits, and in his word, I put my hope."
17. Romans 8:24-25
"For in this hope we were saved. But hope that is seen is no hope at all. Who hopes for what they already have? But if we hope for what we do not yet have, we wait for it patiently."
18. Colossians 1:27
"To them God has chosen to make known among the Gentiles the glorious riches of this mystery, which is Christ in you, the hope of glory."
19. Psalm 62:5
"Yes, my soul, find rest in God; my hope comes from him."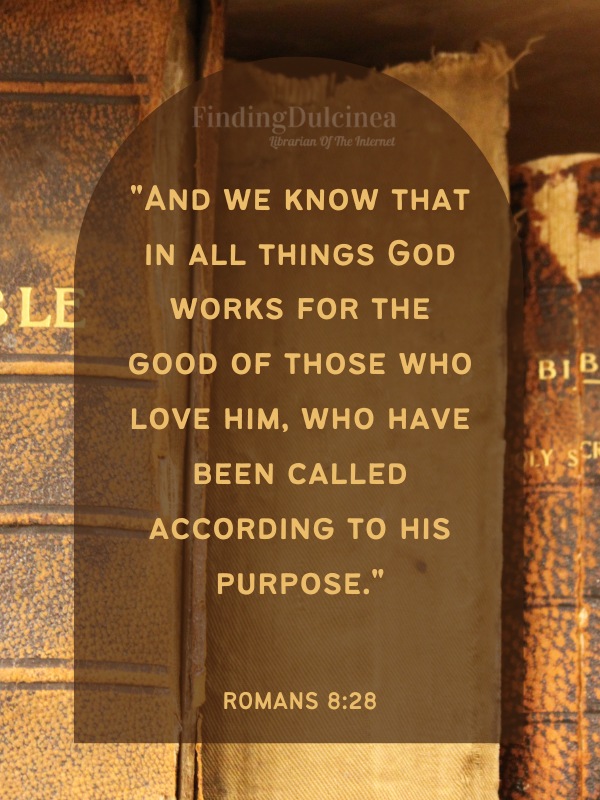 20. Romans 8:28
"And we know that in all things God works for the good of those who love him, who have been called according to his purpose."
21. 1 Timothy 4:10
"That is why we labor and strive because we have put our hope in the living God, who is the Savior of all people, and especially of those who believe."
22. 1 Corinthians 15:19
"If only for this life we have hope in Christ, we are of all people most to be pitied."
23. Romans 4:18
"Against all hope, Abraham in hope believed and so became the father of many nations, just as it had been said to him, 'So shall your offspring be.'"
24. Zechariah 9:12
"Return to your fortress, you prisoners of hope; even now I announce that I will restore twice as much to you."
25. Deuteronomy 31:6
"Be strong and courageous. Do not be afraid or terrified because of them, for the LORD your God goes with you; he will never leave you nor forsake you."
26. Psalm 119:114
"You are my refuge and my shield; I have put my hope in your word."
27. Titus 3:7
"So that, having been justified by his grace, we might become heirs having the hope of eternal life."
28. Isaiah 49:23
"Those who hope in me will not be disappointed."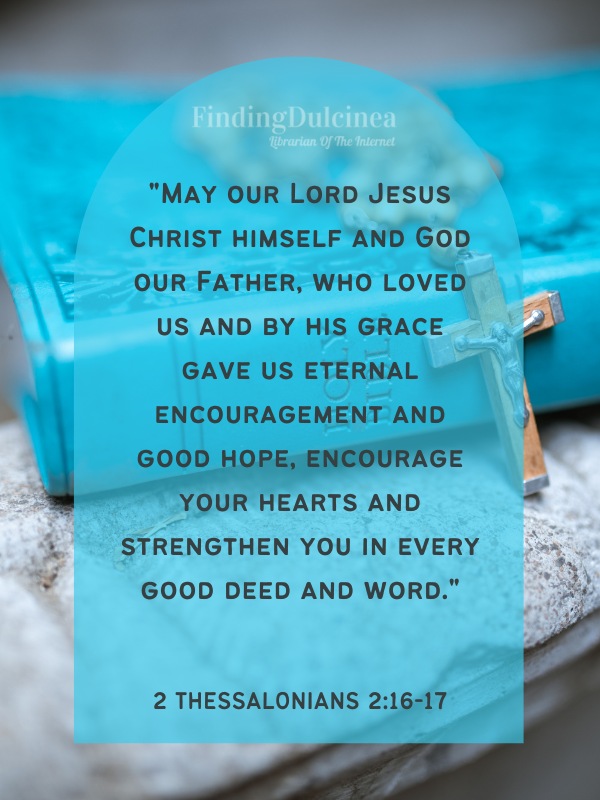 29. 2 Thessalonians 2:16-17
"May our Lord Jesus Christ himself and God our Father, who loved us and by his grace gave us eternal encouragement and good hope, encourage your hearts and strengthen you in every good deed and word."
30. 1 Corinthians 13:13
"And now these three remain: faith, hope, and love. But the greatest of these is love."
31. Ephesians 1:18
"I pray that the eyes of your heart may be enlightened in order that you may know the hope to which he has called you, the riches of his glorious inheritance in his holy people."
32. Psalm 33:18
"But the eyes of the LORD are on those who fear him, on those whose hope is in his unfailing love."
33. Psalm 31:24
"Be strong and take heart, all you who hope in the LORD."
34. Joel 3:16
"The LORD will be a refuge for his people, a stronghold for the people of Israel."
35. 1 Peter 3:15
"But in your hearts revere Christ as Lord. Always be prepared to give an answer to everyone who asks you to give the reason for the hope that you have. But do this with gentleness and respect."
36. Isaiah 43:1
"Do not fear, for I have redeemed you; I have summoned you by name; you are mine."
37. Psalm 42:11
"Why, my soul, are you downcast? Why so disturbed within me? Put your hope in God, for I will yet praise him, my Savior and my God."
38. Hosea 2:15
"There I will give her back her vineyards, and will make the Valley of Achor a door of hope. There she will respond as in the days of her youth, as in the day she came up out of Egypt."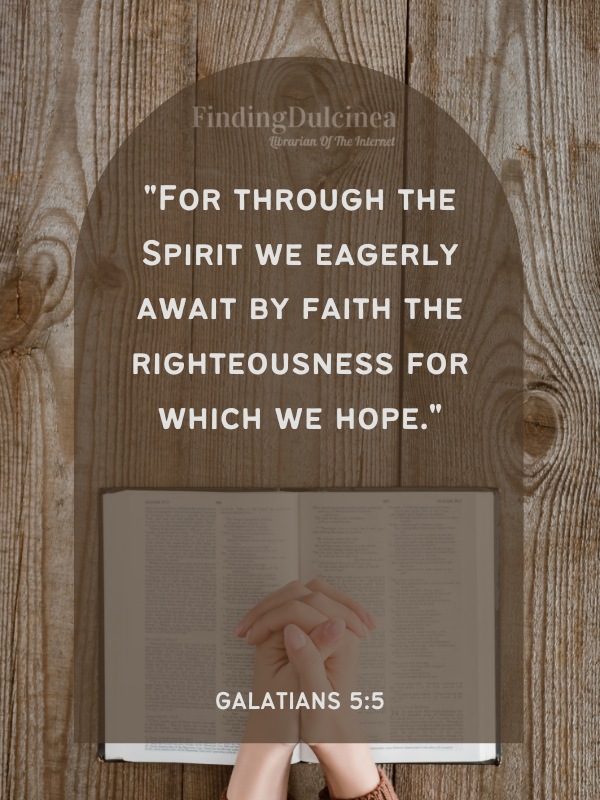 39. Galatians 5:5
"For through the Spirit we eagerly await by faith the righteousness for which we hope."
40. Micah 7:7
"But as for me, I watch in hope for the LORD, I wait for God my Savior; my God will hear me."
41. Psalm 146:5
"Blessed are those whose help is the God of Jacob, whose hope is in the LORD their God."
42. Philippians 1:20
"I eagerly expect and hope that I will in no way be ashamed, but will have sufficient courage so that now as always Christ will be exalted in my body, whether by life or by death."
43. Hebrews 6:19
"We have this hope as an anchor for the soul, firm, and secure. It enters the inner sanctuary behind the curtain."
44. 1 Thessalonians 5:8
"But since we belong to the day, let us be sober, putting on faith and love as a breastplate, and the hope of salvation as a helmet."
45. Psalm 25:5
"Guide me in your truth and teach me, for you are God my Savior, and my hope is in you all day long."
46. Titus 2:13
"While we wait for the blessed hope—the appearing of the glory of our great God and Savior, Jesus Christ."
47. Psalm 9:18
"But God will never forget the needy; the hope of the afflicted will never perish."
48. Romans 8:20
"For the creation was subjected to frustration, not by its own choice, but by the will of the one who subjected it, in hope."
49. Psalm 43:5
"Why, my soul, are you downcast? Why so disturbed within me? Put your hope in God, for I will yet praise him, my Savior, and my God."
50. Psalm 78:7
"That they might set their hope in God, and not forget the works of God, but keep his commandments."
51. Psalm 147:11
"The LORD delights in those who fear him, who put their hope in his unfailing love."
52. 1 John 3:3
"All who have this hope in him purify themselves, just as he is pure."
53. Psalm 119:81
"My soul faints with longing for your salvation, but I have put my hope in your word."
54. Isaiah 41:10
"So do not fear, for I am with you; do not be dismayed, for I am your God. I will strengthen you and help you; I will uphold you with my righteous right hand."
55. 2 Corinthians 1:10
"He has delivered us from such a deadly peril, and he will deliver us again. On him, we have set our hope that he will continue to deliver us."
56. Romans 15:4
"For everything that was written in the past was written to teach us, so that through the endurance taught in the Scriptures and the encouragement they provide we might have hope."
57. Psalm 16:9
"Therefore my heart is glad and my tongue rejoices; my body also will rest secure."
58. Psalm 119:166
"I wait for your salvation, LORD, and I follow your commands."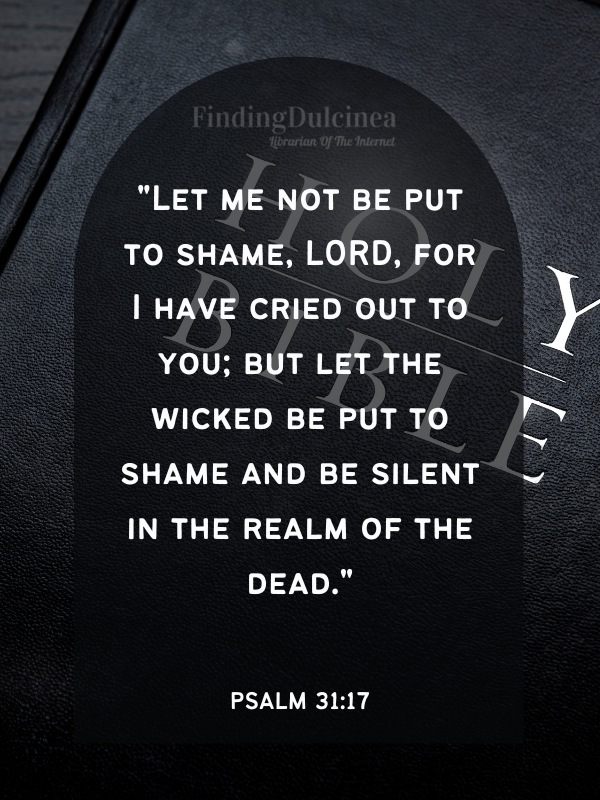 59. Psalm 31:17
"Let me not be put to shame, LORD, for I have cried out to you; but let the wicked be put to shame and be silent in the realm of the dead."
60. Isaiah 61:1
"The Spirit of the Sovereign LORD is on me because the LORD has anointed me to proclaim good news to the poor. He has sent me to bind up the brokenhearted, to proclaim freedom for the captives and release from darkness for the prisoners."
61. Zephaniah 3:17
"The LORD your God is with you, the Mighty Warrior who saves. He will take great delight in you; in his love, he will no longer rebuke you but will rejoice over you with singing."
62. Nahum 1:7
"The LORD is good, a refuge in times of trouble. He cares for those who trust in him."
63. 2 Corinthians 3:12
"Therefore, since we have such a hope, we are very bold."
64. Psalm 119:74
"May those who fear you rejoice when they see me, for I have put my hope in your word."
65. Romans 4:4-5
"Now to the one who works, wages are not credited as a gift but as an obligation. However, to the one who does not work but trusts God who justifies the ungodly, their faith is credited as righteousness."
66. Hebrews 11:7
"By faith Noah, when warned about things not yet seen, in holy fear built an ark to save his family. By his faith, he condemned the world and became heir of the righteousness that is in keeping with faith."
67. John 14:1
"Do not let your hearts be troubled. You believe in God; believe also in me."
68. Psalm 119:43
"Never take your word of truth from my mouth, for I have put my hope in your laws."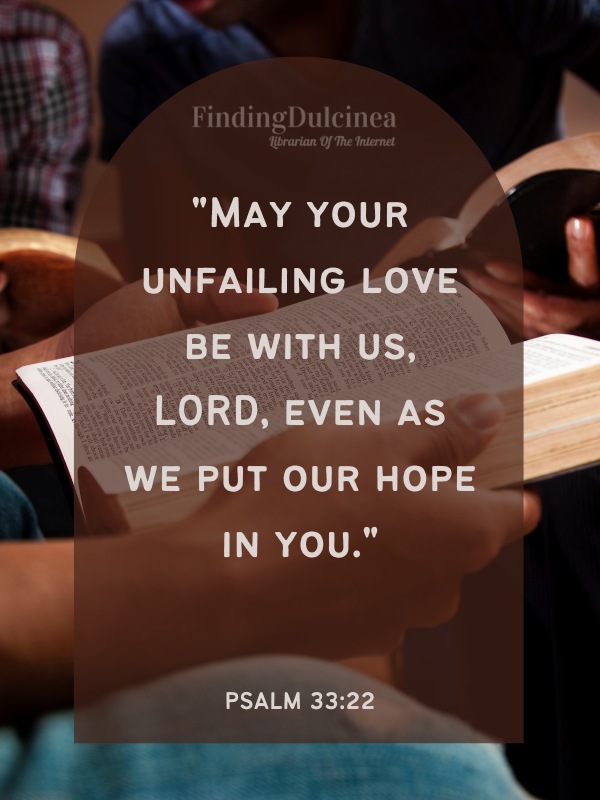 69. Psalm 33:22
"May your unfailing love be with us, LORD, even as we put our hope in you."
70. Psalm 71:5
"For you, LORD, have been my hope, my trust since I was young."
71. Isaiah 51:5
"My righteousness draws near speedily, my salvation is on the way, and my arm will bring justice to the nations."
72. Psalm 147:13
"For he strengthens the bars of your gates and blesses your people within you."
73. Psalm 130:7
"Israel, put your hope in the LORD, for with the LORD is unfailing love and with him is full redemption."
74. Romans 5:2-4
"Through whom we have gained access by faith into this grace in which we now stand. And we boast in the hope of the glory of God. Not only so but we also glory in our sufferings because we know that suffering produces perseverance; perseverance, character; and character, hope."
75. Acts 24:15
"And have hope toward God, which they themselves also allow, that there shall be a resurrection of the dead, both of the just and unjust."
76. 1 Corinthians 16:13
"Be on your guard; stand firm in the faith; be courageous; be strong."
77. Ephesians 4:4
"There is one body and one Spirit, just as you were called to one hope when you were called."
78. Colossians 1:5
"The faith and love that spring from the hope stored up for you in heaven and about which you have already heard in the true message of the gospel."
79. 1 Thessalonians 4:13
"Brothers and sisters, we do not want you to be uninformed about those who sleep in death, so that you do not grieve like the rest of mankind, who have no hope."
80. Titus 1:2
"In the hope of eternal life, which God, who does not lie, promised before the beginning of time."
81. Hebrews 7:19
"For the law made nothing perfect, but the bringing in of a better hope did; by the which we draw near unto God."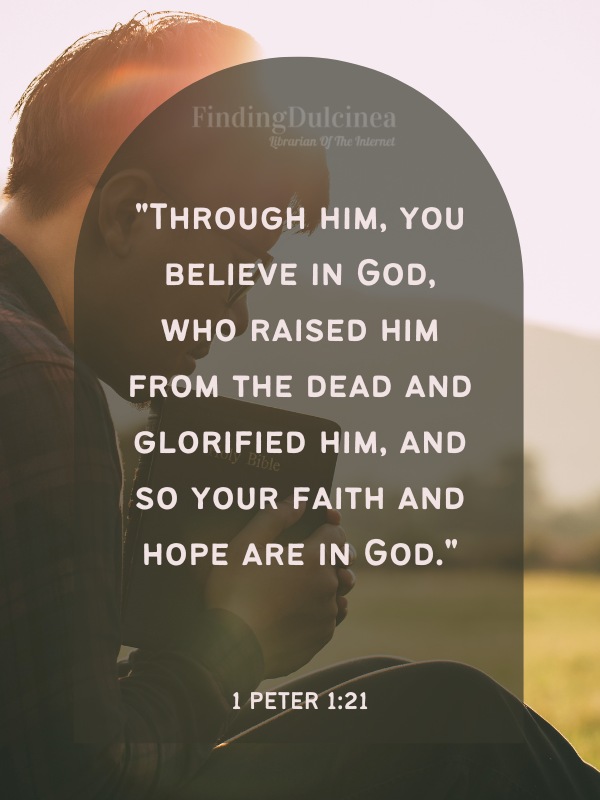 82. 1 Peter 1:21
"Through him, you believe in God, who raised him from the dead and glorified him, and so your faith and hope are in God."
83. Job 11:18
"You will be secure because there is hope; you will look about you and take your rest in safety."
84. Psalm 62:2
"Truly he is my rock and my salvation; he is my fortress, I will never be shaken."
85. Isaiah 11:10
"In that day the Root of Jesse will stand as a banner for the peoples; the nations will rally to him, and his resting place will be glorious."
86. Isaiah 60:19
"The sun will no more be your light by day, nor will the brightness of the moon shine on you, for the Lord will be your everlasting light, and your God will be your glory."
87. Psalm 33:20
"We wait in hope for the Lord; he is our help and our shield."
88. Psalm 119:116
"Sustain me, my God, according to your promise, and I will live; do not let my hopes be dashed."
89. Psalm 146:6
"He is the Maker of heaven and earth, the sea, and everything in them--he remains faithful forever."
90. Isaiah 40:29
"He gives strength to the weary and increases the power of the weak."
91. Isaiah 65:17
"See, I will create new heavens and a new earth. The former things will not be remembered, nor will they come to mind."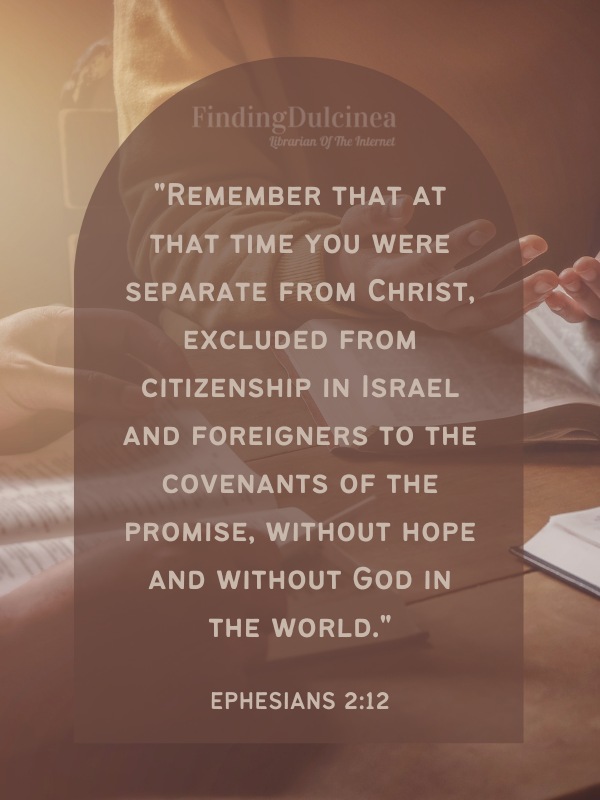 92. Ephesians 2:12
"Remember that at that time you were separate from Christ, excluded from citizenship in Israel and foreigners to the covenants of the promise, without hope and without God in the world."
93. Philippians 3:20
"But our citizenship is in heaven. And we eagerly await a Savior from there, the Lord Jesus Christ."
94. 1 Colossians 3:24
"Since you know that you will receive an inheritance from the Lord as a reward. It is the Lord Christ you are serving."
95. 1 Timothy 1:1
"Paul, an apostle of Christ Jesus by the command of God our Savior and of Christ Jesus our hope."
96. Hebrews 3:6
"But Christ is faithful as the Son over God's house. And we are his house if indeed we hold firmly to our confidence and the hope in which we glory."
97. 1 Peter 1:13
"Therefore, with minds that are alert and fully sober, set your hope on the grace to be brought to you when Jesus Christ is revealed at his coming."
98. 2 Peter 3:13
"But in keeping with his promise we are looking forward to a new heaven and a new earth, where righteousness dwells."
99. 1 John 3:2
"Dear friends, now we are children of God, and what we will be has not yet been made known. But we know that when Christ appears, we shall be like him, for we shall see him as he is."
100. 2 Corinthians 5:17
"Therefore, if anyone is in Christ, the new creation has come: The old has gone, the new is here!"
101. Psalm 25:21
"May integrity and uprightness protect me, because my hope, Lord, is in you."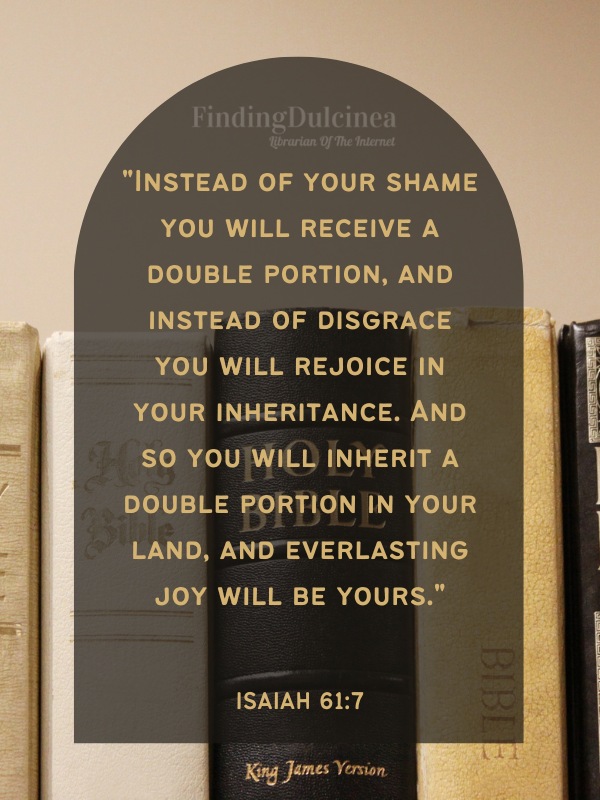 102. Isaiah 61:7
"Instead of your shame you will receive a double portion, and instead of disgrace you will rejoice in your inheritance. And so you will inherit a double portion in your land, and everlasting joy will be yours."
103. Psalm 38:15
"Lord, I wait for you; you will answer, Lord my God."
104. Psalm 119:166
I wait for your salvation, Lord, and I follow your commands."
105. Psalm 119:81
"My soul faints with longing for your salvation, but I have put my hope in your word."
106. Psalm 119:114
"You are my refuge and my shield; I have put my hope in your word."
107. Psalm 119:147
"I rise before dawn and cry for help; I have put my hope in your word."
108. Isaiah 26:3
"You will keep in perfect peace those whose minds are steadfast, because they trust in you."
109. Psalm 37:9
"For those who are evil will be destroyed, but those who hope in the Lord will inherit the land."
110. Psalm 42:5
"Why, my soul, are you downcast? Why so disturbed within me? Put your hope in God, for I will yet praise him, my Savior and my God."
111. Psalm 69:6
"Lord, the Lord Almighty, may those who hope in you not be disgraced because of me; God of Israel, may those who seek you not be put to shame because of me."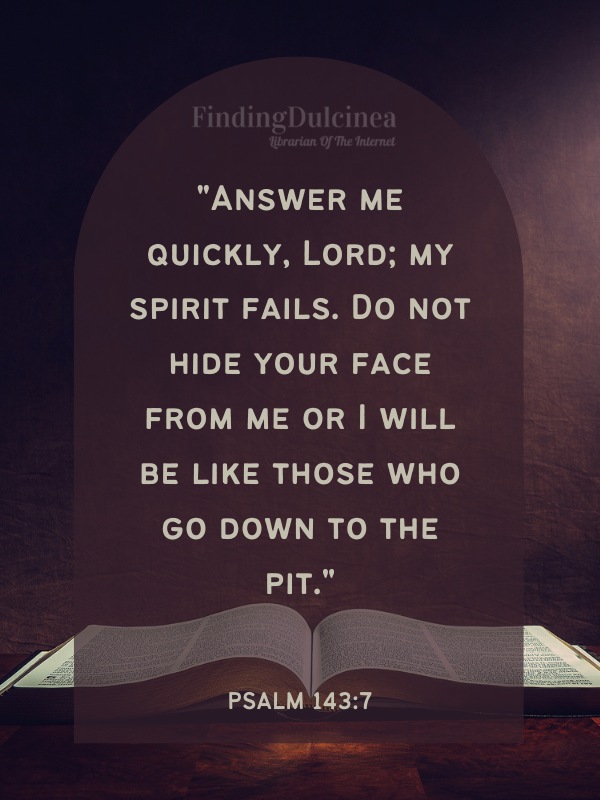 112. Psalm 143:7
"Answer me quickly, Lord; my spirit fails. Do not hide your face from me or I will be like those who go down to the pit."
113. Isaiah 12:2
"Surely God is my salvation; I will trust and not be afraid. The Lord, the Lord himself, is my strength and my defense; he has become my salvation."
114. Jeremiah 17:7
"But blessed is the one who trusts in the Lord, whose confidence is in him."
These Bible verses about hope serve as a powerful reminder of God's love, faithfulness, and the strength that we can find in Him during times of hardship and uncertainty. By meditating on these verses and keeping them close to our hearts, we can find solace and encouragement to face life's challenges with confidence and resilience.
It is in these moments of reflection that we are reminded that hope is not just a fleeting emotion, but a fundamental aspect of our faith. As you continue on your spiritual journey, let the message of hope found within these scriptures guide and uplift you, providing you with a renewed sense of purpose, peace, and connection to the divine.