What better way to uplift our spirits than to delve into the treasure trove of wisdom and inspiration the Bible offers? The good news is there are over 110 Bible verses about joy that can soothe our souls and lead us to a deeper understanding of true happiness. These verses remind us of the importance of focusing on the eternal and everlasting joy that God bestows, rather than seeking temporary worldly pleasures, which often leave us feeling empty and unfulfilled.
As a believer, I've benefited greatly from aligning my life with the scriptures, especially the Bible verses about joy. It's a source of daily encouragement, comfort, and a reminder to focus on what truly matters in life. While the world around us can be chaotic and stressful, the beautiful promises and teachings found in the Bible can help us navigate through life's challenges while maintaining a sense of inner joy and peace that surpasses all understanding.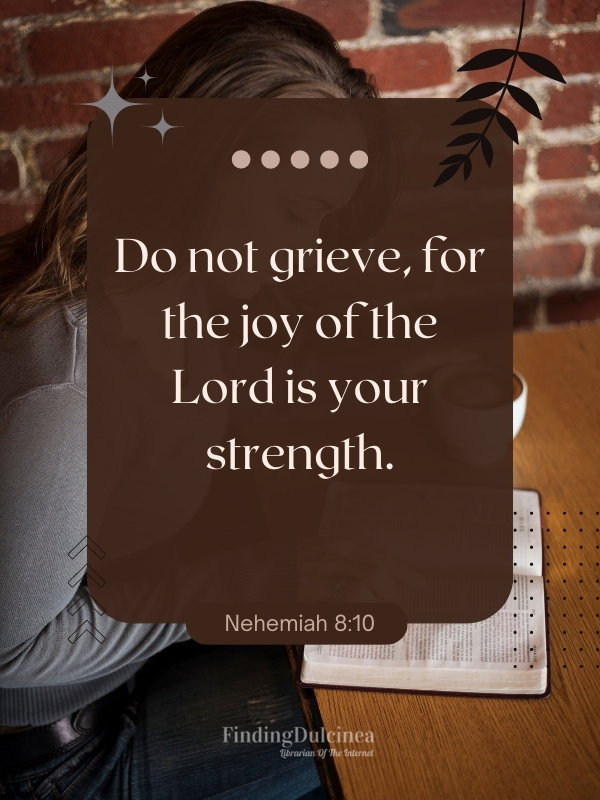 Finding Joy in God's Presence
1. Nehemiah 8:10
Do not grieve, for the joy of the Lord is your strength.
2. Psalm 16:11
You make known to me the path of life; in your presence there is fullness of joy; at your right hand are pleasures forevermore.
3. Psalm 21:6
For you make him most blessed forever; you make him glad with the joy of your presence.
4. Psalm 30:5
For his anger is but for a moment, and his favor is for a lifetime. Weeping may tarry for the night, but joy comes with the morning.
5. Psalm 34:5
Those who look to him are radiant, and their faces shall never be ashamed.
6. Psalm 47:1-2
Clap your hands, all you nations; shout to God with cries of joy. For the Lord Most High is awesome, the great King over all the earth.
7. Psalm 65:8
Those living far away fear your wonders; where morning dawns and evening fades, you call forth songs of joy.
8. Psalm 92:4
For you make me glad by your deeds, O Lord; I sing for joy at the works of your hands.
9. Psalm 95:1
Oh come, let us sing to the Lord; let us make a joyful noise to the rock of our salvation!
10. Psalm 100:1-2
Shout for joy to the Lord, all the earth. Worship the Lord with gladness; come before him with joyful songs.
11. Psalm 118:24
This is the day that the Lord has made; let us rejoice and be glad in it.
12. Psalm 126:3
The Lord has done great things for us; we are glad.
13. Psalm 132:9
Let your priests be clothed with righteousness, and let your saints shout for joy.
14. Isaiah 12:3
With joy, you will draw water from the wells of salvation.
15. Isaiah 61:10
I delight greatly in the Lord; my soul rejoices in my God. For he has clothed me with garments of salvation, Arrayed me in a robe of his righteousness.
16. Zephaniah 3:17
The Lord your God is in your midst, a mighty one who will save; he will rejoice over you with gladness; he will quiet you by his love; he will exult over you with loud singing.
17. Luke 15:10
In the same way, I tell you, there is rejoicing in the presence of the angels of God over one sinner who repents.
18. Romans 14:17
For the kingdom of God is not a matter of eating and drinking, but of righteousness, peace, and joy in the Holy Spirit.
19. Galatians 5:22
But the fruit of the Spirit is love, joy, peace, patience, kindness, goodness, faithfulness.
20. 1 Peter 1:8-9
Though you have not seen him, you love him; and even though you do not see him now, you believe in him and are filled with an inexpressible and glorious joy, for you are receiving the end result of your faith, the salvation of your souls.
More Verses:

1. 150+ Heartfelt Bible Verses About Love
2. 110+ Bible Verses About Money
3. 150+ Bible Verses About Life
4. 120+ Bible Verses About Patience
5. 110+ Bible Verses About Forgiveness
6. 120+ Bible Verses About Pride
Joy through Trusting God's Promises
21. Deuteronomy 33:27
The eternal God is your refuge, and underneath are the everlasting arms.
22. 1 Chronicles 16:27
Splendor and majesty are before him; strength and joy are in his dwelling place.
23. Psalm 5:11
But let all who take refuge in you be glad; let them ever sing for joy.
24. Psalm 16:5
Lord, you alone are my portion and my cup; you make my lot secure.
25. Psalm 28:7
The Lord is my strength and my shield; my heart trusts in him, and he helps me. My heart leaps for joy, and with my song, I praise him.
26. Psalm 33:21
In him our hearts rejoice, for we trust in his holy name.
27. Psalm 56:3
When I am afraid, I put my trust in you.
28. Psalm 63:7
Because you are my help, I sing in the shadow of your wings.
29. Psalm 91:2
I will say of the Lord, "He is my refuge and my fortress, my God, in whom I trust."
30. Proverbs 10:28
The prospect of the righteous is joy, but the hopes of the wicked come to nothing.
31. Isaiah 26:3
You will keep in perfect peace all who trust in you, all whose thoughts are fixed on you!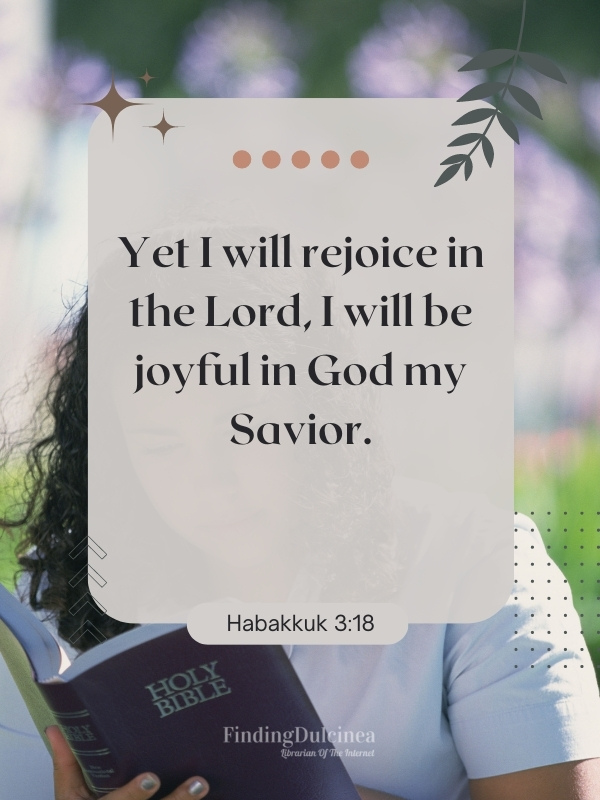 32. Habakkuk 3:18
Yet I will rejoice in the Lord, I will be joyful in God my Savior.
33. Romans 15:13
May the God of hope fill you with all joy and peace as you trust in him, so that you may overflow with hope by the power of the Holy Spirit.
34. 2 Corinthians 1:20
For no matter how many promises God has made, they are "Yes" in Christ. And so through him, the "Amen" is spoken by us to the glory of God.
35. Hebrews 6:19
We have this hope as an anchor for the soul, firm and secure.
Joy in Accepting God's Grace
36. Psalm 51:12
Restore to me the joy of your salvation and uphold me with a willing spirit.
37. Isaiah 55:12
You will go out in joy and be led forth in peace; the mountains and hills will burst into song before you, and all the trees of the field will clap their hands.
38. Zephaniah 3:14
Sing, Daughter Zion; shout aloud, Israel! Be glad and rejoice with all your heart, Daughter Jerusalem!
39. Matthew 11:28-30
Come to me, all you who are weary and burdened, and I will give you rest. Take my yoke upon you and learn from me, for I am gentle and humble in heart, and you will find rest for your souls. For my yoke is easy, and my burden is light.
40. Luke 2:10
But the angel said to them, "Do not be afraid. I bring you good news that will cause great joy for all the people."
41. John 16:24
Ask and you will receive, and your joy will be complete.
42. Romans 5:11
And not only that but also this: We have joy before God because of our Lord Jesus Christ, through whom we have now received reconciliation.
43. Romans 15:7
Accept one another, then, just as Christ accepted you, in order to bring praise to God.
44. 2 Corinthians 8:9
For you know the grace of our Lord Jesus Christ, that though he was rich, for your sake he became poor, so that you by his poverty might become rich.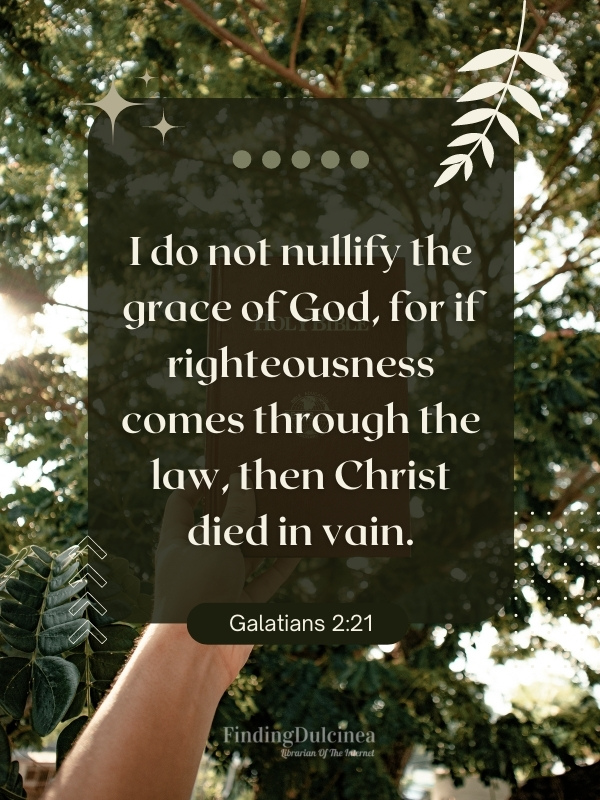 45. Galatians 2:21
I do not nullify the grace of God, for if righteousness comes through the law, then Christ died in vain.
46. Ephesians 2:8-9
For it is by grace you have been saved, through faith—and this is not from yourselves, it is the gift of God— not by works, so no one can boast.
47. 1 Peter 1:6
In all this you greatly rejoice, though now for a little while you may have had to suffer grief in all kinds of trials.
48. 1 Peter 5:10
And after you have suffered a little while, the God of all grace, who has called you to his eternal glory in Christ, will himself restore, confirm, strengthen, and establish you.
49. 1 John 1:4
And we are writing these things so that our joy may be complete.
50. Revelation 21:4
He will wipe away every tear from their eyes, and death shall be no more, neither shall there be mourning, nor crying, nor pain anymore, for the former things have passed away.
Experiencing Joy through Praise and Worship
51. 1 Chronicles 29:9
Then the people rejoiced because they had given willingly, for with a whole heart they had offered freely to the Lord. David the king also rejoiced greatly.
52. Psalm 9:2
I will be glad and exult in you; I will sing praise to your name, O Most High.
53. Psalm 27:4
One thing I have asked of the Lord, that will I seek after: that I may dwell in the house of the Lord all the days of my life, to gaze upon the beauty of the Lord and to inquire in his temple.
54. Psalm 27:6
Then my head will be exalted above the enemies who surround me; at his sacred tent I will sacrifice with shouts of joy; I will sing and make music to the Lord.
55. Psalm 42:4
These things I remember, as I pour out my soul: how I used to go with the multitude, leading the procession to the house of God with shouts of joy and praise.
56. Psalm 71:23
My lips will shout for joy when I sing praise to you— I whom you have delivered.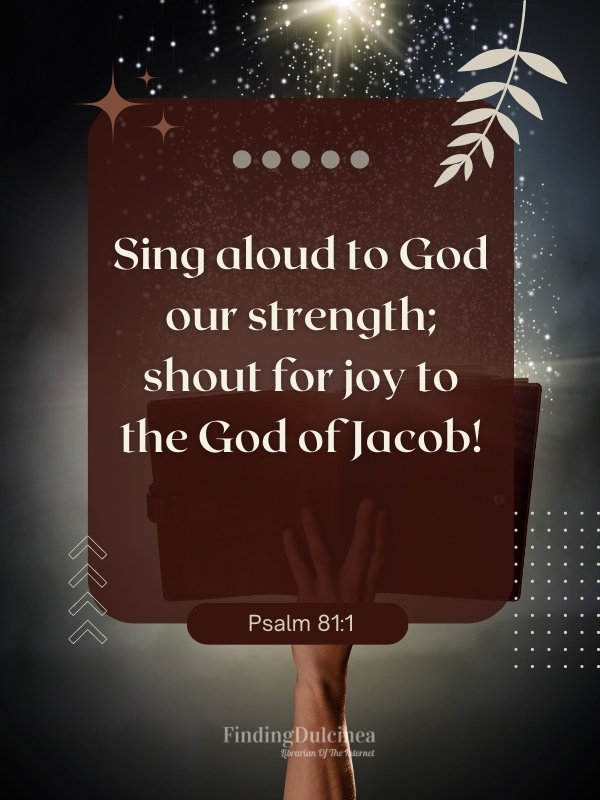 57. Psalm 81:1
Sing aloud to God our strength; shout for joy to the God of Jacob!
58. Psalm 98:4
Make a joyful noise to the Lord, all the earth; break forth into joyous song and sing praises!
59. Psalm 149:5
Let the saints be joyful in glory; Let them sing aloud on their beds.
60. Jeremiah 20:13
Sing to the Lord! Give praise to the Lord! He rescues the life of the needy from the hands of the wicked.
61. Romans 12:12
Be joyful in hope, patient in affliction, faithful in prayer.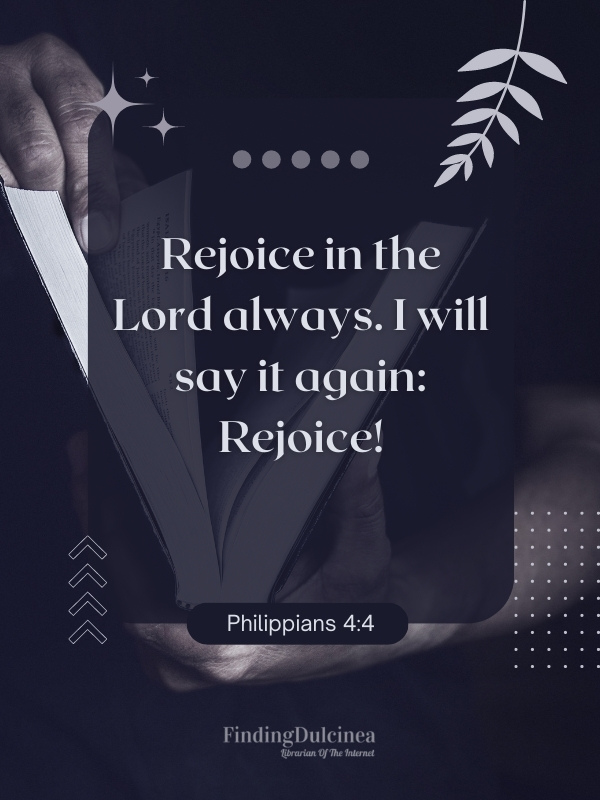 62. Philippians 4:4
Rejoice in the Lord always. I will say it again: Rejoice!
63. Colossians 3:16
Let the word of Christ dwell in you richly, teaching and admonishing one another in all wisdom, singing psalms and hymns and spiritual songs, with thankfulness in your hearts to God.
64. 1 Thessalonians 5:16
Rejoice always, pray without ceasing, give thanks in all circumstances; for this is the will of God in Christ Jesus for you.
65. 1 Timothy 4:10
That is why we labor and strive, because we have put our hope in the living God, who is the Savior of all people, and especially of those who believe.
66. Hebrews 10:25
Let us not give up meeting together, as some are in the habit of doing, but let us encourage one another—and all the more as you see the Day approaching.
67. Hebrews 12:2
Let us fix our eyes on Jesus, the author and perfecter of our faith, who for the joy set before him endured the cross, scorning its shame, and sat down at the right hand of the throne of God.
68. Revelation 15:3
And they sang the song of Moses, the servant of God, and the song of the Lamb: "Great and marvelous are your deeds, Lord God Almighty. Just and true are your ways, King of the nations."
69. Revelation 19:1
After this, I heard what sounded like the roar of a great multitude in heaven shouting, "Hallelujah! Salvation and glory and power belong to our God."
70. Revelation 19:6
Then I heard what sounded like a great multitude, like the roar of rushing waters and like loud peals of thunder, shouting, "Hallelujah! For our Lord God Almighty reigns."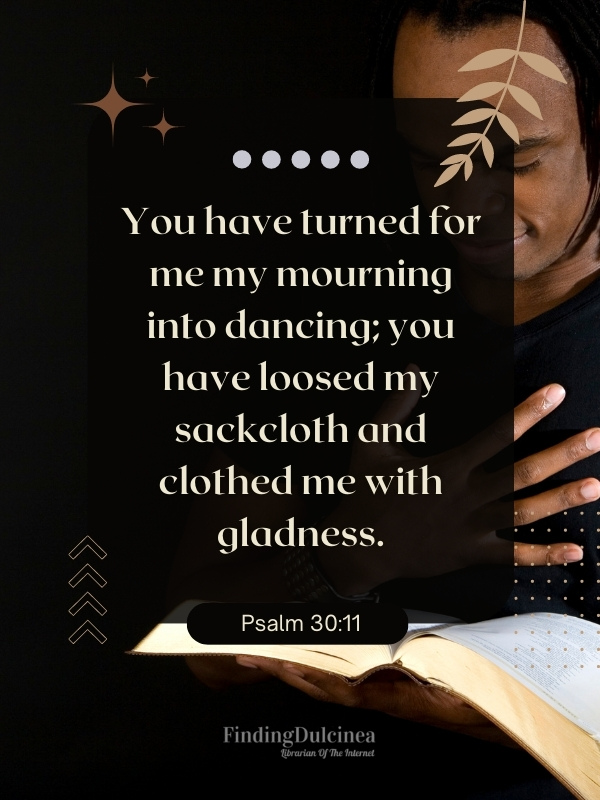 Joy amidst Trials and Challenges
71. Job 6:10
Then I would still have this consolation— my joy in unrelenting pain— that I had not denied the words of the Holy One.
72. Psalm 30:11
You have turned for me my mourning into dancing; you have loosed my sackcloth and clothed me with gladness.
73. Habakkuk 3:17-18
Though the fig tree does not bud and there are no grapes on the vines, though the olive crop fails and the fields produce no food, though there are no sheep in the pen and no cattle in the stalls, yet I will rejoice in the Lord, I will be joyful in God my Savior.
74. Romans 5:3-4
Not only that, but we rejoice in our sufferings, knowing that suffering produces endurance, and endurance produces character, and character produces hope.
75. James 1:2-3
Consider it pure joy, my brothers and sisters, whenever you face trials of many kinds because you know that the testing of your faith produces perseverance.
76. 2 Corinthians 7:4
In all my troubles my joy knows no bounds.
77. Colossians 1:24
Now I rejoice in my sufferings for your sake, and in my flesh I am filling up what is lacking in Christ's afflictions for the sake of his body, that is, the church.
78. 1 Peter 4:13
But rejoice inasmuch as you participate in the sufferings of Christ, so that you may be overjoyed when his glory is revealed.
79. Hebrews 10:34
You suffered along with those in prison and joyfully accepted the confiscation of your property, because you knew that you yourselves had better and lasting possessions.
80. 1 Peter 1:6-7
In all this you greatly rejoice, though now for a little while you may have had to suffer grief in all kinds of trials. These have come so that the proven genuineness of your faith—of greater worth than gold, which perishes even though refined by fire—may result in praise, glory, and honor when Jesus Christ is revealed.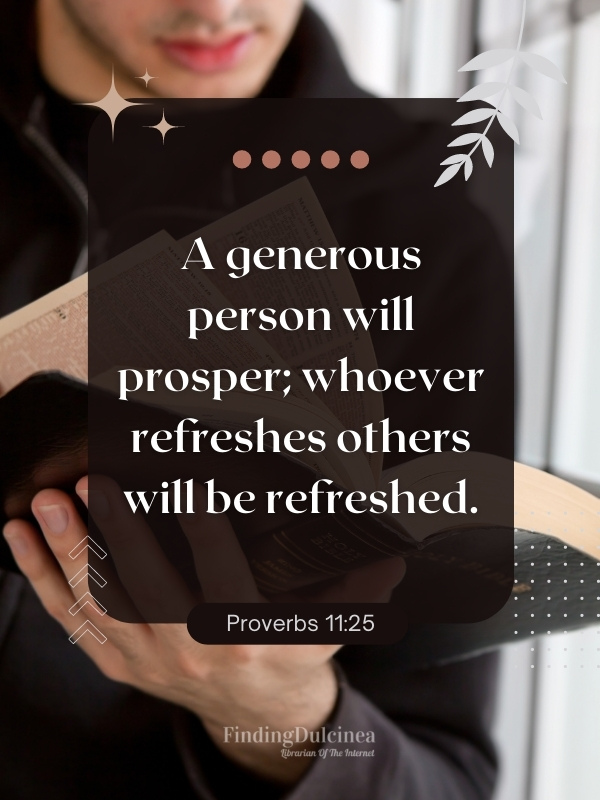 The Joy of Serving and Loving Others
81. Proverbs 11:25
A generous person will prosper; whoever refreshes others will be refreshed.
82. Proverbs 15:23
A man has joy by the answer of his mouth, and a word spoken in due season, how good it is!
83. Proverbs 17:22
A joyful heart is good medicine, but a broken spirit dries up the bones.
84. Proverbs 21:15
When justice is done, it is a joy to the righteous but terror to evildoers.
85. Luke 6:38
Give, and it will be given to you—a good measure, pressed down, shaken together, and running over will be poured into your lap. For with the measure you use, it will be measured back to you.
86. John 13:17
If you know these things, you are blessed if you do them.
87. John 15:12
My command is this: Love each other as I have loved you.
88. Acts 20:35
In everything, I did, I showed you that by this kind of hard work we must help the weak, remembering the words the Lord Jesus himself said: 'It is more blessed to give than to receive.'
89. Romans 12:15
Rejoice with those who rejoice; mourn with those who mourn.
90. 1 Corinthians 12:26
If one part suffers, every part suffers with it; if one part is honored, every part rejoices with it.
91. 2 Corinthians 9:7
Each of you should give what you have decided in your heart to give, not reluctantly or under compulsion, for God loves a cheerful giver.
92. Galatians 6:9
Let us not grow weary of doing good, for in due season we will reap, if we do not give up.
93. Philippians 2:4
Let each of you look not only to his own interests but also to the interests of others.
94. 1 Thessalonians 3:9
How can we thank God enough for you in return for all the joy we have in the presence of our God because of you?
95. Hebrews 13:16
And do not forget to do good and to share with others, for with such sacrifices God is pleased.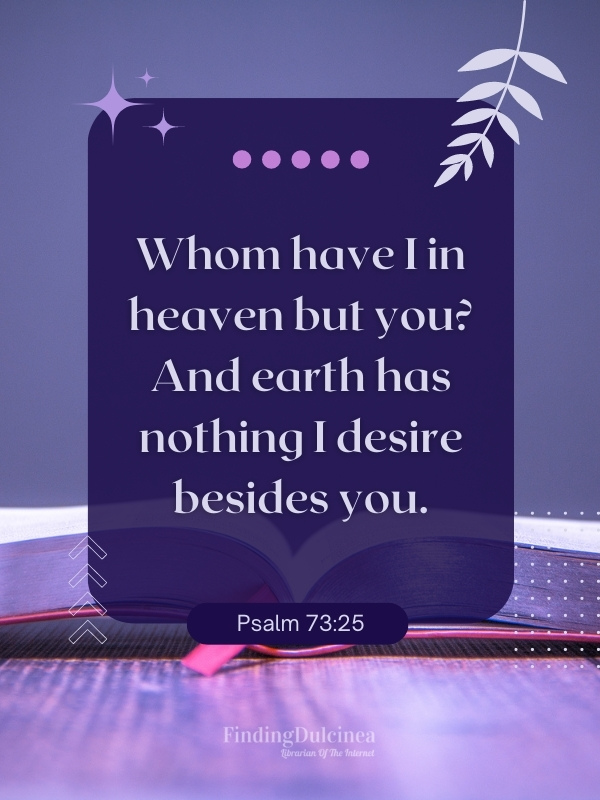 The Ultimate Joy: Eternity with God
96. Psalm 73:25
Whom have I in heaven but you? And earth has nothing I desire besides you.
97. Proverbs 14:27
The fear of the Lord is a fountain of life, that one may turn away from the snares of death.
98. Isaiah 25:8
He will swallow up death forever. The Sovereign Lord will wipe away the tears from all faces; he will remove his people's disgrace from all the earth. The Lord has spoken.
99. Isaiah 35:10
And the ransomed of the Lord shall return and come to Zion with singing; everlasting joy shall be upon their heads; they shall obtain gladness and joy, and sorrow and sighing shall flee away.
100. Daniel 12:3
Those who are wise will shine like the brightness of the heavens, and those who lead many to righteousness, like the stars for ever and ever.
101. Matthew 5:8
Blessed are the pure in heart, for they shall see God.
102. Matthew 25:23
His master said to him, 'Well done, good and faithful servant. You have been faithful over a little; I will set you over much. Enter into the joy of your master.'
103. John 14:2-3
My Father's house has many rooms; if that were not so, would I have told you that I am going there to prepare a place for you? And if I go and prepare a place for you, I will come back and take you to be with me that you also may be where I am.
104. John 17:3
And this is eternal life, that they may know You, the only true God, and Jesus Christ whom You have sent.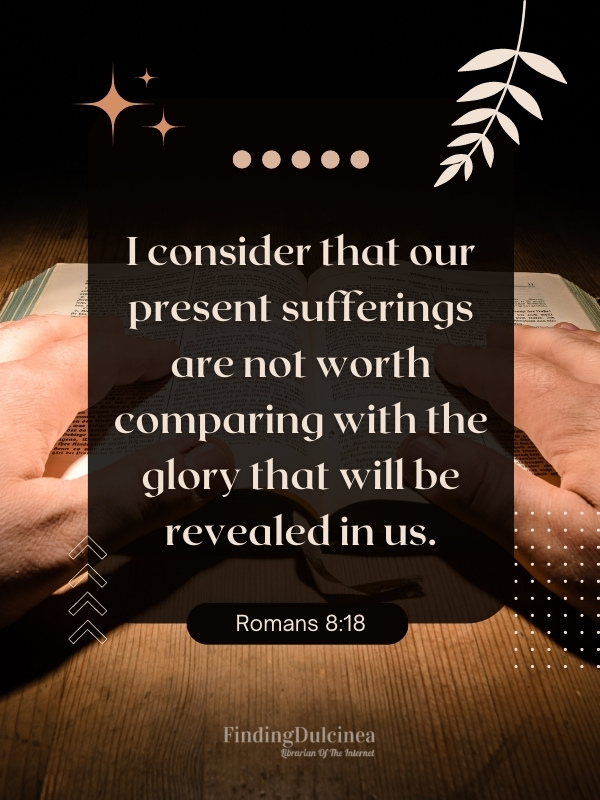 105. Romans 8:18
I consider that our present sufferings are not worth comparing with the glory that will be revealed in us.
106. Romans 8:38-39
For I am convinced that neither death nor life, neither angels nor demons, neither the present nor the future, nor any powers, neither height nor depth, nor anything else in all creation, will be able to separate us from the love of God that is in Christ Jesus our Lord.
107. 1 Corinthians 2:9
However, as it is written: "What no eye has seen, what no ear has heard, and what no human mind has conceived"—the things God has prepared for those who love him.
108. 1 Corinthians 15:54
When the perishable has been clothed with the imperishable, and the mortal with immortality, then the saying that is written will come true: "Death has been swallowed up in victory."
109. 2 Corinthians 4:17
For our light and momentary troubles are achieving for us an eternal glory that far outweighs them all.
110. 2 Corinthians 5:1
For we know that when this earthly tent we live in is taken down (that is, when we die and leave this earthly body), we will have a house in heaven, an eternal body made for us by God himself and not by human hands.
111. Philippians 1:23
I am torn between the two: I desire to depart and be with Christ, which is better by far.
112. Colossians 3:1
If yes then be risen with Christ, seek those things which are above, where Christ sitteth on the right hand of God.
113 .1 Thessalonians 4:17
Then we who are alive and remain will be caught up together with them in the clouds to meet the Lord in the air, and so we shall always be with the Lord.
114. 2 Timothy 4:8
Now there is in store for me the crown of righteousness, which the Lord, the righteous Judge, will award to me on that day—and not only to me but also to all who have longed for his appearing.
115. Revelation 21:3-4
And I heard a loud voice from the throne saying, "Look! God's dwelling place is now among the people, and he will dwell with them. They will be his people, and God himself will be with them and be their God. He will wipe every tear from their eyes. There will be no more death or mourning or crying or pain, for the old order of things has passed away."
The Bible is a treasure trove of verses that teach us about the importance of joy in our lives. By immersing ourselves in these Bible verses about joy, we can deepen our understanding of what it means to experience true happiness in God's presence, trust His promises, accept His grace, and find joy even in the midst of trials. As we delight in praise and worship, serve others, and ultimately anticipate the eternal joy found in an eternity with God, we can experience a sense of inner peace and fulfillment that the world simply cannot provide.
Let us take these verses to heart and allow them to guide us on our journey towards a life filled with joy and contentment. Through pondering on these powerful verses, may we grow closer in our relationship with God and find the strength and encouragement needed to face life's challenges with a joyful spirit.