In today's fast-paced world, family may sometimes seem like an afterthought. But the truth is that our families are the bedrock of our lives and provide essential support, love, and guidance throughout our journey. Realizing the importance of cherishing these relationships, I realized that there are over 120 Bible verses about family that offer wisdom to keep our families strong and rooted in love. These verses are invaluable treasures that can shape our lives for the better and remind us of the importance of nurturing the family bonds.
While exploring the depth of these Bible verses, I found that they cover every aspect of family life. From inspirational parenting advice to celebrating unity in marriage, and even guidance on navigating challenges and conflicts, these scriptures can offer solace and meaningful insights. Regardless of which phase of life we find ourselves in, the Word of God provides direction and comfort to help us draw closer to our Creator and maintain harmony within our families.
Strengthening Family Relationships and Bonds
1. Proverbs 22:6
Train up a child in the way he should go; even when he is old he will not depart from it.
2. Ephesians 4:2-3
With all humility and gentleness, with patience, bearing with one another in love, eager to maintain the unity of the Spirit in the bond of peace.
3. Colossians 3:21
Fathers, do not provoke your children, lest they become discouraged.
4. Colossians 3:13
Bear with each other and forgive one another if any of you has a grievance against someone. Forgive as the Lord forgave you.
5. Proverbs 17:17
A friend loves at all times, and a brother is born for adversity.
6. Romans 12:10
Be kindly affectioned one to another with brotherly love; in honor preferring one another.
7. 1 Timothy 5:8
But if anyone does not provide for his own, and especially for those of his household, he has denied the faith and is worse than an unbeliever.
8. Psalm 127:3
Behold, children are a heritage from the Lord, the fruit of the womb a reward.
9. 1 Peter 4:8
Above all, keep loving one another earnestly, since love covers a multitude of sins.
10. Proverbs 15:20
A wise son makes a glad father, but a foolish man despises his mother.
11. Joshua 24:15
But as for me and my house, we will serve the Lord.
12. Ephesians 6:4
Fathers, do not provoke your children to anger, but bring them up in the discipline and instruction of the Lord.
13. 1 Corinthians 11:3
But I want you to understand that the head of every man is Christ, the head of a wife is her husband, and the head of Christ is God.
14. 1 Corinthians 13:4-7
Love is patient and kind; love does not envy or boast; it is not arrogant or rude. It does not insist on its own way; it is not irritable or resentful; it does not rejoice at wrongdoing but rejoices with the truth. Love bears all things, believes all things, hopes all things, endures all things.
15. Proverbs 11:29
Whoever brings ruin on their family will inherit only wind, and the fool will be a servant to the wise.
16. Romans 12:12
Rejoice in hope, be patient in tribulation, be constant in prayer.
17. Mark 3:25
If a house is divided against itself, that house cannot stand.
18. 1 Peter 3:11
Let him turn away from evil and do good; let him seek peace and pursue it.
19. 3 John 1:4
I have no greater joy than to hear that my children are walking in the truth.
More Verses:

1. 101+ Bible Verses About Family Love
2. 114+ Bible Verses About Protection
3. 150+ Bible Verses About Life
4. 120+ Bible Verses About Patience
5. 110+ Bible Verses About Forgiveness
6. 120+ Bible Verses About Pride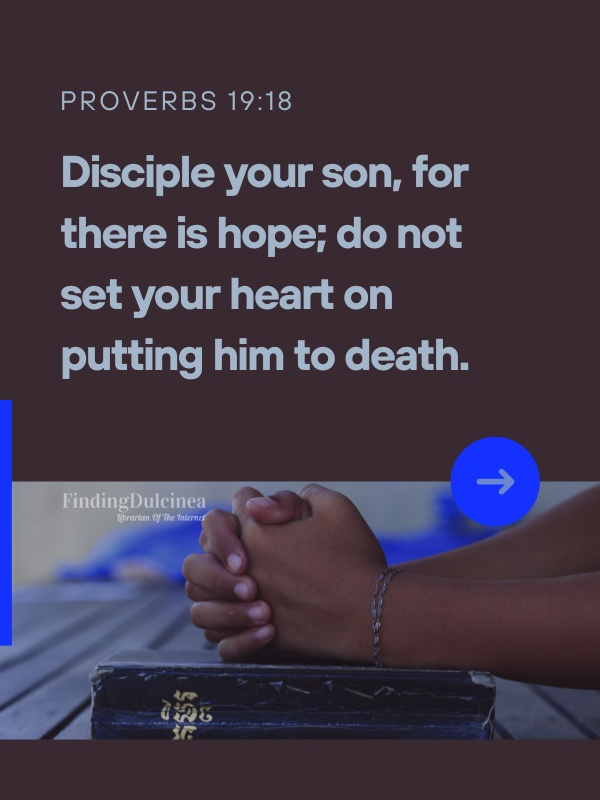 Inspiring Parenting Advice and Guidance
20. Proverbs 19:18
Disciple your son, for there is hope; do not set your heart on putting him to death.
21. Deuteronomy 6:6-7
These commandments that I give you today are to be on your hearts. Impress them on your children. Talk about them when you sit at home and when you walk along the road, when you lie down, and when you get up.
22. Psalm 113:9
He gives the barren woman a home, making her the joyous mother of children. Praise the Lord!
23. Proverbs 29:15
The rod and reproof give wisdom, but a child left to himself brings shame to his mother.
24. Psalm 139:13-15
For you formed my inward parts; you knitted me together in my mother's womb. I praise you, for I am fearfully and wonderfully made. Wonderful are your works; my soul knows it very well.
25. Ephesians 6:1-3
Children, obey your parents in the Lord, for this is right. "Honor your father and mother"-which is the first commandment with a promise—"so that it may go well with you and that you may enjoy long life on the earth."
26. Isaiah 49:15
Can a mother forget her nursing child or lack compassion for the child of her womb?
27. Isaiah 66:13
As a mother comforts her child, so will I comfort you; and you will be comforted over Jerusalem.
28. Luke 1:17
And he will go on before the Lord, in the spirit and power of Elijah, to turn the hearts of the parents to their children and the disobedient to the wisdom of the righteous—to make ready a people prepared for the Lord.
29. Proverbs 22:15
Folly is bound up in the heart of a child, but the rod of discipline drives it far from him.
30. Proverbs 29:17
Discipline your child, and they will give you peace; they will bring delight to your soul.
31. Hebrews 12:7
It is for discipline that you have to endure. God is treating you as sons. For what son is there whom his father does not discipline?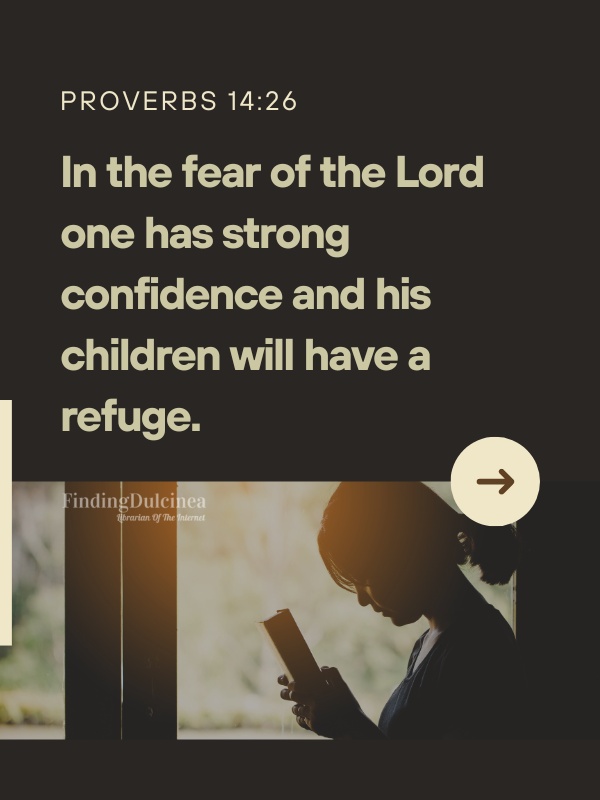 32. Proverbs 14:26
In the fear of the Lord one has strong confidence and his children will have a refuge.
33. Psalm 127:4-5
Like arrows in the hands of a warrior are children born in one's youth. Blessed is the man whose quiver is full of them.
34. Proverbs 23:13-14
Do not withhold discipline from a child; if you punish them with the rod, they will not die. Punish them with the rod and save them from death.
Celebrating Unity in Marriage and Love
35. Genesis 2:24
Therefore a man shall leave his father and his mother and hold fast to his wife, and they shall become one flesh.
36. Ecclesiastes 4:9-12
Two are better than one because they have a good reward for their toil. For if they fall, one will lift up his fellow. But woe to him who is alone when he falls and has not another to lift him up!
37. Ephesians 5:25
Husbands, love your wives, as Christ loved the church and gave himself up for her.
38. 1 Corinthians 7:3-5
The husband should give to his wife her conjugal rights, and likewise the wife to her husband.
39. Proverbs 5:18-19
Rejoice in the wife of your youth, a lovely deer, a graceful doe. Let her breasts fill you at all times with delight; be intoxicated always in her love.
40. Ephesians 5:33
However, let each one of you love his wife as himself, and let the wife see that she respects her husband.
41. 1 Peter 3:7
Husbands, live with your wives in an understanding way, showing honor to the woman as the weaker vessel, since they are heirs with you of the grace of life, so that your prayers may not be hindered.
42. Song of Solomon 8:6
Set me as a seal upon your heart, as a seal upon your arm, for love is strong as death, jealousy is fierce as the grave. Its flashes are flashes of fire, the very flame of the Lord.
43. Colossians 3:18-19
Wives, submit to your husbands, as is fitting in the Lord. Husbands, love your wives and do not be harsh with them.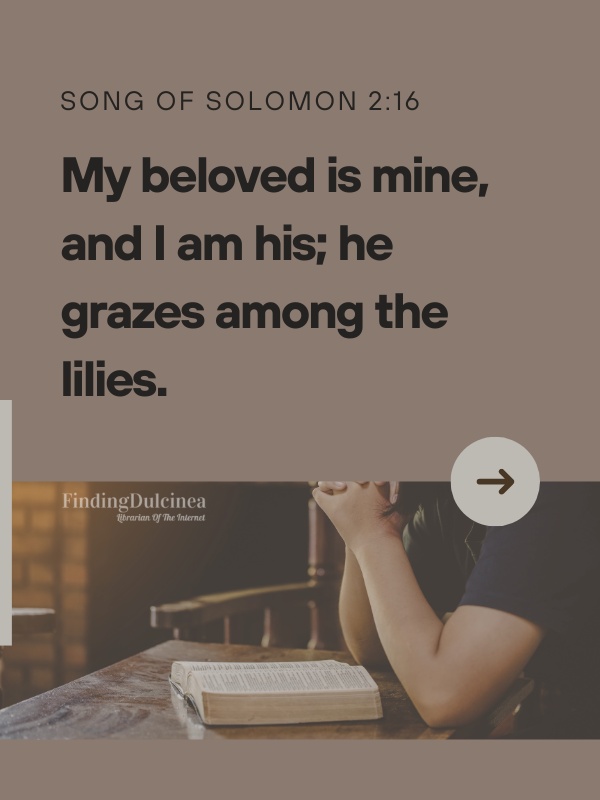 44. Song of Solomon 2:16
My beloved is mine, and I am his; he grazes among the lilies.
45. Hebrews 13:4
Let marriage be held in honor among all, and let the marriage bed be undefiled, for God will judge the sexually immoral and adulterous.
46. Song of Solomon 3:4
I found the one my heart loves. I held him and would not let him go.
47. 1 John 4:12
No one has ever seen God; but if we love one another, God lives in us and his love is made complete in us.
48. Ruth 1:16-17
But Ruth replied, "Don't urge me to leave you or to turn back from you. Where you go I will go, and where you stay I will stay. Your people will be my people and your God my God."
49. Ephesians 5:31
For this reason, a man will leave his father and mother and be united to his wife, and the two will become one flesh.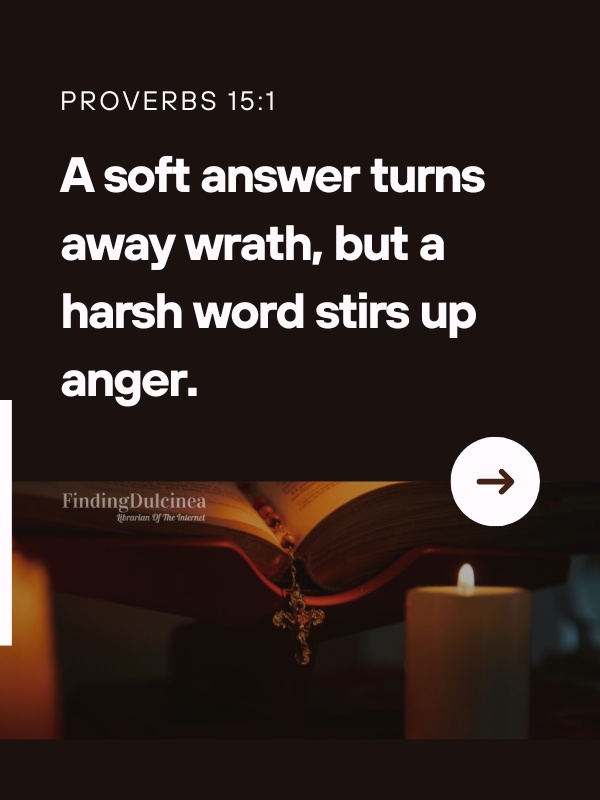 50. Ephesians 4:26
Be angry and do not sin; do not let the sun go down on your anger.
51. James 4:1-3
What causes fights and quarrels among you? Don't they come from your desires that battle within you?
52. Proverbs 15:1
A soft answer turns away wrath, but a harsh word stirs up anger.
53. Proverbs 18:19
A brother offended is harder to be won than a strong city; and their contentions are like the bars of a castle.
54. Romans 14:19
So then let us pursue what makes for peace and for mutual upbuilding.
55. Matthew 5:9
Blessed are the peacemakers, for they shall be called sons of God.
56. 2 Corinthians 13:11
Finally, brothers, rejoice. Aim for restoration, comfort one another, agree with one another, live in peace; and the God of love and peace will be with you.
57. 1 Corinthians 1:10
I appeal to you, brothers, by the name of our Lord Jesus Christ, that all of you agree, and that there be no divisions among you, but that you be united in the same mind and the same judgment.
58. Romans 12:18
If possible, so far as it depends on you, live peaceably with all.
59. Proverbs 16:7
When a man's ways please the Lord, he makes even his enemies to be at peace with him.
60. Ephesians 4:32
Be kind to one another, tender-hearted, forgiving one another, as God in Christ forgave you.
61. Philippians 2:3-4
Do nothing from selfish ambition or conceit, but in humility count others more significant than yourselves. Let each of you look not only to his own interests, but also to the interests of others.
62. James 1:19
My dear brothers and sisters, take note of this: Everyone should be quick to listen, slow to speak and slow to become angry.
63. Proverbs 13:10
By pride comes nothing but strife, but with the well-advised is wisdom.
64. Romans 12:17
Do not repay anyone evil for evil. Be careful to do what is right in the eyes of everyone.
65. Proverbs 3:29
Do not plan evil against your neighbor, who dwells trustingly beside you.
66. Matthew 18:15
If your brother sins against you, go and tell him his fault, between you and him alone. If he listens to you, you have gained your brother.
67. Proverbs 15:18
A hot-tempered person stirs up conflict, but the one who is patient calms a quarrel.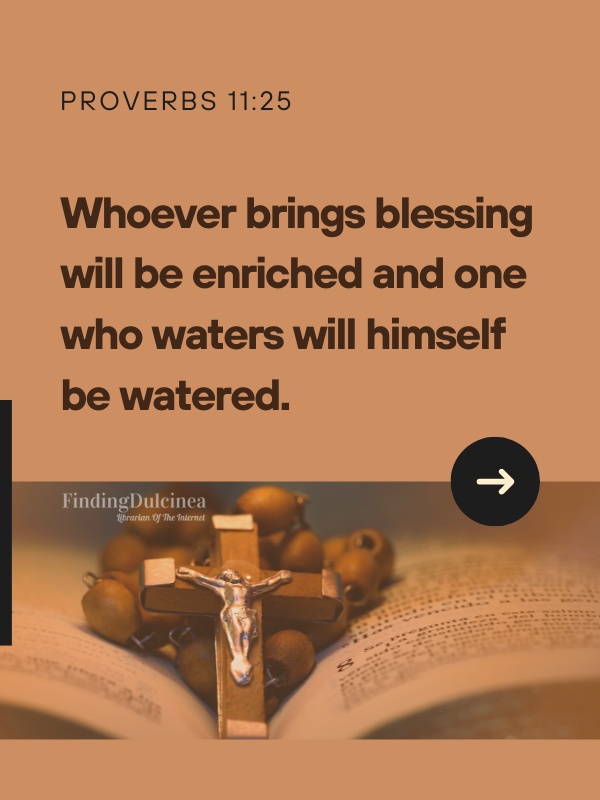 Embracing Generosity and Kindness within Families
68. Proverbs 19:17
Whoever is generous to the poor lends to the Lord, and he will repay him for his deed.
69. Hebrews 13:2
Do not neglect to show hospitality to strangers, for thereby some have entertained angels unawares.
70. Proverbs 11:25
Whoever brings blessing will be enriched and one who waters will himself be watered.
71. James 2:15-16
If a brother or sister is poorly clothed and lacking in daily food, and one of you says to them, "Go in peace, be warmed and filled," without giving them the things needed for the body, what good is that?
72. Galatians 6:10
Therefore, as we have the opportunity, let us do good to all people, especially to those who belong to the family of believers.
73. 1 Timothy 6:18
Command them to do good, to be rich in good deeds, and to be generous and willing to share.
74. Matthew 25:40
The King will reply, 'Truly I tell you, whatever you did for one of the least of these brothers and sisters of mine, you did for me.'
75. Proverbs 22:9
The generous will themselves be blessed, for they share their food with the poor.
76. Deuteronomy 15:11
There will always be poor people in the land. Therefore, I command you to be openhanded toward your fellow Israelites who are poor and needy in your land.
77. Acts 20:35
In everything I did, I showed you that by this kind of hard work we must help the weak, remembering the words the Lord Jesus himself said: 'It is more blessed to give than to receive.'
78. 2 Corinthians 9:11
You will be enriched in every way so that you can be generous on every occasion, and through us, your generosity will result in thanksgiving to God.
79. Proverbs 28:27
Whoever gives to the poor will not want, but he who hides his eyes will get many a curse.
80. Luke 6:38
Give, and it will be given to you. A good measure, pressed down, shaken together, and running over, will be poured into your lap. For with the measure you use, it will be measured to you.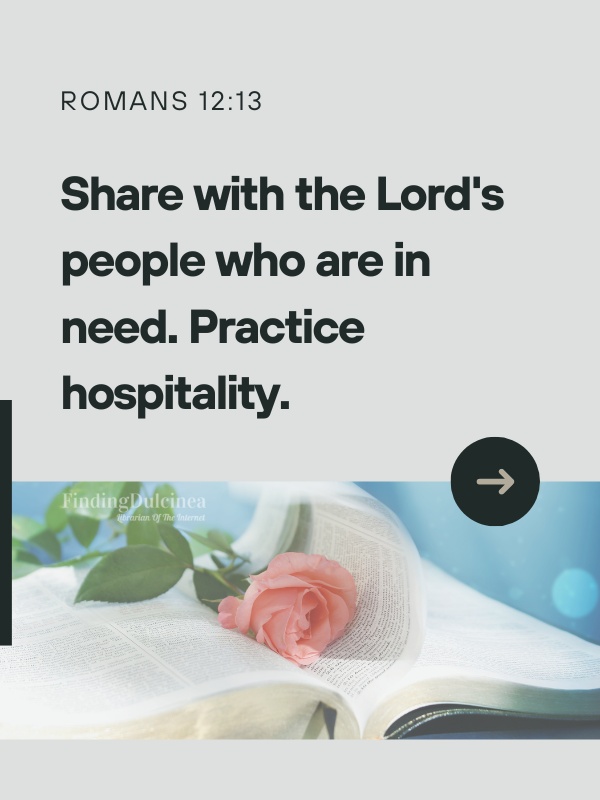 81. Romans 12:13
Share with the Lord's people who are in need. Practice hospitality.
82. 2 Corinthians 8:7
But since you excel in everything—in faith, in speech, in knowledge, in complete earnestness and in the love we have kindled in you—see that you also excel in this grace of giving.
Promoting a God-first Family Lifestyle
83. Deuteronomy 6:5
You shall love the Lord your God with all your heart and with all your soul and with all your might.
84. 1 John 5:21
Dear children, keep yourselves from idols.
85. Philippians 4:13
I can do all things through Christ who strengthens me.
86. Psalm 37:4
Delight yourself in the Lord, and he will give you the desires of your heart.
87. 1 John 4:19
We love because he first loved us.
88. 2 Timothy 1:7
For God gave us a spirit not of fear, but of power, love, and self-discipline.
89. Acts 16:31
Believe in the Lord Jesus and you will be saved—you and your household.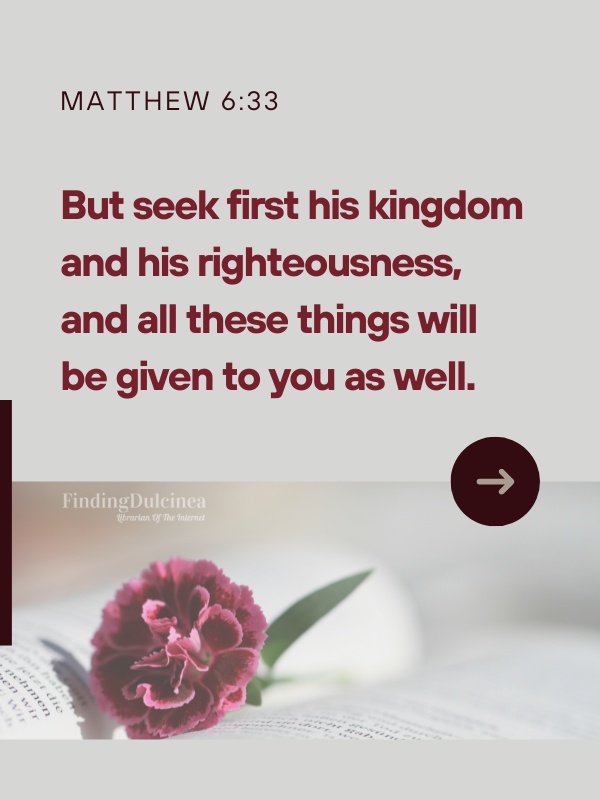 90. Matthew 6:33
But seek first his kingdom and his righteousness, and all these things will be given to you as well.
91. Colossians 3:23-24
Whatever you do, work heartily, as for the Lord and not for men, knowing that from the Lord you will receive the inheritance as your reward. You are serving the Lord Christ.
92. Romans 8:28
And we know that for those who love God all things work together for good, for those who are called according to his purpose.
93. Psalm 23:1
The Lord is my shepherd, I lack nothing.
94. Jeremiah 29:11
For I know the plans I have for you, declares the Lord, plans for welfare and not for evil, to give you a future and a hope.
Understanding Roles and Responsibilities in Families
95. 1 Timothy 3:5
For if someone does not know how to manage his own household, how will he care for God's church?
96. Galatians 6:2
Carry each other's burdens, and in this way, you will fulfill the law of Christ.
97. Proverbs 24:3
By wisdom a house is built, and through understanding it is established.
98. Proverbs 31:28-29
Her children rise up and call her blessed; her husband also, and he praises her: "Many women have done excellently, but you surpass them all."
99. Proverbs 31:15
She rises while it is yet night and provides food for her household and portions for her maidens.
100. Proverbs 27:23
Be diligent to know the condition of your flocks, and give attention to your herds.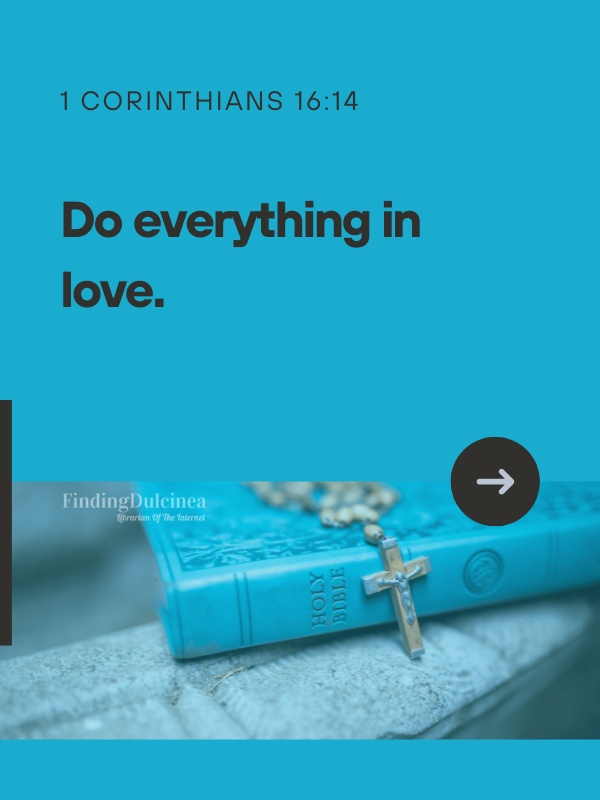 101. 1 Corinthians 16:14
Do everything in love.
102. Proverbs 31:25
Strength and dignity are her clothing, and she smiles at the future.
103. Proverbs 31:18
She perceives that her merchandise is profitable. Her lamp does not go out at night.
104. Proverbs 31:17
She girds herself with strength, and makes her arms strong.
105. Proverbs 22:29
Do you see a man skillful in his work? He will stand before kings; he will not stand before obscure men.
106. Titus 2:3-5
Teach the older women to be reverent in the way they live, not to be slanderers or addicted to much wine, but to teach what is good, so that they can train younger women.
107. 1 Corinthians 11:3
But I want you to realize that the head of every man is Christ, and the head of the woman is man, and the head of Christ is God.
Experiencing God's Love and Forgiveness Together
108. 1 John 4:7
Beloved, let us love one another, for love is from God, and whoever loves has been born of God and knows God.
109. Psalm 103:17
But from everlasting to everlasting the Lord's love is with those who fear him, and his righteousness with their children's children.
110. Ephesians 4:32
Be kind and compassionate to one another, forgiving each other, just as in Christ God forgave you.
111. 1 John 1:9
If we confess our sins, he is faithful and just to forgive us our sins and to cleanse us from all unrighteousness.
112. Romans 8:39
Neither height nor depth, nor anything else in all creation, will be able to separate us from the love of God that is in Christ Jesus our Lord.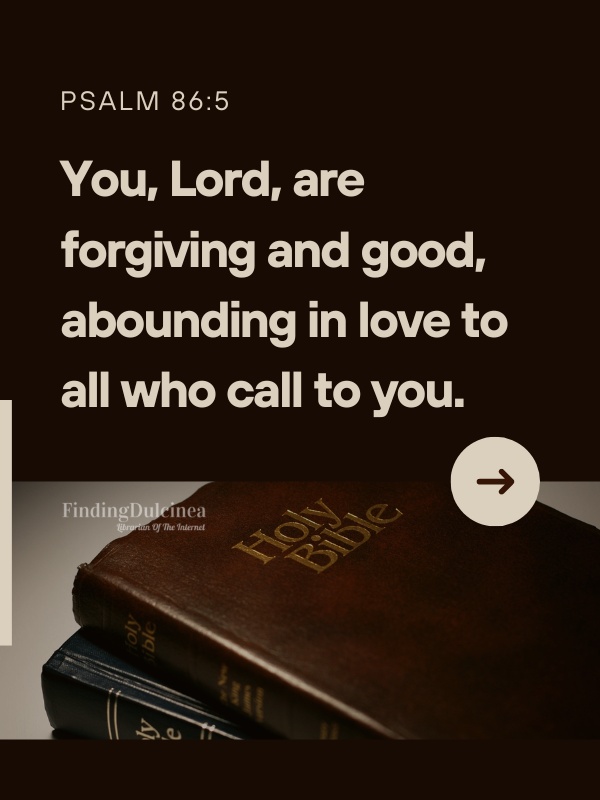 113. Psalm 86:5
You, Lord, are forgiving and good, abounding in love to all who call to you.
114. Colossians 3:14
And above all these put on love, which binds everything together in perfect harmony.
115.1 Peter 4:8
Above all, love each other deeply, because love covers over a multitude of sins.
116. Romans 5:8
But God demonstrates his own love for us in this: While we were still sinners, Christ died for us.
117. 1 Corinthians 13:13
And now these three remain: faith, hope and love. But the greatest of these is love.
118. Hebrews 4:16
Let us then approach God's throne of grace with confidence, so that we may receive mercy and find grace to help us in our time of need.
119. Matthew 6:14-15
For if you forgive other people when they sin against you, your heavenly Father will also forgive you. But if you do not forgive others their sins, your Father will not forgive your sins.
120. 2 Corinthians 5:17
Therefore, if anyone is in Christ, the new creation has come: The old has gone, the new is here!
121. Luke 6:27
But I say to you who hear, Love your enemies, do good to those who hate you.
122. Romans 8:1
There is therefore now no condemnation for those who are in Christ Jesus.
The importance of family cannot be overstated. Reflecting on these Bible verses about family, we can discover timeless wisdom and guidance to strengthen family bonds, inspire parents, celebrate love and marriage, navigate challenges, embrace generosity and kindness, promote a God-first lifestyle, understand roles and responsibilities, and experience God's love and forgiveness together.
By integrating these verses into our daily lives, our families can grow closer to each other and to God, forming unbreakable bonds that uplift and support us through every stage of life. May these scriptures serve as a constant source of inspiration, healing, and love, nurturing our families into vibrant communities of faith, kindness, and resilience anchored in the Lord's grace.