Are you feeling vulnerable, lost, or afraid amid the chaos of everyday life? I know that in my own times of need and distress, turning to Scripture has been a lifeline that pulls me back to safety. This is why I have compiled an extensive list of bible verses about protection! The Word of God is a powerful source of comfort, guidance, and strength. Trusting in the promises found within its pages can encourage us all on our journey through life.
It's essential to remember that God's Word is not just filled with lofty religious concepts or abstract ideas. Instead, it provides us with words of wisdom that can be concretely applied to our daily lives. Time and time again, He has shown His love for us through His divine protection and providence – calling out to us through these verses so we might never feel alone.
God as Our Protector and Refuge
1. Psalm 46:1
"God is our refuge and strength, an ever-present help in trouble."
2. Psalm 18:2
"The LORD is my rock, my fortress, and my savior; my God is my rock, in whom I find protection."
3. Proverbs 18:10
"The name of the LORD is a strong tower; the righteous run into it and are safe."
4. Psalm 121:3
"He will not allow your foot to be moved; He who keeps you will not slumber."
5. Deuteronomy 31:6
"Be strong and courageous. Do not be afraid or terrified because of them, for the LORD your God goes with you; he will never leave you nor forsake you."
6. Psalm 32:7
"You are my hiding place; you preserve me from trouble; you surround me with shouts of deliverance."
7. Isaiah 41:10
"Do not fear, for I am with you; do not be dismayed, for I am your God. I will strengthen you and help you; I will uphold you with my righteous right hand."
8. Nahum1:7
"The Lord is good A stronghold in the day of trouble And He knows those who take refuge in Him."
9. Psalm61:3
"For thou hast been a shelter for me,and a strong tower from the enemys"
10. Psalm16:1
"Preserve me, O Godi for in thee do i put trust"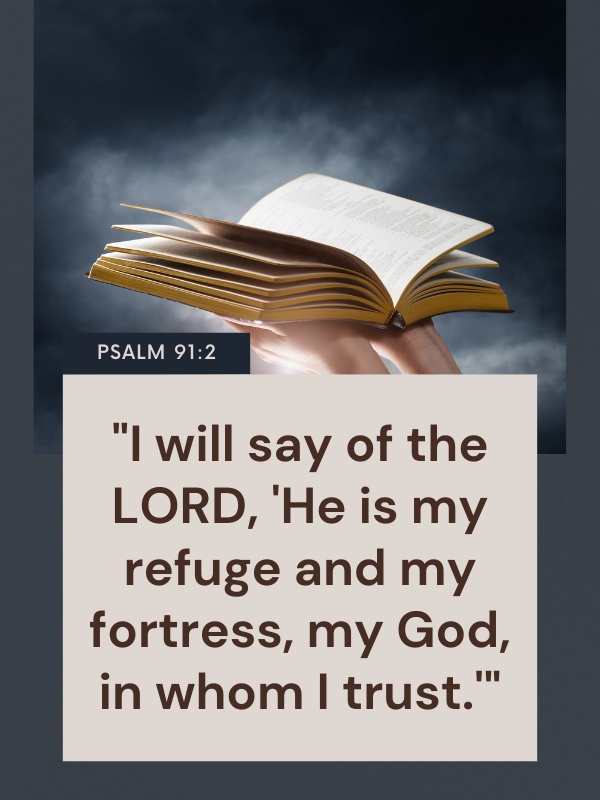 11. Psalm 91:2
"I will say of the LORD, 'He is my refuge and my fortress, my God, in whom I trust.'"
12. Psalm 121:7-8
"The LORD will keep you from all harm; He will watch over your life; the LORD will watch over your coming and going both now and forevermore."
13. Psalm 59:16
"But I will sing of your strength, in the morning I will sing of your love; for you are my fortress, my refuge in times of trouble."
14. Proverbs 30:5
"Every word of God is flawless; He is a shield to those who take refuge in Him."
15. Isaiah 25:4
"For You have been a stronghold to the poor, a stronghold to the needy in his distress, a shelter from the storm and a shade from the heat."
16. Joshua1:9
"Have I not commanded you? Be strong and courageous.Do not be frightened,and do not be dismayed ,for The Lord your God is with you wherever you go"
17. Psalm 68:5-6
"A father to the fatherless, a defender of widows, is God in his holy dwelling. God sets the lonely in families; he leads out the prisoners with singing; but the rebellious live in a sun-scorched land."
18. 2 Samuel 22:31
"As for God, his way is perfect: The LORD's word is flawless; he shields all who take refuge in him."
19. Isaiah 54:17
"No weapon that is fashioned against you shall succeed, and you shall refute every tongue that rises against you in judgment. This is the heritage of the servants of the Lord and their vindication from me, declares the Lord."
20. Psalm 27:1
"The LORD is my light and my salvation—whom shall I fear? The LORD is the stronghold of my life—of whom shall I be afraid?"
More Verses:

1. 110+ Bible Verses About Happiness
2. 90+ Bible Verses About Being Thankful
3. 150+ Bible Verses About Life
4. 120+ Bible Verses About Patience
5. 110+ Bible Verses About Forgiveness
6. 120+ Bible Verses About Pride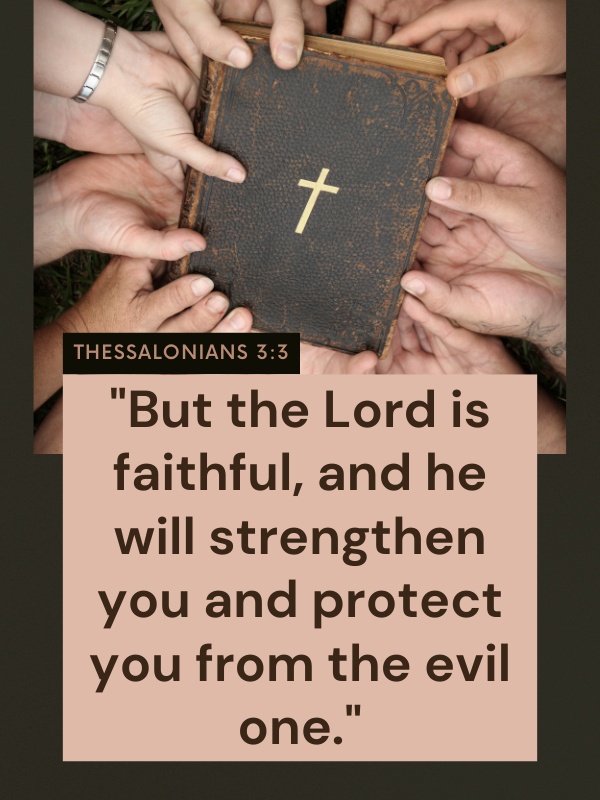 God's Protection from Evil and Sin
21. Thessalonians 3:3
"But the Lord is faithful, and he will strengthen you and protect you from the evil one."
22. Psalm 64:1
"Hear me, my God, as I voice my complaint; protect my life from the threat of the enemy."
23. James 4:7
"Submit yourselves, then, to God. Resist the devil, and he will flee from you."
24. 1 Peter 5:8-9
"Be alert and of sober mind. Your enemy the devil prowls around like a roaring lion looking for someone to devour. Resist him, standing firm in the faith."
25. 2 Thessalonians 3:3
"But the Lord is faithful. He will establish you and guard you against the evil one."
26. Ephesians 6:13
"Therefore put on the full armor of God, so that when the day of evil comes, you may be able to stand your ground, and after you have done everything, to stand."
27. John 17:15
"My prayer is not that you take them out of the world, but that you protect them from the evil one."
28. 1 John 5:18
"We know that anyone born of God does not continue to sin; the One who was born of God keeps them safe, and the evil one cannot harm them."
29. Ephesians 6:11
"Put on the whole armor of God, that you may be able to stand against the schemes of the devil."
30. Psalm 97:10
"Let those who love the LORD hate evil, for he guards the lives of his faithful ones and delivers them from the hand of the wicked."
31. Romans 12:21
"Do not be overcome by evil, but overcome evil with good."
32. Psalm 121:7
"The Lord will keep you from all evil; He will keep your life."
33. Romans 16:20
"The God of peace will soon crush Satan under your feet. The grace of our Lord Jesus be with you."
34. 1 Corinthians 10:13
"No temptation has overtaken you that is not common to man. God is faithful, and he will not let you be tempted beyond your ability, but with the temptation he will also provide the way of escape, that you may be able to endure it."
35. Isaiah 43:2
"When you pass through the waters, I will be with you; and when you pass through the rivers, they will not sweep over you. When you walk through the fire, you will not be burned; the flames will not set you ablaze.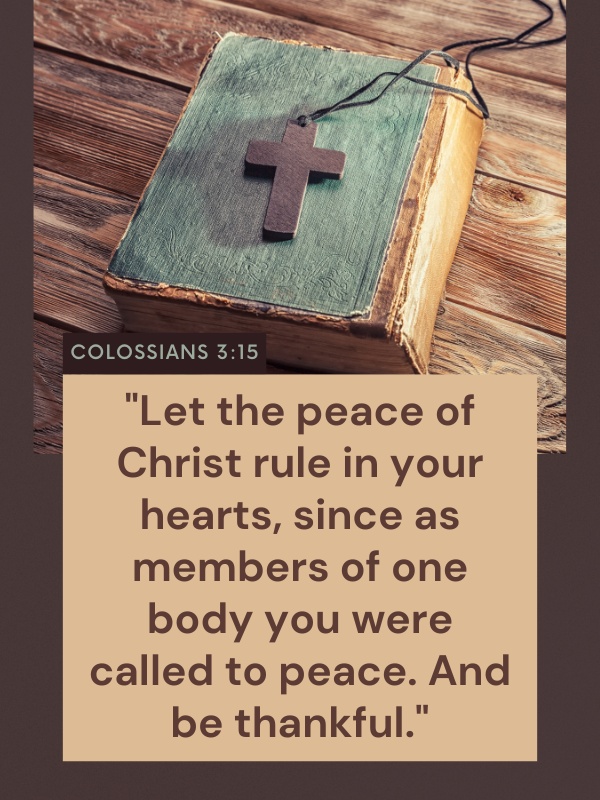 Seeking God's Guidance Through Prayer
36. Philippians 4:6-7
"Do not be anxious about anything, but in every situation, by prayer and petition, with thanksgiving, present your requests to God. And the peace of God, which transcends all understanding, will guard your hearts and your minds in Christ Jesus."
37. Colossians 3:15
"Let the peace of Christ rule in your hearts, since as members of one body you were called to peace. And be thankful."
38. Psalm 34:17
"The righteous cry out, and the LORD hears them; he delivers them from all their troubles."
39. Matthew 6:9-13
"Our Father in heaven, hallowed be your name, your kingdom come, your will be done, on earth as it is in heaven. Give us today our daily bread. And forgive us our debts, as we also have forgiven our debtors. And lead us not into temptation, but deliver us from the evil one."
40. James 5:16
"Therefore confess your sins to each other and pray for each other so that you may be healed. The prayer of a righteous person is powerful and effective."
41. Matthew 7:11
"If you, then, though you are evil, know how to give good gifts to your children, how much more will your Father in heaven give good gifts to those who ask him!"
42. Psalm 91:14-15
"Because he loves me, says the LORD, I will rescue him; I will protect him, for he acknowledges my name. He will call on me, and I will answer him; I will be with him in trouble, I will deliver him and honor him."
43. Psalm 62:8
"Trust in him at all times, O people; pour out your heart before him; God is a refuge for us."
44. Matthew 21:22
"If you believe, you will receive whatever you ask for in prayer."
45. Psalm 145:18
"The LORD is near to all who call on him, to all who call on him in truth."
46. Romans 8:26
"Likewise the Spirit helps us in our weakness. For we do not know what to pray for as we ought, but the Spirit himself intercedes for us with groanings too deep for words."
47. 1 John 5:14
"This is the confidence we have in approaching God: that if we ask anything according to his will, he hears us."
48. Mark 11:24
"Therefore I tell you, whatever you ask for in prayer, believe that you have received it, and it will be yours."
49. Psalm 147:3
"He heals the brokenhearted and binds up their wounds."
50. Jeremiah 29:12
"Then you will call on me and come and pray to me, and I will listen to you."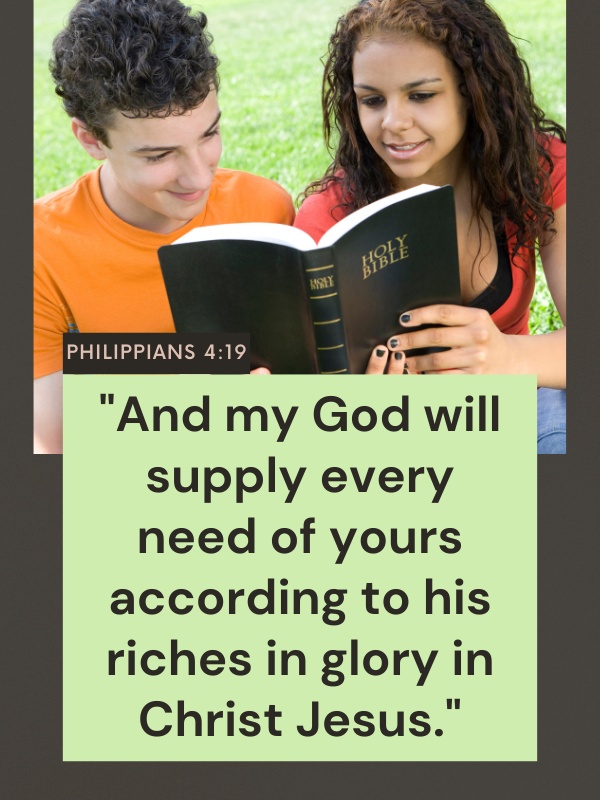 Trusting in the Lord During Hard Times
51. Isaiah 43:1-2
"But now, this is what the LORD says—he who created you, Jacob, he who formed you, Israel: 'Do not fear, for I have redeemed you; I have summoned you by name; you are mine. When you pass through the waters, I will be with you; and when you pass through the rivers, they will not sweep over you. When you walk through the fire, you will not be burned; the flames will not set you ablaze.'"
52. Philippians 4:19
"And my God will supply every need of yours according to his riches in glory in Christ Jesus."
53. Psalm 9:9-10
"The Lord is a refuge for the oppressed, a stronghold in times of trouble. Those who know your name trust in you, for you, Lord, have never forsaken those who seek you."
54. Romans 12:12
"Be joyful in hope, patient in affliction, faithful in prayer."
55. Isaiah 26:3
"You will keep in perfect peace those whose minds are steadfast because they trust in you."
56. Proverbs 3:5-6
"Trust in the Lord with all your heart, and do not lean on your own understanding. In all your ways acknowledge him, and he will make straight your paths."
57. 2 Corinthians 4:8-9
"We are hard-pressed on every side, but not crushed; perplexed, but not in despair; persecuted, but not abandoned; struck down, but not destroyed."
58. Psalm 55:22
"Cast your cares on the Lord and he will sustain you; he will never let the righteous be shaken."
59. Psalm 33:18-22
"Behold, the eye of the Lord is on those who fear him, on those who hope in his steadfast love, that he may deliver their soul from death and keep them alive in famine. Our soul waits for the Lord; he is our help and our shield. For our heart is glad in him, because we trust in his holy name. Let your steadfast love, O Lord, be upon us, even as we hope in you."
60. James 1:12
"Blessed is the one who perseveres under trial because, having stood the test, that person will receive the crown of life that the Lord has promised to those who love him."
61. Deuteronomy 20:4
"For the Lord your God is he who goes with you to fight for you against your enemies, to give you the victory."
62. Hebrews 13:6
"So we say with confidence, 'The Lord is my helper; I will not be afraid. What can mere mortals do to me?'"
63. 1 Peter 5:6-7
"Humble yourselves, then, under God's mighty hand, so that he will lift you up in his own good time. Leave all your worries with him, because he cares for you."
64. Romans 8:37
"No, in all these things we are more than conquerors through him who loved us."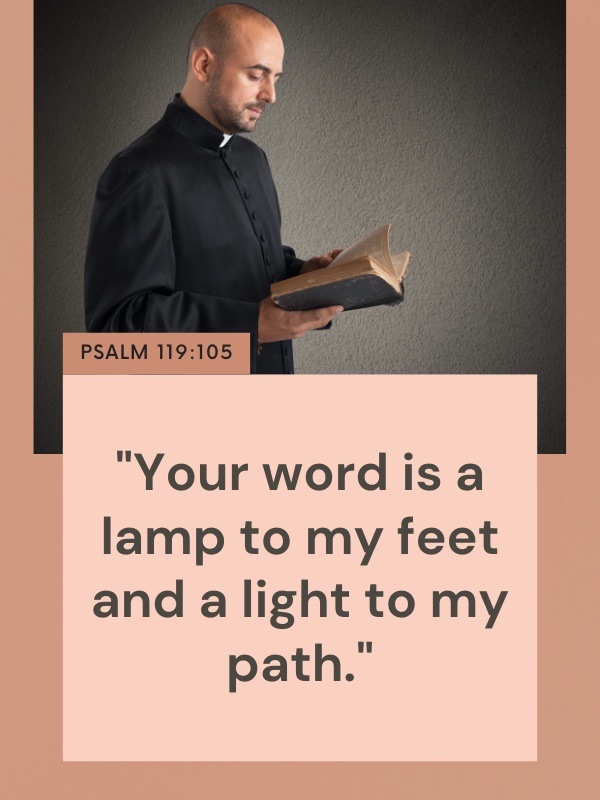 The Power of God's Word for Protection
65. Ephesians 6:10-11
"Finally, be strong in the Lord and in his mighty power. Put on the full armor of God, so that you can take your stand against the devil's schemes."
66. Hebrews 4:12
"For the word of God is alive and active. Sharper than any double-edged sword, it penetrates even to dividing soul and spirit, joints and marrow; it judges the thoughts and attitudes of the heart."
67. Isaiah 55:11
"So shall my word be that goes out from my mouth; it shall not return to me empty, but it shall accomplish that which I purpose, and shall succeed in the thing for which I sent it."
68. Psalm 119:105
"Your word is a lamp to my feet and a light to my path."
69. 2 Timothy 3:16-17
"All Scripture is God-breathed and is useful for teaching, rebuking, correcting, and training in righteousness, so that the servant of God may be thoroughly equipped for every good work."
70. Psalm 119:114
"You are my refuge and my shield; I have put my hope in your word."
71. Matthew 24:35
"Heaven and earth will pass away, but my words will never pass away."
72. Proverbs 30:5
"Every word of God proves true; he is a shield to those who take refuge in him."
73. Psalm 18:30
"As for God, his way is perfect: The LORD's word is flawless; he shields all who take refuge in him."
74. Joshua 1:8
"Keep this Book of the Law always on your lips; meditate on it day and night, so that you may be careful to do everything written in it. Then you will be prosperous and successful."
75. Psalm 12:6
"The words of the Lord are pure words, like silver refined in a furnace on the ground, purified seven times."
76. Isaiah 40:8
"The grass withers, the flower fades, but the word of our God will stand forever."
77. Luke 4:4
"Jesus answered, 'It is written: 'Man shall not live on bread alone, but on every word that comes from the mouth of God.'"
78. Psalm 84:11
"For the LORD God is a sun and shield; the LORD bestows favor and honor; no good thing does He withhold from those who walk uprightly."
79. Psalm 36:7
"How precious is your unfailing love, O God! All humanity finds shelter in the shadow of your wings."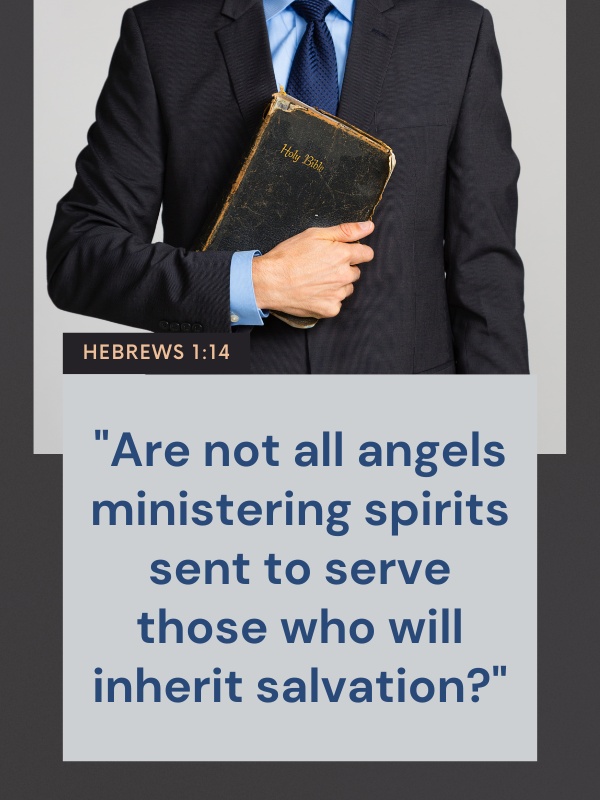 Angels as Heavenly Protectors and Messengers
80. Psalm 91:11-12
"For he will command his angels concerning you to guard you in all your ways; they will lift you up in their hands so that you will not strike your foot against a stone."
81. Hebrews 1:14
"Are not all angels ministering spirits sent to serve those who will inherit salvation?"
82. Matthew 18:10
"See that you do not despise one of these little ones. For I tell you that in heaven their angels always see the face of my Father who is in heaven."
83. Luke 1:19
"The angel said to him, 'I am Gabriel. I stand in the presence of God, and I have been sent to speak to you and to tell you this good news.'"
84. Acts 12:7
"Suddenly an angel of the Lord appeared and a light shone in the cell. He struck Peter on the side and woke him up. 'Quick, get up!' he said, and the chains fell off Peter's wrists."
85. Genesis 28:12
"He had a dream in which he saw a stairway resting on the earth, with its top reaching to heaven, and the angels of God were ascending and descending on it."
86. Exodus 23:20
"See, I am sending an angel ahead of you to guard you along the way and to bring you to the place I have prepared."
87. Hebrews 13:2
"Do not forget to show hospitality to strangers, for by so doing some people have shown hospitality to angels without knowing it."
88. Genesis 19:15
"With the coming of dawn, the angels urged Lot, saying, 'Hurry! Take your wife and your two daughters who are here, or you will be swept away when the city is punished.'"
89. Acts 5:19
"But during the night an angel of the Lord opened the doors of the jail and brought them out."
90. Matthew 2:13
"When they had gone, an angel of the Lord appeared to Joseph in a dream. 'Get up,' he said, 'take the child and his mother and escape to Egypt. Stay there until I tell you, for Herod is going to search for the child to kill him.'"
91. Joshua 5:13-14
"Now when Joshua was near Jericho, he looked up and saw a man standing in front of him with a drawn sword in his hand. Joshua went up to him and asked, 'Are you for us or for our enemies?' 'Neither,' he replied, 'but as commander of the army of the Lord I have now come.'"
92. Luke 15:10
"In the same way, I tell you, there is rejoicing in the presence of the angels of God over one sinner who repents."
93. Revelation 5:11
"Then I looked and heard the voice of many angels, numbering thousands upon thousands, and ten thousand times ten thousand. They encircled the throne and the living creatures and the elders."
94. Daniel 6:22
"My God sent his angel and shut the lions' mouths so that they would not harm me, for I have been found innocent in his sight."
95. Luke 4:10
"For it is written: 'He will command his angels concerning you to guard you carefully.'"
96. 1 Kings 19:5
"Then he lay down under the bush and fell asleep. All at once an angel touched him and said, 'Get up and eat.'"
97. Judges 6:12
"When the angel of the Lord appeared to Gideon, he said, 'The Lord is with you, mighty warrior.'"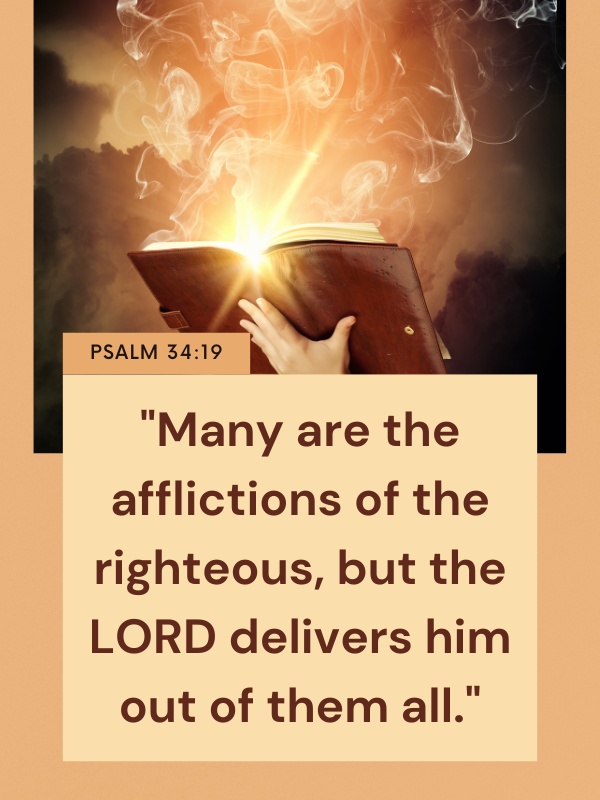 Promises of Deliverance and Salvation
98. Psalm 34:19
"Many are the afflictions of the righteous, but the LORD delivers him out of them all."
99. John 3:16
"For God so loved the world, that he gave his only Son, that whoever believes in him should not perish but have eternal life."
100. Romans 10:13
"For 'everyone who calls on the name of the Lord will be saved.'"
101. 1 John 1:9
"If we confess our sins, he is faithful and just and will forgive us our sins and purify us from all unrighteousness."
102. Isaiah 61:1
"The Spirit of the Sovereign Lord is on me, because the Lord has anointed me to proclaim good news to the poor. He has sent me to bind up the brokenhearted, to proclaim freedom for the captives and release from darkness for the prisoners,"
103. Romans 8:1
"There is therefore now no condemnation for those who are in Christ Jesus."
104. Psalm 103:12
"As far as the east is from the west, so far has he removed our transgressions from us."
105. Romans 8:38-39
"For I am convinced that neither death nor life, neither angels nor demons, neither the present nor the future, nor any powers, neither height nor depth, nor anything else in all creation, will be able to separate us from the love of God that is in Christ Jesus our Lord."
106. John 14:6
"Jesus answered, 'I am the way and the truth and the life. No one comes to the Father except through me.'"
107. Isaiah 43:2
"When you pass through the waters, I will be with you; and when you pass through the rivers, they will not sweep over you. When you walk through the fire, you will not be burned; the flames will not set you ablaze."
108. Romans 6:23
"For the wages of sin is death, but the gift of God is eternal life in Christ Jesus our Lord."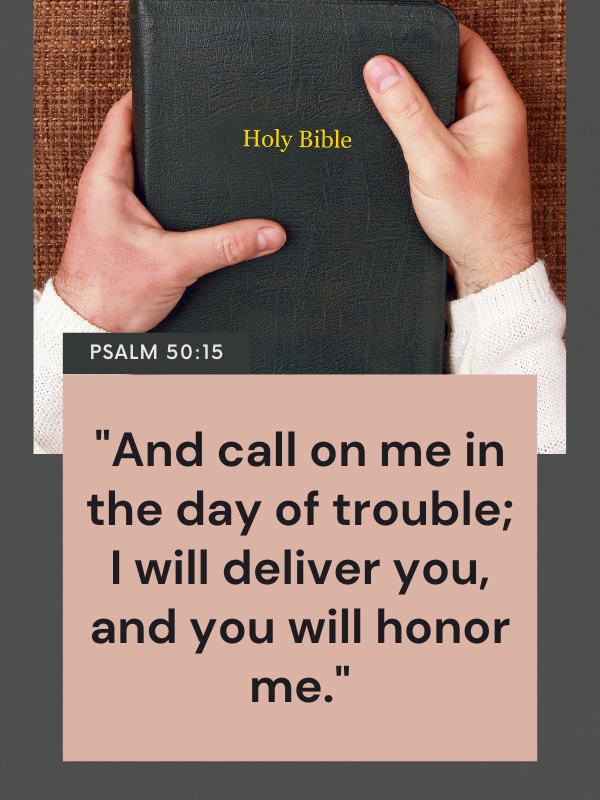 109. Psalm 50:15
"And call on me in the day of trouble; I will deliver you, and you will honor me."
110. Galatians 5:1
"It is for freedom that Christ has set us free. Stand firm, then, and do not let yourselves be burdened again by a yoke of slavery."
111. John 16:33
"I have told you these things, so that in me you may have peace. In this world you will have trouble. But take heart! I have overcome the world."
112. Ephesians 2:8-9
"For it is by grace you have been saved, through faith—and this is not from yourselves, it is the gift of God— not by works, so that no one can boast."
113. Titus 3:5
"He saved us not because of righteous things we had done, but because of his mercy. He saved us through the washing of rebirth and renewal by the Holy Spirit."
114. Revelation 3:20
"Here I am! I stand at the door and knock. If anyone hears my voice and opens the door, I will come in and eat with that person, and they with me."
115. Acts 16:31
"They replied, 'Believe in the Lord Jesus, and you will be saved—you and your household.'"
116. Lamentations 3:58
"You, Lord, took up my case; you redeemed my life."
117. Romans 5:8
"But God demonstrates his own love for us in this: While we were still sinners, Christ died for us."
These Bible verses about protection serve as a powerful reminder of the Lord's constant presence, and His divine protection that surrounds us in all circumstances. As we face life's inevitable challenges and uncertainties, let us hold on to these precious verses that reinforce God's love and guidance. Seek solace in these words as you turn to God in fervent prayer, and let your faith carry you through difficult times.
Remember to share these comforting verses with friends and loved ones as a testament to the Lord's unending faithfulness. No matter what trials you encounter, be confident that God's protection and His promises of deliverance and salvation are always within reach. May these verses strengthen you and remind you that you are never alone, for the Almighty is your eternal protector and refuge.