It's no secret that life can be challenging, and at times, overwhelming. Many of us experience feelings of depression, anxiety, and fear, making it difficult to find a sense of peace within ourselves or our circumstances. Thankfully, we have a lifeline in the form of the Bible, which is full of powerful messages and reminders that we are never alone in our struggle. In this blog post, I am going to share with you 90+ Bible verses about depression that can lift your spirits, provide hope and guidance, and remind you of your inherent worth.
These Bible verses come from various books and chapters, offering unique perspectives and insights into overcoming depression and finding inner strength. By diving into these passages, you'll be reminded of the love, grace, and protection that God provides to all his children. As you meditate on these verses, it's my hope that you'll find comfort, encouragement, and a renewed sense of hope for your journey ahead.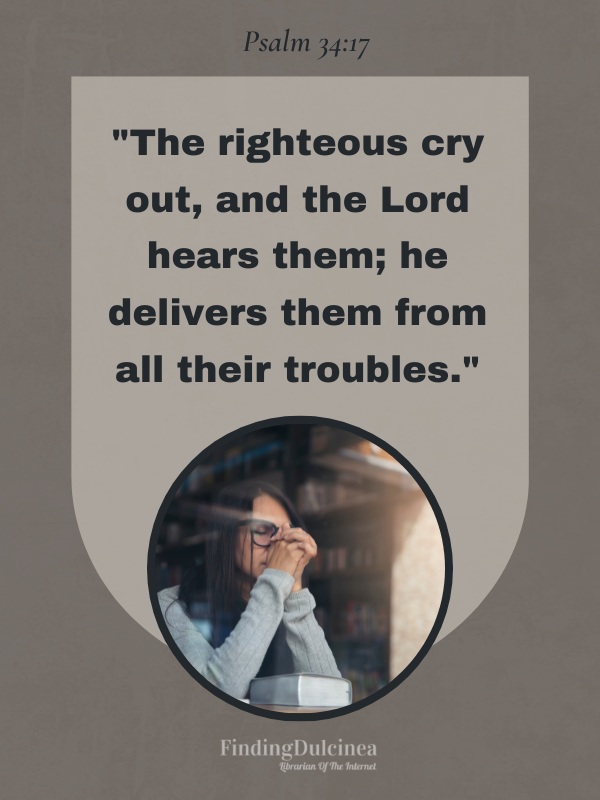 Psalms for comfort and hope
1. Psalm 30:5
"For his anger lasts only a moment, but his favor lasts a lifetime; weeping may stay for the night, but rejoicing comes in the morning."
2. Psalm 34:17
"The righteous cry out, and the Lord hears them; he delivers them from all their troubles."
3. Psalm 42:11
"Why, my soul, are you downcast? Why so disturbed within me? Put your hope in God, for I will yet praise him, my Savior and my God."
4. Psalm 40:1-2
"I waited patiently for the Lord; he turned to me and heard my cry. He lifted me out of the slimy pit, out of the mud and mire; he set my feet on a rock and gave me a firm place to stand."
5. Psalm 41:3
"The Lord sustains them on their sickbed and restores them from their bed of illness."
6. Psalm 91:2-4
"I will say of the Lord, 'He is my refuge and my fortress, my God, in whom I trust.' Surely he will save you from the fowler's snare and from the deadly pestilence. He will cover you with his feathers, and under his wings you will find refuge; his faithfulness will be your shield and rampart."
7. Psalm 94:19
"When anxiety was great within me, your consolation brought me joy."
8. Psalm 121:1-2
"I lift up my eyes to the mountains—where does my help come from? My help comes from the Lord, the Maker of heaven and earth."
9. Psalm 139:11-12
"If I say, 'Surely the darkness will hide me and the light become night around me,' even the darkness will not be dark to you; the night will shine like the day, for darkness is as light to you."
10. Psalm 147:3
"He heals the brokenhearted and binds up their wounds."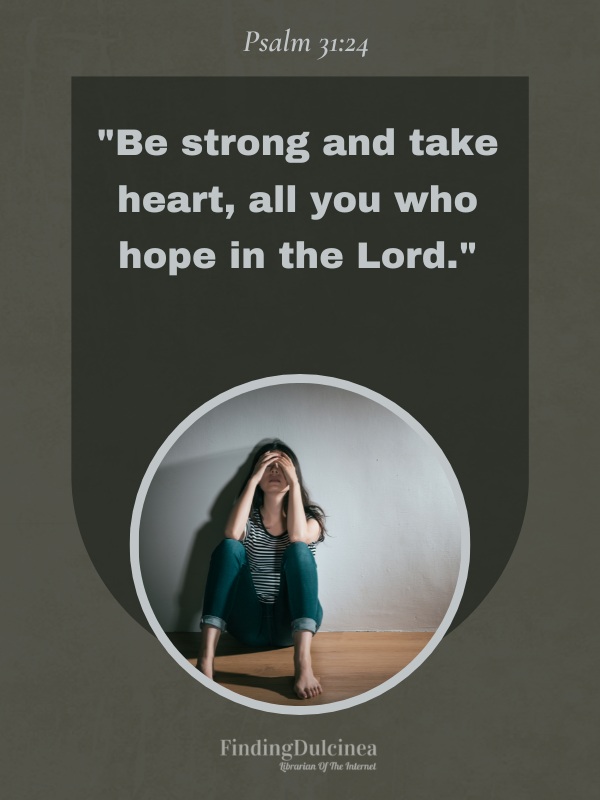 11. Psalm 31:24
"Be strong and take heart, all you who hope in the Lord."
12. 12.Psalm 37:24
"Though he may stumble, he will not fall, for the Lord upholds him with his hand."
13. Psalm 23:4
"Even though I walk through the darkest valley, I will fear no evil, for you are with me; your rod and your staff, they comfort me."
14. Psalm 61:1-2
"Hear my cry, O God; listen to my prayer. From the ends of the earth I call to you, I call as my heart grows faint; lead me to the rock that is higher than I."
15. Psalm 46:1-2
"God is our refuge and strength, an ever-present help in trouble. Therefore we will not fear, though the earth give way and the mountains fall into the heart of the sea."
16. Psalm 27:13
"I remain confident of this: I will see the goodness of the Lord in the land of the living."
17. Psalm 55:22
"Cast your cares on the Lord and he will sustain you; he will never let the righteous be shaken."
18. Psalm 71:20
"Though you have made me see troubles, many and bitter, you will restore my life again; from the depths of the earth you will again bring me up."
19. Psalm 126:5
"Those who sow with tears will reap with songs of joy."
20. Psalm 145:18
"The Lord is near to all who call on him, to all who call on him in truth."
More Verses:

1. 200+ Bible Verses About Fear
2. 110+ Bible Verses About Money
3. 150+ Bible Verses About Life
4. 120+ Bible Verses About Patience
5. 110+ Bible Verses About Forgiveness
6. 120+ Bible Verses About Pride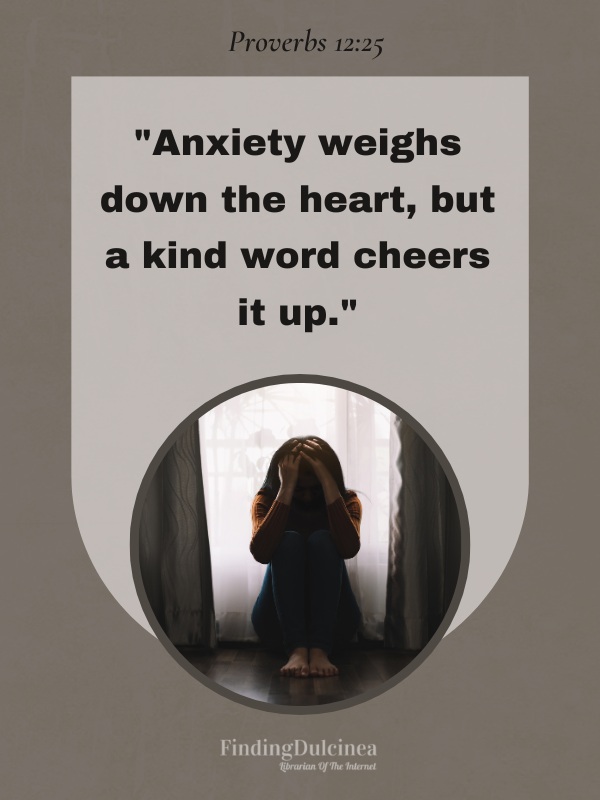 Proverbs for wisdom and guidance
21. Proverbs 3:5-6
"Trust in the Lord with all your heart and lean not on your own understanding; in all your ways submit to him, and he will make your paths straight."
22. Proverbs 12:25
"Anxiety weighs down the heart, but a kind word cheers it up."
23. Proverbs 16:3
"Commit to the Lord whatever you do, and he will establish your plans."
24. Proverbs 17:22
"A cheerful heart is good medicine, but a crushed spirit dries up the bones."
25. Proverbs 18:10
"The name of the Lord is a fortified tower; the righteous run to it and are safe."
26. Proverbs 29:25
"Fear of man will prove to be a snare, but whoever trusts in the Lord is kept safe."
27. Proverbs 8:17
"I love those who love me, and those who seek me find me."
28. Proverbs 30:5
"Every word of God is flawless; he is a shield to those who take refuge in him."
29. Proverbs 14:30
"A heart at peace gives life to the body, but envy rots the bones."
30. Proverbs 16:24
"Gracious words are a honeycomb, sweet to the soul and healing to the bones."
31. Proverbs 3:24
"When you lie down, you will not be afraid; when you lie down, your sleep will be sweet."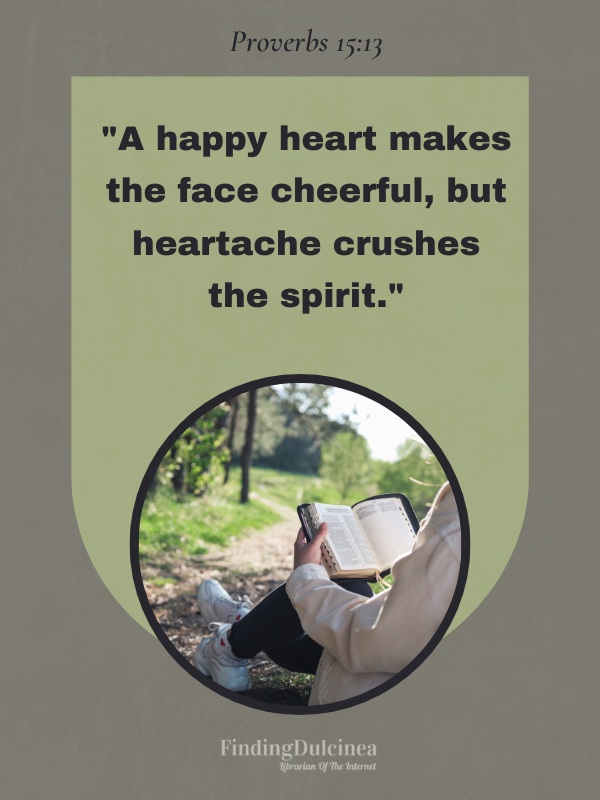 32. Proverbs 15:13
"A happy heart makes the face cheerful, but heartache crushes the spirit."
33. Proverbs 16:20
"Whoever gives heed to instruction prospers, and blessed is the one who trusts in the Lord."
34. Proverbs 3:7-8
"Do not be wise in your own eyes; fear the Lord and shun evil. This will bring health to your body and nourishment to your bones."
35. Proverbs 24:10
"If you falter in a time of trouble, how small is your strength!"
Gospel encouragement for daily living
36. Matthew 11:28
"Come to me, all you who are weary and burdened, and I will give you rest."
37. Mark 5:36
"Overhearing what they said, Jesus told them, 'Don't be afraid; just believe.'"
38. Luke 1:37
"For no word from God will ever fail."
39. John 14:27
"Peace I leave with you; my peace I give you. I do not give to you as the world gives. Do not let your hearts be troubled and do not be afraid."
40. John 16:33
"I have told you these things, so that in me you may have peace. In this world, you will have trouble. But take heart! I have overcome the world."
41. Luke 12:25-26
"Who of you by worrying can add a single hour to your life? Since you cannot do this very little thing, why do you worry about the rest?"
42. Matthew 6:34
"Therefore do not worry about tomorrow, for tomorrow will worry about itself. Each day has enough trouble of its own."
43. Mark 9:23
"'If you can?' said Jesus. 'Everything is possible for one who believes.'"
44. Matthew 19:26
"Jesus looked at them and said, 'With man this is impossible, but with God all things are possible.'"
45. Luke 18:27
"Jesus replied, 'What is impossible with man is possible with God.'"
46. Luke 12:32
"Do not be afraid, little flock, for your Father has been pleased to give you the kingdom."
47. Mark 6:50
"Immediately he spoke to them and said, 'Take courage! It is I. Don't be afraid.'"
48. Matthew 5:4
"Blessed are those who mourn, for they will be comforted."
49. John 14:1
"Do not let your hearts be troubled. You believe in God; believe also in me."
50. Matthew 28:20
"… And surely I am with you always, to the very end of the age."
New Testament verses for strength
51. Romans 8:38-39
"For I am convinced that neither death nor life, neither angels nor demons, neither the present nor the future, nor any powers, neither height nor depth, nor anything else in all creation, will be able to separate us from the love of God that is in Christ Jesus our Lord."
52. 2 Corinthians 12:9
"But he said to me, 'My grace is sufficient for you, for my power is made perfect in weakness.' Therefore I will boast all the more gladly about my weaknesses, so that Christ's power may rest on me."
53. Ephesians 3:16
"I pray that out of his glorious riches he may strengthen you with power through his Spirit in your inner being…"
54. Philippians 4:13
"I can do all this through him who gives me strength."
55. Romans 12:12
"Be joyful in hope, patient in affliction, faithful in prayer."
56. Romans 5:5
"And hope does not put us to shame, because God's love has been poured out into our hearts through the Holy Spirit, who has been given to us."
57. 2 Timothy 1:7
"For the Spirit God gave us does not make us timid but gives us power, love, and self-discipline."
58. Ephesians 6:10
"Finally, be strong in the Lord and in his mighty power."
59. Romans 15:13
"May the God of hope fill you with all joy and peace as you trust in him, so that you may overflow with hope by the power of the Holy Spirit."
60. 1 Peter 5:10
"And the God of all grace, who called you to his eternal glory in Christ, after you have suffered a little while, will himself restore you and make you strong, firm and steadfast."
61. 2 Corinthians 4:16
"Therefore we do not lose heart. Though outwardly we are wasting away, yet inwardly we are being renewed day by day."
62. Hebrews 12:1
"Therefore, since we are surrounded by such a great cloud of witnesses, let us throw off everything that hinders and the sin that so easily entangles. And let us run with perseverance the race marked out for us."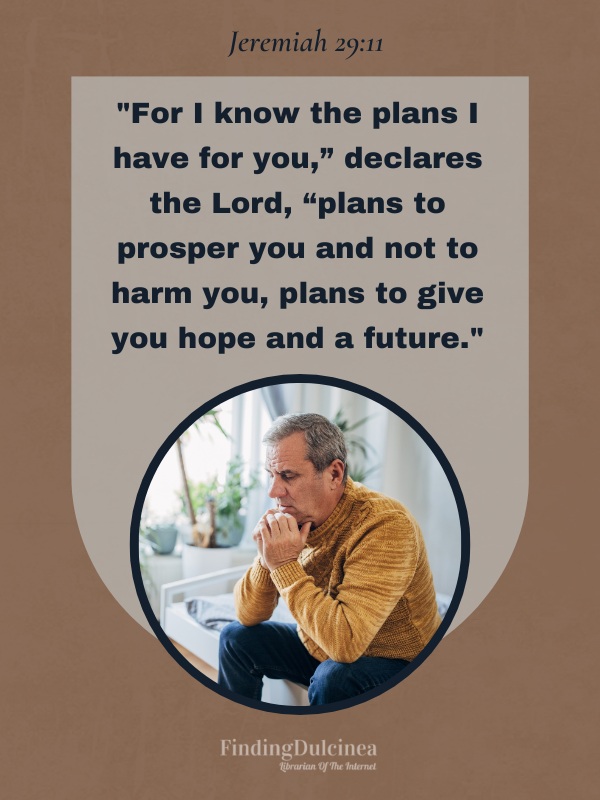 Old Testament promises for peace
63. Isaiah 41:10
"So do not fear, for I am with you; do not be dismayed, for I am your God. I will strengthen you and help you; I will uphold you with my righteous right hand."
64. Jeremiah 29:11
"For I know the plans I have for you," declares the Lord, "plans to prosper you and not to harm you, plans to give you hope and a future."
65. Isaiah 40:31
"But those who hope in the Lord will renew their strength. They will soar on wings like eagles; they will run and not grow weary, they will walk and not be faint."
66. Joshua 1:9
"Have I not commanded you? Be strong and courageous. Do not be afraid; do not be discouraged, for the Lord your God will be with you wherever you go."
67. Isaiah 26:3
"You will keep in perfect peace those whose minds are steadfast, because they trust in you."
68. Isaiah 54:10
"Though the mountains be shaken and the hills be removed, yet my unfailing love for you will not be shaken nor my covenant of peace be removed," says the Lord, who has compassion on you."
69. Job 22:21
"Submit to God and be at peace with him; in this way, prosperity will come to you."
70. Lamentations 3:22-23
"Because of the Lord's great love we are not consumed, for his compassions never fail. They are new every morning; great is your faithfulness."
71. Isaiah 43:2
"When you pass through the waters, I will be with you; and when you pass through the rivers, they will not sweep over you. When you walk through the fire, you will not be burned; the flames will not set you ablaze."
72. Exodus 33:14
"The Lord replied, 'My Presence will go with you, and I will give you rest.'"
73. 1 Kings 19:11-12
"Then a great and powerful wind tore the mountains apart and shattered the rocks before the Lord, but the Lord was not in the wind. After the wind, there was an earthquake, but the Lord was not in the earthquake. After the earthquake came a fire, but the Lord was not in the fire. And after the fire came a gentle whisper."
74. Deuteronomy 31:8
"The Lord himself goes before you and will be with you; he will never leave you nor forsake you. Do not be afraid; do not be discouraged."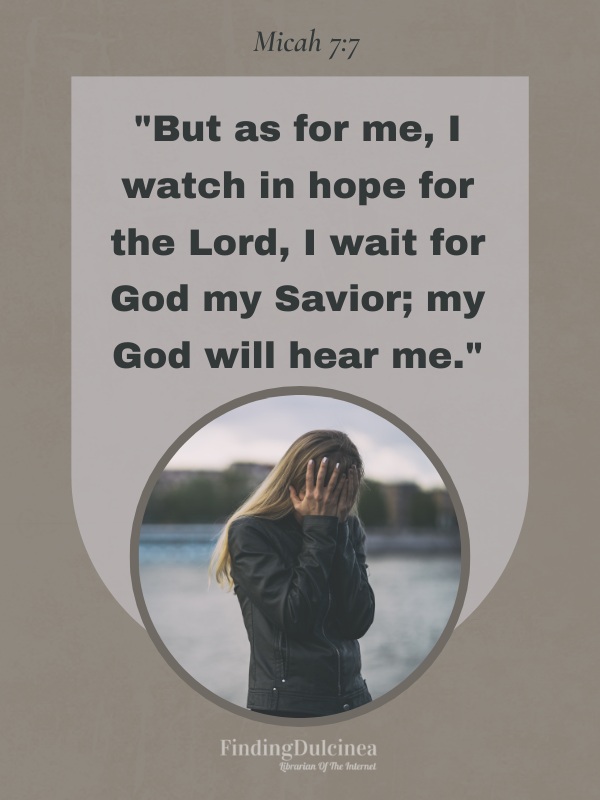 75. Micah 7:7
"But as for me, I watch in hope for the Lord, I wait for God my Savior; my God will hear me."
76. Zephaniah 3:17
"The Lord your God is with you, the Mighty Warrior who saves. He will take great delight in you; in his love he will no longer rebuke you, but will rejoice over you with singing."
77. Nahum 1:7
"The Lord is good, a refuge in times of trouble. He cares for those who trust in him."
78. Numbers 6:24-26
"The Lord bless you and keep you; the Lord make his face shine on you and be gracious to you; the Lord turn his face toward you and give you peace."
79. Habakkuk 3:19
"The Sovereign Lord is my strength; he makes my feet like the feet of a deer, he enables me to tread on the heights."
80. Isaiah 32:17
"The fruit of that righteousness will be peace; its effect will be quietness and confidence forever."
Verses for overcoming mental illness
81. 2 Timothy 1:7
"For God has not given us a spirit of fear, but of power and of love and of a sound mind."
82. 2 Corinthians 10:5
"We demolish arguments and every pretension that sets itself up against the knowledge of God, and we take captive every thought to make it obedient to Christ."
83. Philippians 4:8
"Finally, brothers and sisters, whatever is true, whatever is noble, whatever is right, whatever is pure, whatever is lovely, whatever is admirable--if anything is excellent or praiseworthy--think about such things."
84. Psalm 143:7-8
"Answer me quickly, Lord; my spirit fails. Do not hide your face from me or I will be like those who go down to the pit. Let the morning bring me word of your unfailing love, for I have put my trust in you. Show me the way I should go, for to you I entrust my life."
85. Isaiah 50:10
"Who among you fears the Lord and obeys the word of his servant? Let the one who walks in the dark, who has no light, trust in the name of the Lord and rely on their God."
86. Colossians 1:13-14
"For he has rescued us from the dominion of darkness and brought us into the kingdom of the Son he loves, in whom we have redemption, the forgiveness of sins."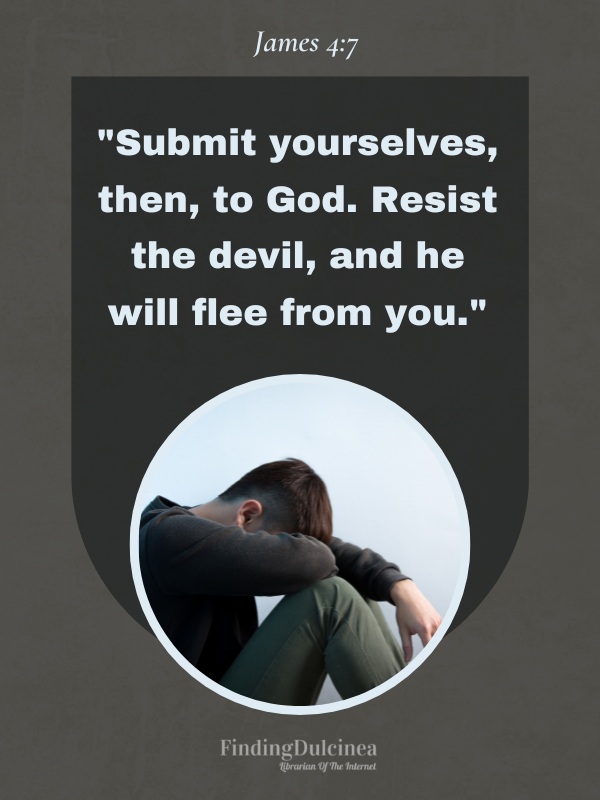 87. James 4:7
"Submit yourselves, then, to God. Resist the devil, and he will flee from you."
88. Romans 12:2
"Do not conform to the pattern of this world, but be transformed by the renewing of your mind. Then you will be able to test and approve what God's will is—his good, pleasing and perfect will."
89. Psalm 94:17-19
"Unless the Lord had given me help, I would soon have dwelt in the silence of death. When I said, 'My foot is slipping,' your unfailing love, Lord, supported me. When anxiety was great within me, your consolation brought me joy."
90. Ephesians 6:11
"Put on the full armor of God, so that you can take your stand against the devil's schemes."
91. Galatians 5:1
"It is for freedom that Christ has set us free. Stand firm, then, and do not let yourselves be burdened again by a yoke of slavery."
92. Matthew 17:20
"He replied, 'Because you have so little faith. Truly I tell you, if you have faith as small as a mustard seed, you can say to this mountain, "Move from here to there," and it will move. Nothing will be impossible for you.'"
93. Romans 8:28
"And we know that in all things God works for the good of those who love him, who have been called according to his purpose."
94. Isaiah 49:13
"Shout for joy, you heavens; rejoice, you earth; burst into song, you mountains! For the Lord comforts his people and will have compassion on his afflicted ones."
95. Proverbs 13:12
"Hope deferred makes the heart sick, but a longing fulfilled is a tree of life."
96. Psalm 119:50
"My comfort in my suffering is this: Your promise preserves my life."
97. Romans 10:13
"For, 'Everyone who calls on the name of the Lord will be saved.'"
98. John 8:36
"So if the Son sets you free, you will be free indeed."
The Word of God offers a wealth of comfort, hope, wisdom, and encouragement even during the darkest moments of our lives. It is during times of depression and mental strife that we must turn to these Bible verses and cling to the promises of God. These verses serve as a reminder that we are never alone in our journey, as the Holy Spirit is with us to provide solace and strength.
As you meditate on these Bible verses about depression, be encouraged knowing that God's love is unwavering and His grace is sufficient to carry you through life's challenges. By remaining steadfast in our faith and leaning on God's Word, we can overcome depression and find renewed hope and strength.