Feeling anxious is something all of us experience at one time or another. During these challenging moments, it's essential to remind ourselves that we're never alone; the Lord is with us. I've often found solace in turning to the Bible for guidance and inspiration to help deal with stress and worry. Today, I'd like to share with you over 90 Bible verses about anxiety that have provided me with great comfort and encouragement amid life's uncertainties.
These powerful scriptures serve as a reminder that God cares for us and is our ultimate source of strength and peace in times of turmoil. As you read over these verses, remember that God promises to calm our fears and anxieties as we surrender our worries to Him. With faith, we can overcome our struggles and experience the deep spiritual rest our souls crave.
Join me on this journey, as we search for hope and reassurance in God's word. These Bible verses about anxiety will remind us of the truth of His love, care, and provision for our lives. In doing so, we can find peace, focus our minds on positive thoughts, and remind ourselves that God is sovereign and in control even when life feels chaotic and uncertain.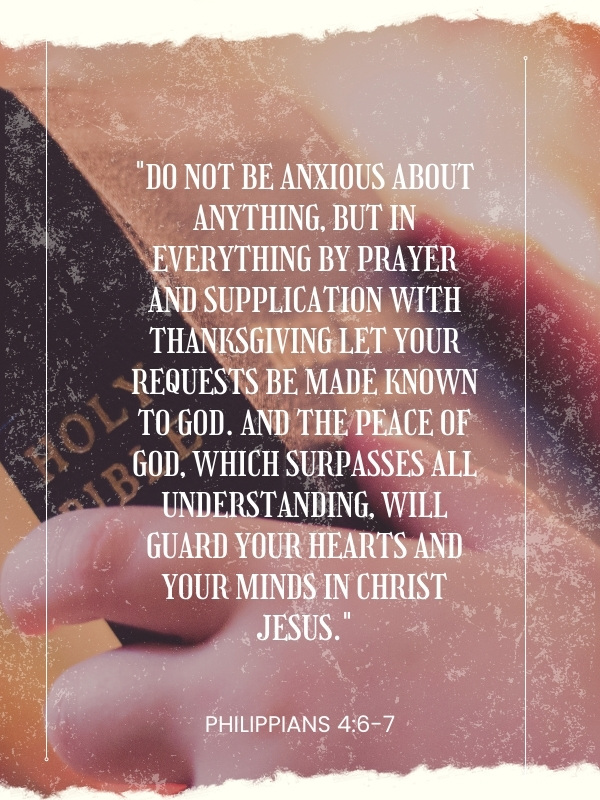 Verses For Comfort In Times Of Anxiety
1. Philippians 4:6-7
"Do not be anxious about anything, but in everything by prayer and supplication with thanksgiving let your requests be made known to God. And the peace of God, which surpasses all understanding, will guard your hearts and your minds in Christ Jesus."
2. Matthew 11:28-30
"Come to me, all who labor and are heavy laden, and I will give you rest. Take my yoke upon you, and learn from me, for I am gentle and lowly in heart, and you will find rest for your souls. For my yoke is easy, and my burden is light."
3. Psalm 34:4-6
"I sought the Lord, and he answered me and delivered me from all my fears. Those who look to him are radiant, and their faces shall never be ashamed. This poor man cried, and the Lord heard him and saved him out of all his troubles."
4. Isaiah 41:10
"Fear not, for I am with you; be not dismayed, for I am your God; I will strengthen you, I will help you, I will uphold you with my righteous right hand."
5. 1 Peter 5:6-7
"Humble yourselves, therefore, under the mighty hand of God so that at the proper time he may exalt you, casting all your anxieties on him, because he cares for you."
6. Psalm 94:19
"When the cares of my heart are many, your consolations cheer my soul."
7. John 14:27
"Peace I leave with you; my peace I give to you. Not as the world gives do I give to you. Let not your hearts be troubled, neither let them be afraid."
8. Psalm 139:23
"Search me, O God, and know my heart! Try me and know my thoughts!"
9. Proverbs 12:25
"Anxiety in a man's heart weighs him down, but a good word makes him glad."
10. Psalm 23:4
"Even though I walk through the valley of the shadow of death, I will fear no evil, for you are with me; your rod and your staff, they comfort me."
11. Romans 8:38-39
"For I am sure that neither death nor life, nor angels nor rulers, nor things present nor things to come, nor powers, nor height nor depth, nor anything else in all creation, will be able to separate us from the love of God in Christ Jesus our Lord."
12. Psalm 56:3
"When I am afraid, I put my trust in you."
13. 2 Timothy 1:7
"For God gave us a spirit not of fear but of power and love and self-control."
14. Isaiah 26:3
"You keep him in perfect peace whose mind is stayed on you, because he trusts in you."
15. Psalm 27:1
"The Lord is my light and my salvation; whom shall I fear? The Lord is the stronghold of my life; of whom shall I be afraid?"
16. Zephaniah 3:17
"The Lord your God is in your midst, a mighty one who will save; he will rejoice over you with gladness; he will quiet you by his love; he will exult over you with loud singing."
17. Psalm 46:1
"God is our refuge and strength, a very present help in trouble."
18. Psalm 55:22
"Cast your burden on the Lord, and he will sustain you; he will never permit the righteous to be moved."
19. Lamentations 3:22-23
"The steadfast love of the Lord never ceases; his mercies never come to an end; they are new every morning; great is your faithfulness."
20. Matthew 6:34
"Therefore do not be anxious about tomorrow, for tomorrow will be anxious for itself. Sufficient for the day is its own trouble."
More Verses:

1. 90+ Bible Verses About Peace
2. 90+ Bible Verses About Children
3. 150+ Heartfelt Bible Verses About Love
4. 110+ Bible Verses About Healing
5. 110+ Bible Verses About Forgiveness
6. 130+ Bible Verses About Marriage
21. Isaiah 40:29
"He gives power to the faint, and to him who has no might he increases strength."
Scriptures Promoting Trust In God
22. Proverbs 3:5-6
"Trust in the Lord with all your heart, and do not lean on your own understanding. In all your ways acknowledge him, and he will make straight your paths."
23. Romans 15:13
"May the God of hope fill you with all joy and peace in believing, so that by the power of the Holy Spirit you may abound in hope."
24. Isaiah 43:2
"When you pass through the waters, I will be with you; and through the rivers, they shall not overwhelm you; when you walk through fire you shall not be burned, and the flame shall not consume you."
25. Psalm 31:24
"Be strong, and let your heart take courage, all you who wait for the Lord!"
26. Psalm 37:5
"Commit your way to the Lord; trust in him, and he will act."
27. Proverbs 16:3
"Commit your work to the Lord, and your plans will be established."
28. Jeremiah 29:11
"For I know the plans I have for you, declares the Lord, plans for welfare and not for evil, to give you a future and a hope."
29. Hebrews 13:6
"So we can confidently say, 'The Lord is my helper; I will not fear; what can man do to me?'"
30. Nahum 1:7
"The Lord is good, a stronghold in the day of trouble; he knows those who take refuge in him."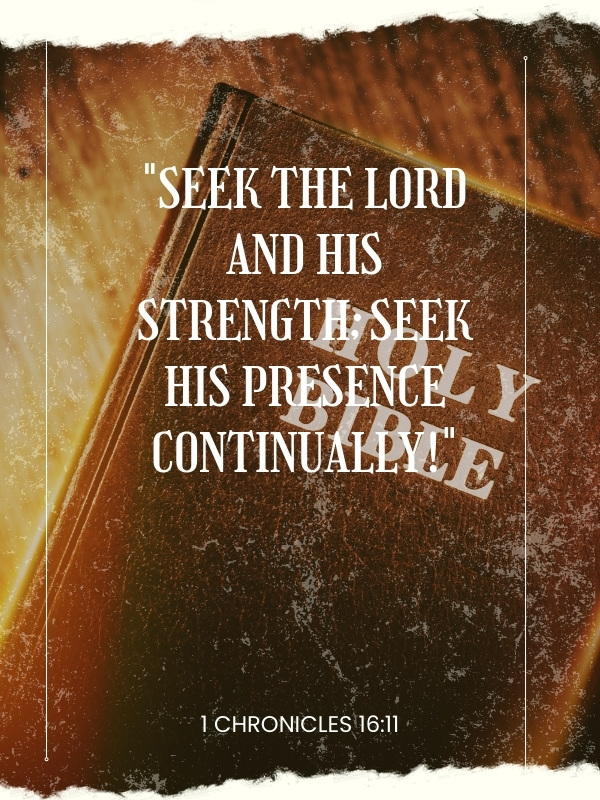 31. 1 Chronicles 16:11
"Seek the Lord and his strength; seek his presence continually!"
32. Psalm 28:7
"The Lord is my strength and my shield; in him my heart trusts, and I am helped; my heart exults, and with my song, I give thanks to him."
33. Habakkuk 3:19
"God, the Lord, is my strength; he makes my feet like the deer's; he makes me tread on my high places."
34. Psalm 62:8
"Trust in him at all times, O people; pour out your heart before him; God is a refuge for us."
35. Psalm 112:7
"He is not afraid of bad news; his heart is firm, trusting in the Lord."
36. Isaiah 12:2
"Behold, God is my salvation; I will trust, and will not be afraid; for the Lord God is my strength and my song, and he has become my salvation."
37. Psalm 20:7
"Some trust in chariots and some in horses, but we trust in the name of the Lord our God."
38. Joshua 1:9
"Have I not commanded you? Be strong and courageous. Do not be frightened, and do not be dismayed, for the Lord your God is with you wherever you go."
39. Psalm 56:4
"In God, whose word I praise, in God I trust; I shall not be afraid. What can flesh do to me?"
40. Isaiah 40:31
"But they who wait for the Lord shall renew their strength; they shall mount up with wings like eagles; they shall run and not be weary; they shall walk and not faint."
41. Psalm 91:2
"I will say to the Lord, 'My refuge and my fortress, my God, in whom I trust.'"
Encouraging Verses For Mental Struggles
42. Romans 12:2
"Do not be conformed to this world, but be transformed by the renewal of your mind, that by testing you may discern what is the will of God, what is good and acceptable and perfect."
43. Philippians 4:8
"Finally, brothers, whatever is true, whatever is honorable, whatever is just, whatever is pure, whatever is lovely, whatever is commendable, if there is any excellence, if there is anything worthy of praise, think about these things."
44. 2 Corinthians 10:5
"We destroy arguments and every lofty opinion raised against the knowledge of God, and take every thought captive to obey Christ."
45. Isaiah 54:17
"No weapon that is fashioned against you shall succeed, and you shall refute every tongue that rises against you in judgment. This is the heritage of the servants of the Lord and their vindication from me, declares the Lord."
46. Colossians 3:2
"Set your minds on things that are above, not on things that are on earth."
47. 1 Peter 1:13
"Therefore, preparing your minds for action, and being sober-minded, set your hope fully on the grace that will be brought to you at the revelation of Jesus Christ."
48. Psalm 119:15
"I will meditate on your precepts and fix my eyes on your ways."
49. Joshua 1:8
"This Book of the Law shall not depart from your mouth, but you shall meditate on it day and night, so that you may be careful to do according to all that is written in it. For then you will make your way prosperous, and then you will have good success."
50. James 1:8
"A double-minded man is unstable in all his ways."
51. Romans 8:6
"For to set the mind on the flesh is death, but to set the mind on the Spirit is life and peace."
52. 2 Timothy 1:7
"For God has not given us a spirit of fear, but of power and of love and of a sound mind."
53. 1 Corinthians 2:16
"For who has understood the mind of the Lord so as to instruct him? But we have the mind of Christ."
54. Romans 15:4
"For whatever was written in former days was written for our instruction, that through endurance and through the encouragement of the Scriptures we might have hope."
55. Psalm 143:5
"I remember the days of old; I meditate on all that you have done; I ponder the work of your hands."
56. Psalm 119:105
"Your word is a lamp to my feet and a light to my path."
57. Psalm 118:6
"The Lord is on my side; I will not fear. What can man do to me?"
58. Mark 5:36
"But overhearing what they said, Jesus said to the ruler of the synagogue, 'Do not fear, only believe.'"
59. Psalm 27:1
"The Lord is my light and my salvation—whom shall I fear? The Lord is the stronghold of my life—of whom shall I be afraid?"
60. Proverbs 29:25
"The fear of man lays a snare, but whoever trusts in the Lord is safe."
61. 1 John 4:18
"There is no fear in love, but perfect love casts out fear. For fear has to do with punishment, and whoever fears has not been perfected in love."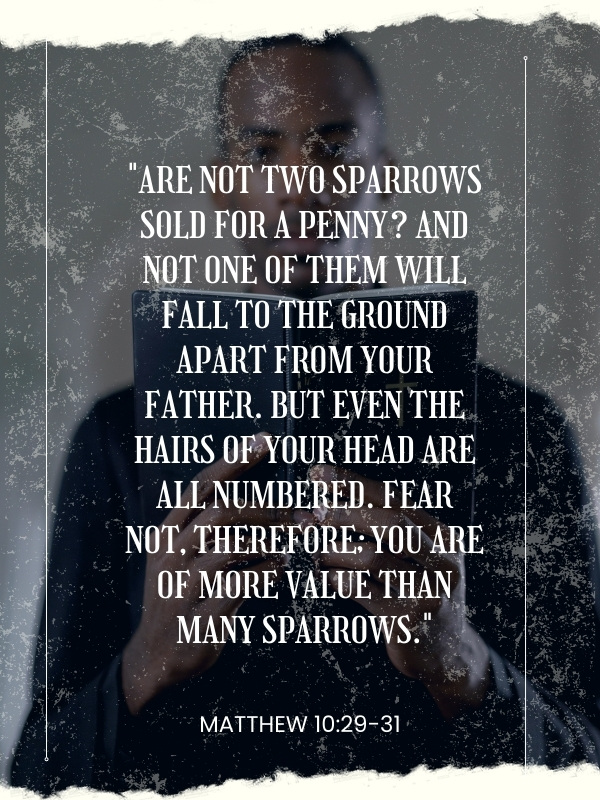 62. Matthew 10:29-31
"Are not two sparrows sold for a penny? And not one of them will fall to the ground apart from your Father. But even the hairs of your head are all numbered. Fear not, therefore; you are of more value than many sparrows."
63. Luke 12:25-26
"And which of you by being anxious can add a single hour to his span of life? If then you are not able to do as small a thing as that, why are you anxious about the rest?"
64. Romans 8:15
"For you did not receive the spirit of slavery to fall back into fear, but you have received the Spirit of adoption as sons, by whom we cry, 'Abba! Father!'"
65. Hebrews 11:1
"Now faith is the assurance of things hoped for, the conviction of things not seen."
66. Deuteronomy 31:6
"Be strong and courageous. Do not fear or be in dread of them, for it is the Lord your God who goes with you. He will not leave you or forsake you."
67. Isaiah 35:4
"Say to those who have an anxious heart, 'Be strong; fear not! Behold, your God will come with vengeance, with the recompense of God. He will come and save you.'"
68. Psalm 34:7
"The angel of the Lord encamps around those who fear him and delivers them."
69. 2 Corinthians 5:7
"For we walk by faith, not by sight."
70. 1 Corinthians 16:13
"Be watchful, stand firm in the faith, act like men, be strong."
71. Ephesians 6:16
"In all circumstances take up the shield of faith, with which you can extinguish all the flaming darts of the evil one."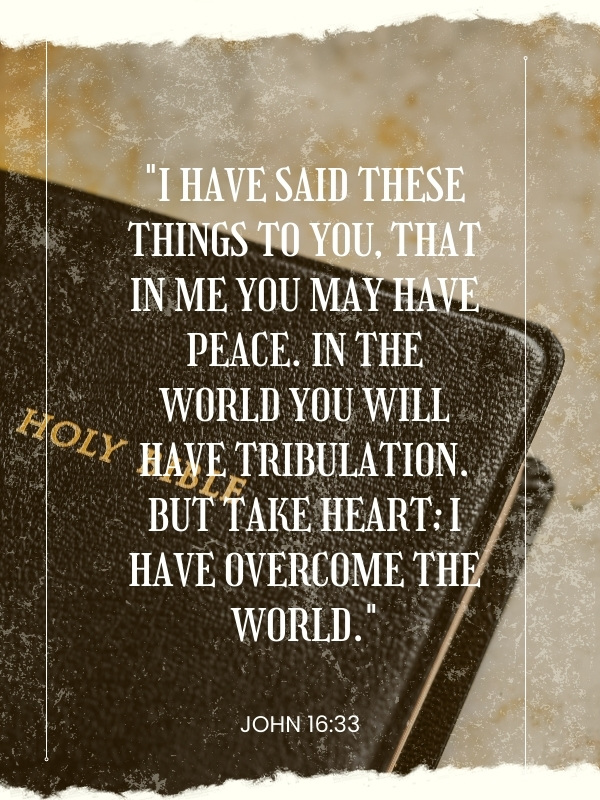 Biblical Guidance For Finding Peace
72. John 16:33
"I have said these things to you, that in me you may have peace. In the world you will have tribulation. But take heart; I have overcome the world."
73. Romans 5:1
"Therefore, since we have been justified by faith, we have peace with God through our Lord Jesus Christ."
74. Colossians 3:15
"And let the peace of Christ rule in your hearts, to which indeed you were called in one body. And be thankful."
75. Isaiah 48:18
"Oh that you had paid attention to my commandments! Then your peace would have been like a river, and your righteousness like the waves of the sea."
76. Romans 14:19
"So then let us pursue what makes for peace and for mutual upbuilding."
77. Psalm 29:11
"May the Lord give strength to his people! May the Lord bless his people with peace!"
78. Isaiah 32:17
"And the effect of righteousness will be peace, and the result of righteousness, quietness and trust forever."
79. James 3:18
"And a harvest of righteousness is sown in peace by those who make peace."
80. Philippians 4:9
"What you have learned and received and heard and seen in me—practice these things, and the God of peace will be with you."
81. Matthew 5:9
"Blessed are the peacemakers, for they shall be called sons of God."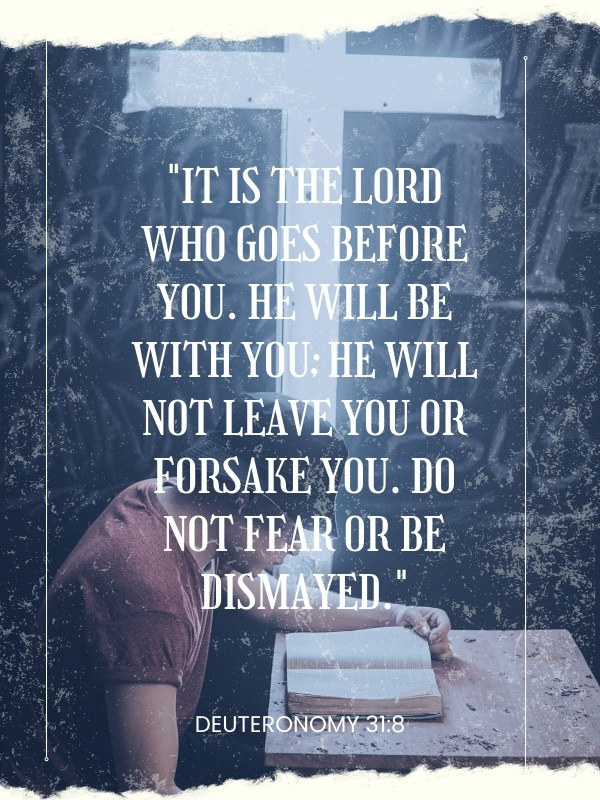 Overcoming Anxiety With God's Promises
82. Deuteronomy 31:8
"It is the Lord who goes before you. He will be with you; he will not leave you or forsake you. Do not fear or be dismayed."
83. Psalm 121:1-2
"I lift up my eyes to the hills. From where does my help come? My help comes from the Lord, who made heaven and earth."
84. Proverbs 18:10
"The name of the Lord is a strong tower; the righteous man runs into it and is safe."
85. Lamentations 3:22-23
"The steadfast love of the Lord never ceases; his mercies never come to an end; they are new every morning; great is your faithfulness."
86. 2 Thessalonians 3:16
"Now may the Lord of peace himself give you peace at all times in every way. The Lord be with you all."
87. Romans 8:28
"And we know that for those who love God all things work together for good, for those who are called according to his purpose."
88. Hebrews 4:16
"Let us then with confidence draw near to the throne of grace, that we may receive mercy and find grace to help in time of need."
89. Psalm 9:9-10
"The Lord is a stronghold for the oppressed, a stronghold in times of trouble. And those who know your name put their trust in you, for you, O Lord, have not forsaken those who seek you."
90. Matthew 28:20
"Teaching them to observe all that I have commanded you. And behold, I am with you always, to the end of the age."
91. Psalm 32:7
"You are a hiding place for me; you preserve me from trouble; you surround me with shouts of deliverance."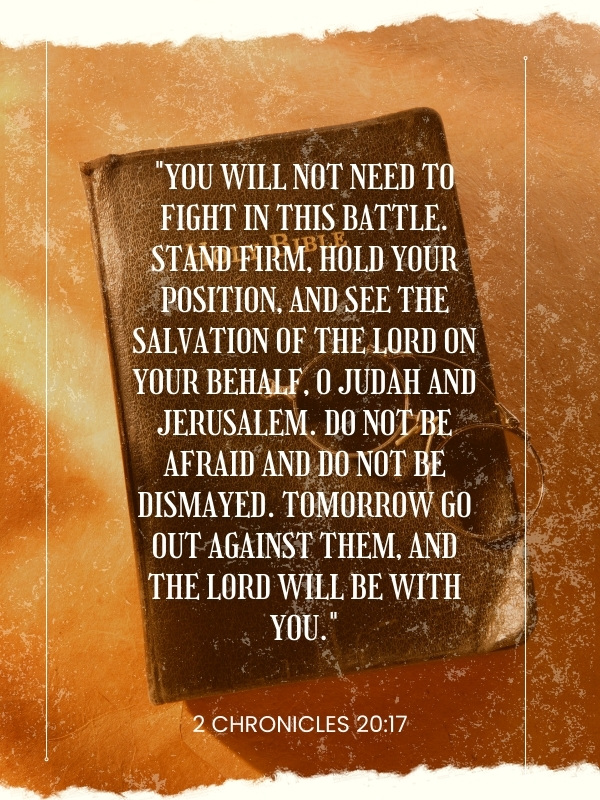 92. 2 Chronicles 20:17
"You will not need to fight in this battle. Stand firm, hold your position, and see the salvation of the Lord on your behalf, O Judah and Jerusalem. Do not be afraid and do not be dismayed. Tomorrow go out against them, and the Lord will be with you."
93. Psalm 147:3
"He heals the brokenhearted and binds up their wounds."
These Bible verses about anxiety serve as a powerful reminder that we don't have to face life's difficulties and challenges alone. By turning to these scriptures, we can find solace, strength, and guidance to help us navigate through our worries and fears. Through the encouragement and wisdom found in God's Word, we can grow in faith and trust in His steadfast love and unwavering promises.
As we meditate on these verses during tough times or seasons of uncertainty, may we be reminded of the incredible peace, comfort, and strength that God so generously offers to us. Remember, God is always with us, and He is our refuge, strength, and calming presence amid the stormiest times in our lives. May these verses uplift and bless you in your journey towards overcoming anxiety and experiencing the fullness of God's joy and peace.