In times of turmoil, stress, or hardship, many people turn to the Bible in search of solace and guidance. Scripture is filled with stories and passages that inspire strength, resilience, and faith in the face of adversity. It is no surprise, then, that there are numerous Bible verses that speak directly to the power of inner strength and the courage we need to face life's challenges. In this blog post, we will explore Bible verses that remind us of the strength we possess and the unwavering support we have from God.
These selected verses serve as comforting reminders that you are not alone in your struggles, and that you have access to a divine source of strength and resilience. These passages offer encouragement, wisdom, and assurance to help you navigate the rough waters of life, no matter what your religious beliefs may be. Whether you draw strength from your relationship with God, your belief in a higher power, or simply the inspiring words of others, these Bible verses are sure to provide you with solace and motivation.
So, without further ado, let us delve into the treasure trove of wisdom and inspiration that lies within the pages of the Bible. We hope that these 80+ Bible verses about strength will serve as a beacon of hope, a source of courage, and a reminder that, with faith and determination, we can overcome even the most daunting of challenges.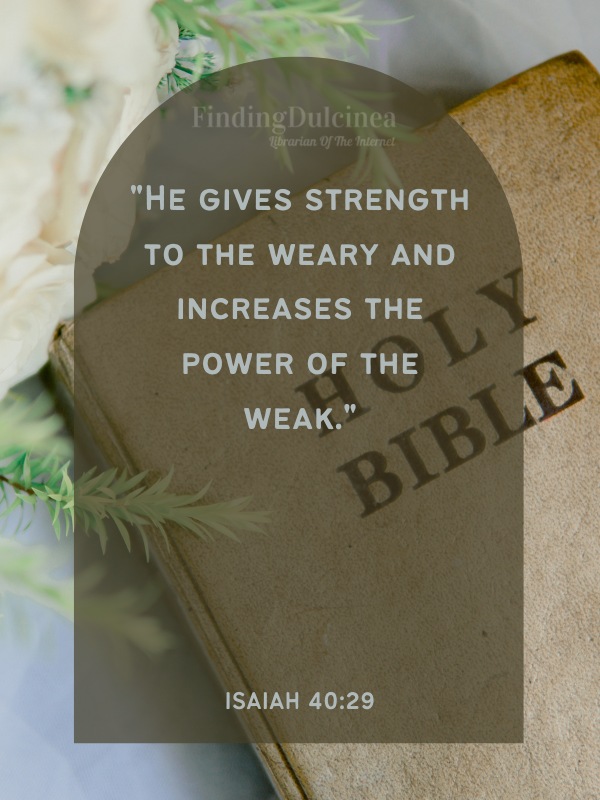 1. Isaiah 40:29
"He gives strength to the weary and increases the power of the weak."
2. Philippians 4:13
"I can do all things through him who strengthens me."
3. Isaiah 41:10
"Fear not, for I am with you; be not dismayed, for I am your God; I will strengthen you, I will help you, I will uphold you with my righteous right hand."
4. 2 Timothy 1:7
For God gave us a spirit not of fear but of power and love and self-control."
5. Psalm 46:1
"God is our refuge and strength, an ever-present help in trouble."
6. 1 Corinthians 16:13
"Be on your guard; stand firm in the faith; be courageous; be strong."
7. Deuteronomy 31:6
"Be strong and courageous. Do not fear or be in dread of them, for it is the Lord your God who goes with you. He will not leave you or forsake you."
8. Joshua 1:9
"Have I not commanded you? Be strong and courageous. Do not be frightened, and do not be dismayed, for the Lord your God is with you wherever you go."
9. Ephesians 6:10
"Finally, be strong in the Lord and in the strength of his might."
10. Psalm 18:32
"It is God who arms me with strength and keeps my way secure."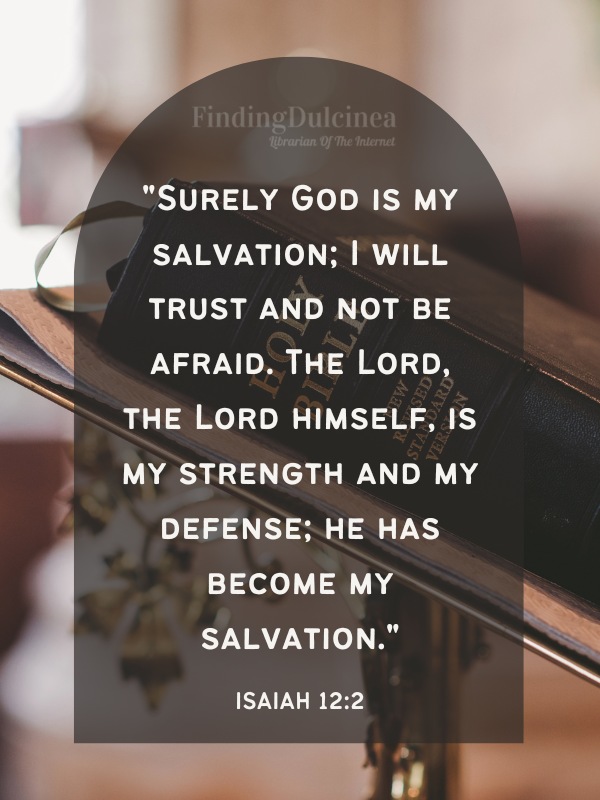 11. Isaiah 12:2
"Surely God is my salvation; I will trust and not be afraid. The Lord, the Lord himself, is my strength and my defense; he has become my salvation."
12. Exodus 15:2
"The Lord is my strength and my song; he has given me victory. This is my God, and I will praise him— my father's God, and I will exalt him!"
13. Psalm 28:7
"The Lord is my strength and my shield; my heart trusts in him, and he helps me. My heart leaps for joy, and with my song I praise him."
14. Psalm 118:14
"The Lord is my strength and my song; he has become my salvation."
15. 1 Peter 5:10
"And after you have suffered a little while, the God of all grace, who has called you to his eternal glory in Christ, will himself restore, confirm, strengthen, and establish you."
16. Psalm 138:3
"On the day I called, you answered me; my strength of soul you increased."
17. Proverbs 18:10
"The name of the Lord is a strong tower; the righteous run into it and are safe."
18. Psalm 119:28
"My soul melts away for sorrow; strengthen me according to your word!"
19. Nehemiah 8:10
"Do not grieve, for the joy of the Lord is your strength."
20. 2 Corinthians 12:10
"For the sake of Christ, then, I am content with weaknesses, insults, hardships, persecutions, and calamities. For when I am weak, then I am strong."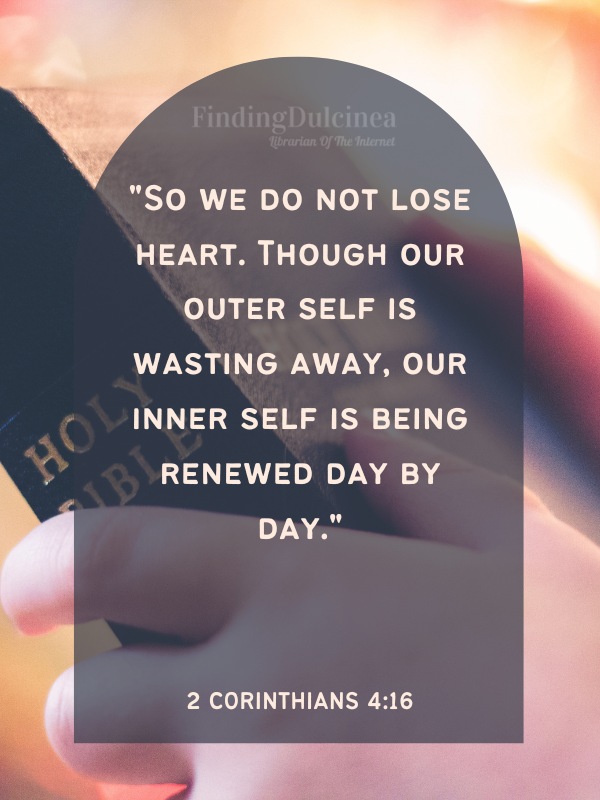 21. 2 Corinthians 4:16
"So we do not lose heart. Though our outer self is wasting away, our inner self is being renewed day by day."
22. Romans 8:2
"And we know that for those who love God all things work together for good, for those who are called according to his purpose."
23. Psalm 37:39
"The salvation of the righteous comes from the Lord; he is their stronghold in time of trouble."
24. Isaiah 30:15"
In repentance and rest is your salvation, in quietness and trust is your strength."
25. Habakkuk 3:19
"The Sovereign Lord is my strength; he makes my feet like the feet of a deer, he enables me to tread on the heights."
26. Colossians 1:11
"Being strengthened with all power according to his glorious might so that you may have great endurance and patience."
27. Hebrews 4:16
"Let us then approach the throne of grace with confidence, so that we may receive mercy and find grace to help us in our time of need."
28. Psalm 84:5
"Blessed are those whose strength is in you, whose hearts are set on pilgrimage."
29. Proverbs 24:5
"A wise man is full of strength, and a man of knowledge enhances his might."
30. Ephesians 3:16
"I pray that out of his glorious riches he may strengthen you with power through his Spirit in your inner being."
31. 2 Thessalonians 3:3
"But the Lord is faithful, and he will strengthen you and protect you from the evil one."
32. Psalm 31:24
"Be strong, and let your heart take courage, all you who wait for the Lord!"
33. Psalm 29:11
"The Lord gives strength to his people; the Lord blesses his people with peace."
34. Psalm 59:17
"O my Strength, I will sing praises to you, for you, O God, are my fortress, the God who shows me steadfast love."
35. 1 Chronicles 16:11
"Seek the Lord and his strength; seek his presence continually!"
36. 1 Samuel 30:6
"And David was greatly distressed, for the people spoke of stoning him, because all the people were bitter in soul, each for his sons and daughters. But David strengthened himself in the Lord his God."
37. Psalm 27:1
"The Lord is my light and my salvation; whom shall I fear? The Lord is the stronghold of my life; of whom shall I be afraid?"
38. Isaiah 40:31
"But they who wait for the Lord shall renew their strength; they shall mount up with wings like eagles; they shall run and not be weary; they shall walk and not faint."
39. 2 Samuel 22:33
"This God is my strong refuge and has made my way blameless."
40. 1 Corinthians 1:25
"For the foolishness of God is wiser than men, and the weakness of God is stronger than men."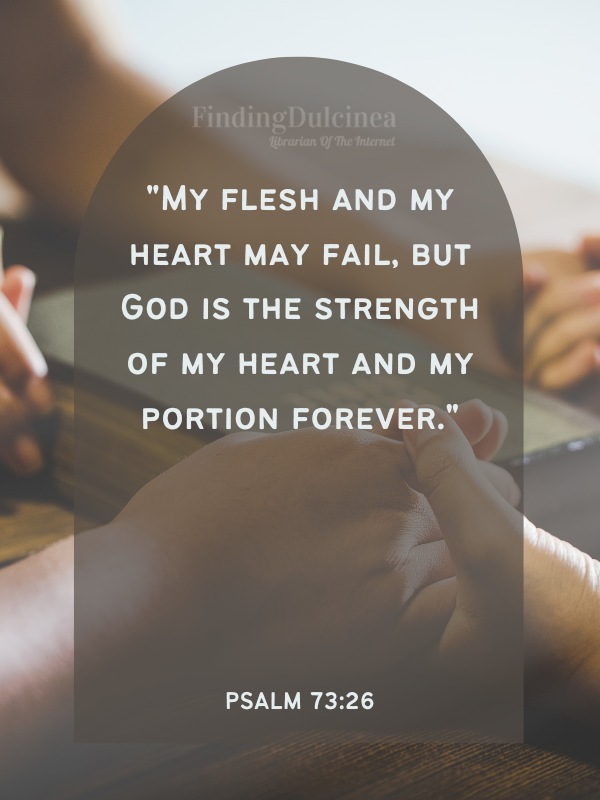 41. Psalm 73:26
"My flesh and my heart may fail, but God is the strength of my heart and my portion forever."
42. 2 Corinthians 1:3-4
"Blessed be the God and Father of our Lord Jesus Christ, the Father of mercies and God of all comfort, who comforts us in all our affliction, so that we may be able to comfort those who are in any affliction, with the comfort with which we ourselves are comforted by God."
43. Romans 15:13
"May the God of hope fill you with all joy and peace in believing, so that by the power of the Holy Spirit you may abound in hope."
44. Psalm 91:2
"I will say of the Lord, 'He is my refuge and my fortress, my God, in whom I trust.'"
45. Romans 8:37
"No, in all these things we are more than conquerors through him who loved us."
46. Deuteronomy 20:4
"For the Lord your God is he who goes with you to fight for you against your enemies, to give you the victory."
47. 1 John 4:4
"Little children, you are from God and have overcome them, for he who is in you is greater than he who is in the world."
48. Psalm 16:8
"I have set the Lord always before me; because he is at my right hand, I shall not be shaken."
49. Zechariah 4:6
"Not by might, nor by power, but by my Spirit, says the Lord of hosts."
50. Isaiah 26:3
"You keep him in perfect peace whose mind is stayed on you, because he trusts in you."
51. Proverbs 3:5-6
"Trust in the Lord with all your heart, and do not lean on your own understanding. In all your ways acknowledge him, and he will make straight your paths."
52. 1 John 5:4
"For everyone born of God overcomes the world. This is the victory that has overcome the world, even our faith."
53. Psalm 62:7
"On God rests my salvation and my glory; my mighty rock, my refuge is God."
54. Romans 8:31
"What then shall we say to these things? If God is for us, who can be against us?"
55. Isaiah 43:2
"When you pass through the waters, I will be with you; and through the rivers, they shall not overwhelm you; when you walk through fire you shall not be burned, and the flame shall not consume you."
56. Matthew 19:26
"But Jesus looked at them and said, 'With man this is impossible, but with God all things are possible.'"
57. Mark 12:30
"Love the Lord your God with all your heart and with all your soul and with all your mind and with all your strength."
58. Ephesians 6:11
"Put on the whole armor of God, that you may be able to stand against the schemes of the devil."
59. 2 Chronicles 15:7
"But as for you, be strong and do not give up, for your work will be rewarded."
60. Psalm 27:14
"Wait for the Lord; be strong, and let your heart take courage; wait for the Lord!"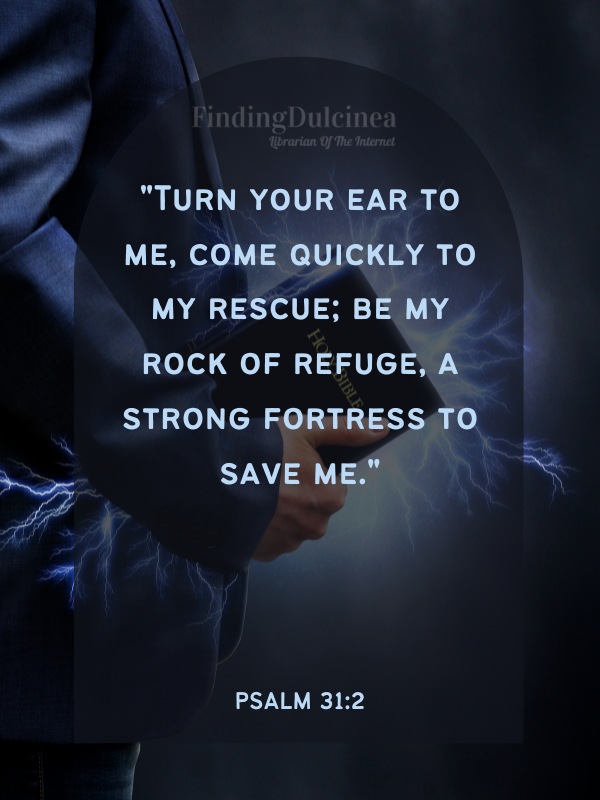 61. Psalm 31:2
"Turn your ear to me, come quickly to my rescue; be my rock of refuge, a strong fortress to save me."
62. Psalm 68:35
"O God, you are awesome from your sanctuary; the God of Israel gives power and strength to his people. Blessed be God!"
63. Psalm 105:4
"Look to the Lord and his strength; seek his face always."
64. Psalm 118:6
"The Lord is on my side; I will not fear. What can man do to me?"
65. Proverbs 31:25
"She is clothed with strength and dignity; she can laugh at the days to come."
66. Isaiah 33:2
"Lord, be gracious to us; we long for you. Be our strength every morning, our salvation in time of distress."
67. Zechariah 10:12
"I will strengthen them in the Lord, and in his name they will live securely, declares the Lord."
68. Acts 1:8
"But you will receive power when the Holy Spirit comes on you; and you will be my witnesses in Jerusalem, and in all Judea and Samaria, and to the ends of the earth."
69. Romans 1:16
"For I am not ashamed of the gospel, for it is the power of God for salvation to everyone who believes."
70. 1 Corinthians 10:13
"No temptation has overtaken you that is not common to man. God is faithful, and he will not let you be tempted beyond your ability, but with the temptation, he will also provide the way of escape, that you may be able to endure it."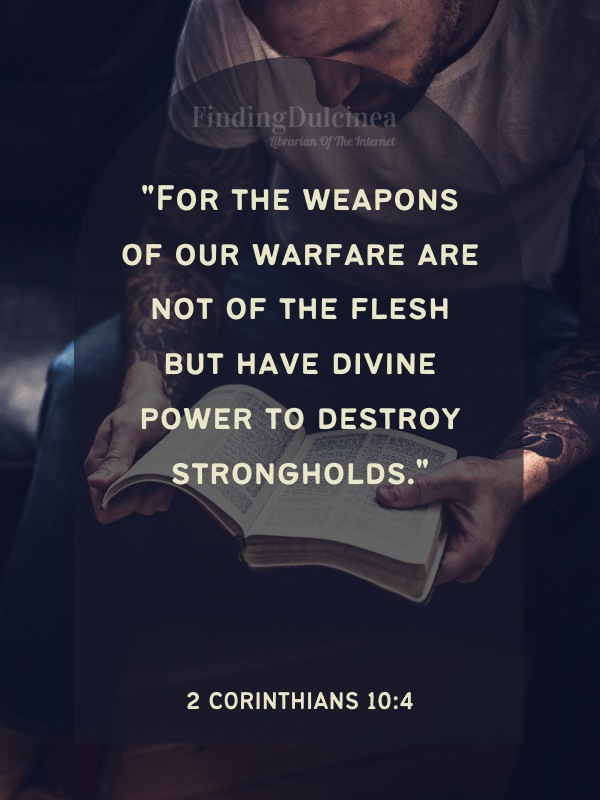 71. 2 Corinthians 10:4
"For the weapons of our warfare are not of the flesh but have divine power to destroy strongholds."
72. Galatians 6:9
"And let us not grow weary of doing good, for in due season we will reap if we do not give up."
73. Ephesians 3:20
"Now to him who is able to do immeasurably more than all we ask or imagine, according to his power that is at work within us."
74. Philippians 4:6
"Do not be anxious about anything, but in everything by prayer and supplication with thanksgiving let your requests be made known to God."
75. Colossians 2:9-10
"For in him the whole fullness of deity dwells bodily, and you have been filled in him, who is the head of all rule and authority."
76. 1 Timothy 1:12
"I thank Christ Jesus our Lord, who has given me strength, that he considered me trustworthy, appointing me to his service."
77. Hebrews 11:34
"Quenched the violence of fire, escaped the edge of the sword, out of weakness were made strong, waxed valiant in fight, turned to flight the armies of the aliens."
78. 1 Peter 4:11
"If anyone serves, they should do so with the strength God provides, so that in all things God may be praised through Jesus Christ. To him be the glory and the power for ever and ever. Amen."
79. 2 Peter 1:3
"His divine power has given us everything we need for a godly life through our knowledge of him who called us by his own glory and goodness."
80. 1 John 2:14
"I have written to you, young men, because you are strong, and the word of God lives in you, and you have overcome the evil one."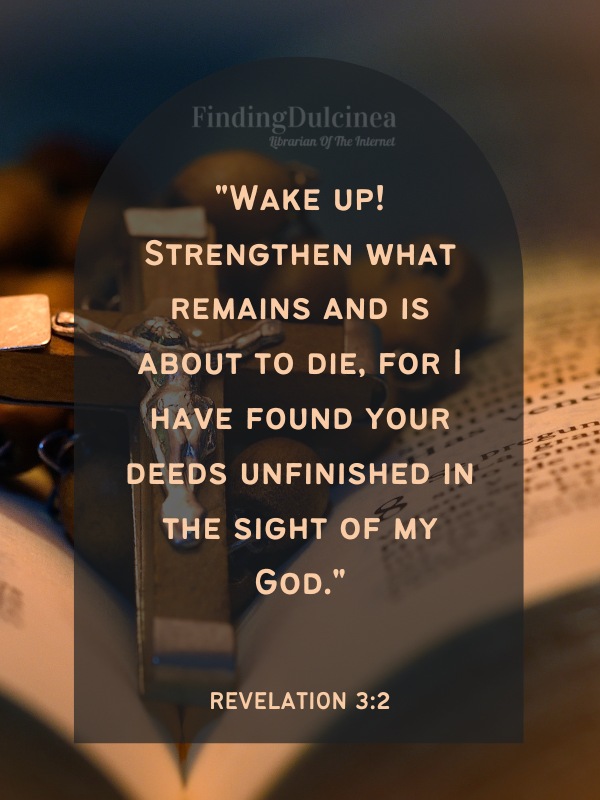 81. Revelation 3:2
"Wake up! Strengthen what remains and is about to die, for I have found your deeds unfinished in the sight of my God."
These Bible verses about strength serve as a powerful reminder of the spiritual fortitude and resilience we possess as individuals. They encourage us to draw from our faith in God, the support of our loved ones, and the wisdom of Scripture to find the strength we need to overcome life's challenges. No matter what obstacles we may face, we can find solace, inspiration, and guidance in these timeless words.
As you navigate through life's ups and downs, we hope that these verses will provide you with the encouragement and motivation you need to continue moving forward. Remember that you are never alone in your struggles, and that there is always a source of strength and hope available to you. May these Bible verses uplift your spirit, bolster your faith, and remind you that, with God's help, you can overcome even the most daunting of challenges.