It's a daunting task to comprehend the reasoning behind Adolf Hitler's hatred for the Jews. While many factors contributed to Hitler's deep-seated loathing, a combination of personal experiences, twisted ideology, and scapegoating played significant roles in shaping his beliefs, eventually leading to the Holocaust, one of humanity's darkest chapters.
Hitler's hatred was heavily influenced by his personal experiences. Failing as a young artist in Vienna, he associated Jews with his own setbacks, believing they held too much power in certain areas such as art and economics. Additionally, he was further incensed by the B'nai B'rith, a Jewish fraternal charity, which he saw as a secretive and powerful force.
Moreover, Hitler found inspiration in obsessive ideologies like racial eugenics and a distorted version of Nietzsche's theory of Übermensch. He constructed his world view, one that prioritized Aryan racial purity and ruthless competition, leading him to consider Jews as a racial threat to the German nation. Search for an easy target, Hitler seized on the Jews as scapegoats, falsely blaming them for Germany's problems, such as the nation's defeat in World War I and the subsequent economic hardships. In doing so, he redirected the German public's attention away from the real issues and onto the Jewish community.
Early Influences on Hitler's Antisemitism
Adolf Hitler's hatred for Jews traces back to various early influences in his life. These diverse factors played a significant role in shaping his antisemitic views and, ultimately, leading to the Holocaust.
One of the primary factors was the prevailing antisemitism in late-19th and early-20th century Europe. During this time, it was common to blame Jews for social and economic problems. Hitler absorbed these prevailing attitudes, which seemingly resonated with his own personal grievances.
The city of Vienna also played an important role in Hitler's developing worldview. As a young man, he lived in Vienna, a city with a substantial Jewish population and frequent political discussions. There, he encountered various political thinkers who espoused antisemitic ideas, such as Karl Lueger, the mayor of Vienna, and Georg Ritter von Schönerer, an Austrian nationalist.
Furthermore, Hitler's experiences during World War I contributed to his hatred of Jews. He served as a soldier in the German army and witnessed Germany's crushing defeat. Many Germans believed in the "stab-in-the-back" myth, which blamed Jews and Communists for undermining the war effort. This belief further fueled Hitler's antisemitic tendencies. Several events from Hitler's early life aided in establishing his antisemitic views:
The death of his younger brother Edmund: The loss of his brother deeply affected Hitler, and he began to show signs of antisocial behavior. Edmund's doctor, who was Jewish, became an easy target for Adolf's blame.
Financial difficulties: Hitler's family faced economic hardships, and he struggled to make a living as a painter. He became resentful of those who appeared more successful, including many Jewish shopkeepers and merchants.
The influence of antisemitic literature should not be understated. A prominent example is The Protocols of the Elders of Zion, a fabricated text allegedly describing a Jewish plan for global domination. Hitler was heavily influenced by this book, which further fueled his prejudiced beliefs.
In summary, a combination of social, political, and personal experiences molded Hitler's hatred of Jews. By the time he rose to power as the chancellor of Germany, his antisemitic views had solidified, setting the stage for the horrifying events of the Holocaust.
The Role of World War I
World War I played a significant role in shaping Hitler's mindset and his hatred towards the Jewish people. In order to better understand this, it's crucial to highlight certain key events and influences from that era.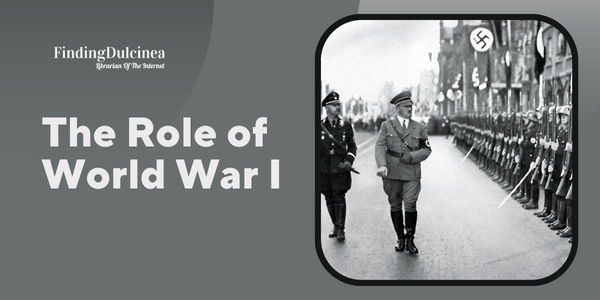 Hitler served as a soldier during World War I, where he was exposed to the harsh realities of war. Witnessing the devastating effects of combat left him bitter, resentful, and searching for someone to blame for Germany's loss. Many Germans, including Hitler, believed that certain groups had betrayed the country from within. This sentiment would later form the foundation of Hitler's anti-Semitic views.
While many factors contributed to Germany's defeat in World War I, one of these events stood out: the Treaty of Versailles. This treaty, signed in 1919, imposed heavy financial reparations and territorial concessions upon Germany, which left the nation struggling economically and feeling humiliated. Hitler and other nationalists saw this as an unfair punishment and began to cast blame on the Jews. They claimed that Jewish politicians and business leaders were responsible for Germany's suffering.
During that time, Jews were perceived as having significant influence in finance, media, and politics. Due to this perception, they became a convenient scapegoat for Germany's woes.
Several conspiracies circulated around this period, further fueling hatred towards the Jews:
The "stab-in-the-back myth": A widely believed theory in post-war Germany that blamed Jews and communists for betraying the German Empire, leading to its collapse.
Jewish Bolshevism: A conspiracy theory that linked Jews to the Russian Revolution and communist movements, which was seen as a threat to Germany's stability and national identity.
In conclusion, the traumatic experiences of World War I and its aftermath drastically impacted Hitler's world view. By scapegoating Jews and using the events of this era to further his agenda, Hitler's hatred towards them became increasingly intense, paving the way for the atrocities committed during his reign.
Impact of the Treaty of Versailles
One factor contributing to Adolf Hitler's hatred towards the Jews was the impact of the Treaty of Versailles. Signed in 1919, it marked the end of World War I and imposed harsh penalties on Germany, including:
Loss of territory
Significant reduction of the military
Reparations payments to Allied countries
Hitler viewed these impositions as a humiliation for the German people. He believed that the treaty's terms were too severe, leaving Germany impoverished and weak. This sense of injustice underlined much of Hitler's later thinking and motivations.
Attributing blame to the Jews was not an uncommon stance in post-WWI Germany. Many citizens regarded Jews as the primary cause of Germany's misfortunes. Hitler adopted these ideas and built upon them, eventually forming the basis of his extreme anti-Semitic policies.
It's important to note that the Treaty of Versailles did not explicitly mention Jews. However, its impact on Germany inadvertently fuelled existing anti-Semitic sentiments within the German population. As the country's scapegoat, Jews were accused of undermining the nation, enabling Hitler's rise to power and ensuing anti-Semitic persecution.
To understand the context of this, consider the following statistics from the reparations demanded:
| Category | Amount |
| --- | --- |
| Total sum owed by Germany (in gold) | 132 billion marks |
| Payments made by Germany up to 1931 | 50 billion marks |
| Debt pardoned under the 1953 Agreement | 16 billion marks |
An essential aspect to understand is that many prominent German-Jewish bankers and businessmen did not support the treaty but were falsely accused of pushing for its success. Despite their opposition, they were branded as traitors and painted as profiteers of the country's suffering. This further fueled Hitler's conviction that Jews were responsible for Germany's predicament.
The economic depression following WWI also played a crucial role. With rampant inflation, unemployment, and poverty, Hitler's extremist ideology and rhetoric gained popularity. Focusing on a common enemy – Jews – made it easier for him to unite the masses behind his cause.
In summary, the Treaty of Versailles served as a catalyst for Hitler's anti-Semitic beliefs. The treaty's harsh terms led to a widespread discontent among the German population, allowing Hitler to harness the existing prejudice against Jews as a means to solidify and legitimize his power.
Influence of the Protocols of the Elders of Zion
The Protocols of the Elders of Zion had a significant impact on Adolf Hitler's views towards Jews. This fabricated document, allegedly penned by Jewish leaders, outlines a supposed plan to achieve world domination through manipulation and deceit. Historians largely believe it's a forgery concocted by the secret police of Russia's Czarist regime in an attempt to discredit the revolutionary movement.
One of the reasons Hitler became so drawn to the Protocols was due to his exposure to it during his years in Vienna. At the time, Vienna was a melting pot of different ideologies, and many individuals propagated anti-Semitic ideas. Hitler's own association with members of the German Workers' Party, a group that vocally supported anti-Semitic beliefs, further reinforced his view on Jews.
It's important to note that several key factors contributed to the popularity of the Protocols in Nazi Germany. These include:
The publication of the Protocols in German newspapers and books, which helped disseminate its material to a broader audience.
The endorsement of the Protocols by prominent individuals, such as politician Dietrich Eckart, who was an early and influential mentor for Hitler.
The fear of communism and the belief that Jews were responsible for the Bolshevik revolution, which increased the appeal of the Protocols as it seemingly confirmed existing suspicions.
However, many people saw through the fabrications presented in the Protocols. Numerous analyses and investigations demonstrated that it was a hoax, with major newspapers such as The Times and the New York World publishing articles debunking these fake claims. Despite this evidence, Hitler chose to embrace the conspiracy and use it as a way to rally support for his cause.
In conclusion, the influence of the Protocols of the Elders of Zion played a significant role in shaping Adolf Hitler's views on Jews. This fraudulent document, combined with other factors like his exposure to anti-Semitic ideologies in Vienna and the German Workers' Party, fueled his hatred and ultimately led to the Holocaust. The infamous Protocols may have been a hoax, but its impact on history is, unfortunately, undeniable.
Hitler's Racial Ideology
Central to Hitler's beliefs was his racial ideology, which emphasized the supposed superiority of the Aryan race. He believed that the fate of Germany and the world rested on preserving this "master race." This section will discuss key concepts within Hitler's racial ideology and the ways in which it ultimately sparked his hatred towards Jews.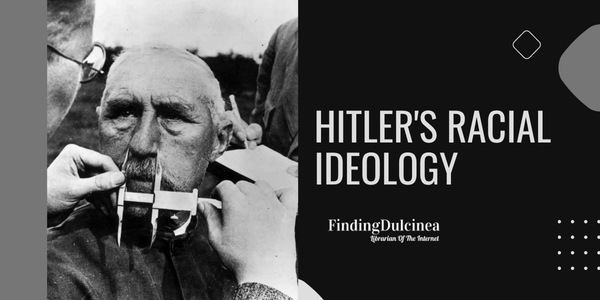 A primary aspect of Hitler's racial ideology was the idea of racial purity. According to this concept, individuals who possessed purely Aryan blood were morally and biologically superior to those who didn't. It's important to note that Hitler's definition of "Aryan" did not apply exclusively to Germans, but also encompassed other European groups with similar physical traits. Racial purity required that the Aryan race be kept separate from others, whom Hitler deemed racially inferior. Notably, this framework led Hitler to view Jews not only as an ethnic group but also as a distinct and undesirable race.
Hitler saw the Jews as the ultimate threat to the Aryan race, resulting in a deep-seated antipathy towards them. He believed that Jews were responsible for numerous societal issues and accused them of manipulating financial systems, media, and politics to the Aryan race's detriment. Moreover, he viewed Jews as the primary force behind Marxism and communism, ideologies that Hitler despised. These unfounded beliefs contributed to an overarching narrative of Jews as a sinister and powerful enemy.
Hitler's racial ideology also called for the eugenics movement, which sought to actively weed out "undesirable" races and individuals from the population. His support for this movement led to the establishment of racial policies, including forced sterilization and euthanasia. These policies disproportionately targeted Jews, along with disabled persons, Romani people, and other minority groups.
Here are some key components of Hitler's racial ideology:
Emphasis on Aryan racial superiority and preservation
Importance placed on maintaining racial purity
Hatred of Jews as a result of unfounded beliefs and conspiracy theories
Support for the eugenics movement and implementation of racial policies
In summary, Hitler's hatred of Jews stemmed from an unfounded and deeply indoctrinated racial ideology. This belief system placed great importance on the purity and superiority of the Aryan race and pointed to Jews as the primary threat to its existence. It's important to recognize the role that this ideology played in the Holocaust, during which six million Jews lost their lives, as well as the lasting impact it had on the world.
Economic Factors and Jews
Economic factors played a significant role in Adolf Hitler's hatred for Jews. During the early 20th century, Germany faced severe economic hardships, exacerbated by the aftermath of World War I and the Great Depression. Many Germans, including Hitler, chose to blame Jews for their misfortunes, fueling anti-Semitic sentiment.
Jewish people in Germany held prominent positions in some industries. This visibility contributed to the perception that Jews were controlling the economy, thus fostering resentment amongst non-Jewish Germans. Some key areas where Jews held influence included:
Banking and finance: Many prominent banks were owned or managed by Jews, such as Rothschild, Warburg, and Bleichröder.
Retail and commerce: Jewish-owned department stores, such as Hermann Tietz and Nathan Israel, competed with smaller, non-Jewish businesses.
Media and culture: Jews were influential in the growing film industry and owned newspapers like the Berliner Tageblatt.
However, it's crucial to note that the overall percentage of Jewish-owned businesses and influence in these areas was still relatively low. For example, in 1928, Jewish business owners constituted only 0.6% of employers in Germany.
When the Great Depression hit in 1929, Germany's economy suffered greatly. Millions of people lost their jobs, and the country experienced severe inflation. Hitler and the National Socialist German Workers' Party (NSDAP) saw an opportunity to exploit the economic crisis and the animosity towards Jews as a way to gain power.
The NSDAP propagated the idea that Jews were responsible for the country's economic woes using the following false claims:
Jews had conspired to undermine the German economy by promoting war profiteering.
Jewish bankers and financiers manipulated global markets at the expense of non-Jewish Germans.
These deceptive claims resonated with many Germans who were looking for a scapegoat for their financial distress.
In conclusion, economic factors influenced Adolf Hitler's hatred of Jews by perpetuating stereotypes and providing a convenient scapegoat for Germany's struggling economy. The visibility of Jewish individuals within certain industries, coupled with the economic uncertainties faced by the country during the early 20th century, contributed to the rise of anti-Semitic sentiment and the eventual persecution of millions of innocent people.
Nazi Party Formation and Development
Initially named the German Workers' Party, the organization that would later become the Nazi Party was founded in 1919. Adolf Hitler joined within the same year and quickly rose through the ranks, becoming the party's leader in 1921. Under Hitler's leadership, the party morphed into the National Socialist German Workers' Party or Nazi Party in short.
The Nazi Party's growth was influenced by several factors:
Germany's economic struggles: The Great Depression hit the country hard, and many Germans looked towards extremist political parties for solutions.
The harsh terms of the Treaty of Versailles: Many Germans resented the treaty, which they saw as an unjust punishment for World War I. The Nazis exploited this sentiment to gain support.
Hitler's oratory skills: Hitler's passionate speeches managed to draw substantial crowds and rally support for the party and their cause.
By 1932, the Nazi Party had become the largest party in the German Reichstag (parliament). In 1933, Hitler was appointed Chancellor of Germany, marking the beginning of the Nazi era in the country.
The development of the Nazi Party can be organized into three key phases:
Formation and Early Growth (1919-1923): Hitler joined the party, took leadership, and attempted to seize power in the failed Beer Hall Putsch.
Strategic Expansion (1924-1932): After the failed coup, Hitler reorganized the party and focused on attracting new members, gaining significant electoral victories in the process.
Consolidation of Power (1933-1934): With Hitler as Chancellor, he swiftly dismantled the Weimar Republic and established a totalitarian regime, ultimately leading to the Night of the Long Knives and Hitler's assumption of total control.
During the Nazi Party's development, their hatred towards Jews intensified:
Anti-Semitic rhetoric: The party regularly disseminated anti-Jewish propaganda, accusing Jews of every imaginable ill, from causing the Great Depression to supporting the Bolsheviks in Russia.
Racial pseudoscience: Nazis propagated the idea of a superior "Aryan" race and claimed that Jews were inferior, promoting ideas of racial purity.
Influences from other anti-Semitic movements: The Nazi Party borrowed ideas from various anti-Jewish groups, such as the Protocols of the Elders of Zion, a fabricated document purportedly describing Jewish plans for global domination.
In summary, the Nazi Party's formation and development were driven by Germany's post-World War I struggles, Hitler's leadership, and external influences. Their hatred towards Jews was fueled by anti-Semitic rhetoric, racial pseudoscience, and borrowing ideas from other anti-Semitic movements.
The Anschluss and Evolving Antisemitic Policies
Following the Anschluss, the annexation of Austria by Nazi Germany in March 1938, Adolf Hitler's hatred towards Jews intensified, leading to more aggressive antisemitic policies. The Nazi regime implemented a series of measures aimed at marginalizing and persecuting the Jewish population. Some of these policies included:
Confiscation of property: Jewish-owned businesses, homes, and other assets were forcibly taken by the Nazis.
Segregation: Jews were forced to live in specific areas, like ghettos or overcrowded districts, separated from non-Jewish populations.
Forced labor: Jews were compelled to work in labor camps under inhumane conditions and little to no pay.
Systematic extermination: The Holocaust, the mass genocide of six million European Jews during World War II, was the horrifying culmination of Hitler's antisemitic policies.
The Nazis exploited pre-existing antisemitic sentiments in Austrian society and intensified them after the Anschluss. They justified these policies by claiming Jews were responsible for Austria's political and economic crises. Austrian Jews faced increasing limitations in their everyday lives, including job restrictions, educational segregation, and mandatory registration.
The Nuremberg Laws, initially introduced in Germany in 1935, were extended to Austria following the Anschluss. These laws stripped Jews of their citizenship, forbade marriages between Jews and non-Jews, and defined a Jew as anyone with three Jewish grandparents or two Jewish grandparents, and practicing Judaism. Consequentially, these laws further isolated and marginalized the Jewish population.
The antisemitic policies evolved throughout the years, gradually intensifying as the war progressed. However, the origins of Hitler's hatred towards Jews remain contested. Some historians attribute his views to his experiences during World War I, where he believed Jews were part of a global conspiracy undermining the German war effort. Others see the roots of his antisemitism in the post-war Weimar Republic and its impact on Germany's social and economic difficulties.
The Anschluss and evolving antisemitic policies demonstrate how Hitler's hatred for Jews played a central role in the persecution and extermination of European Jewry. Understanding the motivations behind these policies helps us to grasp the extent of this historical tragedy and ensures that we never forget the consequences of unchecked hatred and extremism.
The Holocaust: Implementation of Genocide
The Holocaust was the mass murder of six million Jews and millions of other people by the Nazis, including other targeted ethnic groups, disabled individuals, and political opponents. The motive behind this grisly and inhumane campaign was Hitler's irrational hatred toward the Jews, fueled by a combination of personal experiences, historical events, and prevailing social attitudes.
Nazi Germany began implementing their plans to exterminate the Jews and other undesirables in 1941. This systematic persecution and murder included the use of:
Ghettos: Nazis established ghettos in occupied countries where Jews were forcibly confined and segregated from the rest of the population. These ghettos were marked by extreme overcrowding, lack of food, disease, and brutality.
Concentration Camps: Concentration camps were initially established to imprison political opponents and "enemies" of the Nazi regime. As the Holocaust progressed, millions of Jews and other marginalized groups were imprisoned, subjected to forced labor, and eventually killed within these camps.
Extermination Camps: Nazis set up extermination camps, specifically designed for mass murder, to carry out the "Final Solution to the Jewish Question." Prisoners were murdered using poison gas, shooting, burning, or gassing in gas chambers. Six extermination camps were created: Auschwitz-Birkenau, Belzec, Chelmno, Majdanek, Sobibor, and Treblinka.
The magnitude of the Holocaust can be better understood through the following statistics:
| Metric | Number |
| --- | --- |
| Total victims | 17 million |
| Jewish victims | 6 million |
| Non-Jewish victims | 11 million |
Throughout the lengthy and brutal process leading up to the end of the Holocaust in 1945, efforts were made by both individuals and organizations to rescue Jews and other persecuted people from the clutches of the Nazis. Despite the overwhelming odds and the indifference or active collaboration of many in the international community, these brave efforts saved countless lives.
The Holocaust stands as a chilling reminder of the dangers of unchecked hatred and prejudice, and underscores the importance of tolerance, empathy, and commitment to the ongoing fight against genocide and mass persecution. In remembering the victims and learning from the past, society can strive to prevent such atrocities from occurring in the future.
Conclusion: Hitler's Hatred and Its Ramifications
Hitler's hatred for the Jews led to catastrophic consequences. His distorted world view and prejudice paved the way for the Holocaust, a horrific event that caused the lives of 6 million Jews during World War II. The Holocaust has left an indelible mark on human history and fueled an ongoing search for understanding the roots of such hatred.
Several contributing factors to Hitler's hatred for the Jews can be pointed out:
Personal experiences in his early life that fed into his bitterness and resentment
Influence of anti-Semitic literature and writings that exacerbated his prejudice
Political opportunism in harnessing societal antisemitism to consolidate power and advance his worldview
Ideological beliefs rooted in eugenics and racial theorization that promoted his goals for a racially pure and superior Aryan nation
The ramifications of Hitler's hatred are numerous and long-lasting. Some of them include:
The devastating loss of Jewish lives, culture, and families due to the Holocaust
The widespread collective trauma experienced by Holocaust survivors and their descendants
A dramatic shift in politics and world dynamics after World War II, including the establishment of the United Nations and the Universal Declaration of Human Rights
The formation of the modern state of Israel as a response to the need for a Jewish homeland and the ongoing conflict between Israelis and Palestinians
In retrospect, understanding the depths of Hitler's hatred is crucial to serve as a reminder of the atrocities committed in the name of bigotry and discrimination. It's a call for constant self-examination and a warning against the dangers of allowing hatred and prejudice to overpower reason and empathy. By learning from history, we can strive to create a world that recognizes the importance of tolerance and respect for all individuals, regardless of their race, religion, or ethnicity.