After three players—David Wright, Ian Kinsler and Hiroki Kuroda—were hit in the head by a pitch or line drive, we look back on the most frightening incidents of players being struck in the head.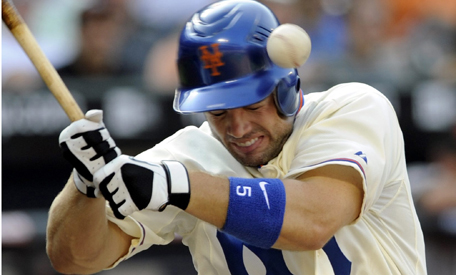 Wright, Kinsler, Kuroda Hit in Head
On Saturday, Mets third baseman David Wright was hit in the head with a 94 mph fastball from Giants pitcher Matt Cain. Wright, who was able to walk off the field after several minutes on the ground, suffered a concussion and was placed on the 15-day disabled list.
Wright wasn't the only player to be hit in the head Saturday. Rangers second baseman Ian Kinsler was hit by a pitch, but was able to get up immediately and remain in the game. Dodgers pitcher Hiroki Kuroda had to be carted off the field after being hit by a line drive, saying afterwards that he felt "lucky to be alive." It appears that he is recovering well enough that he won't have to go on the DL.
The three incidents occurred nearly 89 years to the day after Cleveland Indians shortstop Ray Chapman suffered a fatal skull fracture after he was hit by a pitch. Chapman remains the only major league player ever to die from being struck with a ball, though there have been many frightening cases of players being hit in the head.
This season alone, Giants pitcher Joe Martinez has been struck in the head with a line drive, and the Padres' Egdar Gonzalez and the Reds' Scott Rolen have gone on the DL after being hit with a pitch.
Sources in this Story
History: Batters hit by pitches
Ray Chapman
Chapman, who like all players at the time was not wearing a helmet, was struck in the side of the head so hard that the ball bounced back to pitcher Carl Mays, who thought that it had hit Chapman's bat.
Though he recovered enough to stand up, Chapman lost consciousness as he was being taken to the hospital. Doctors removed a piece of his skull in an emergency operation, but they could not save Chapman's life. He died Aug. 17, 1920, at the age of 29
Don Zimmer
Don Zimmer, while playing in AAA in 1953, was hit in the head with a curve ball. Zimmer, who wasn't wearing a helmet, fell into a semicomatose state for the next 13 days.
Doctors drilled four small holes into Zimmer's skull to relieve the pressure. After waking up, he was unable to speak for weeks and lost more than 40 pounds. Amazingly, he returned to baseball the following season and went on to play 12 seasons in the majors and serve as a coach and manager over the last four decades.
Tony Conigliaro
Tony Conigliaro, the 22-year-old Red Sox star, was struck on the left cheekbone in a 1967 game. "As soon as it crunched into me," Conigliaro would write three years later, "it felt as if the ball would go in one side of my head and come out the other; my legs gave way and I went down like a sack of potatoes. Just before everything went dark I saw the ball bounce straight down on home plate. It was the last thing I saw for several days."
Conigliaro suffered a fractured cheekbone, dislocated jaw and a black eye. Though his left eye was permanently damaged, he made a comeback to the team a year and a half later and would play six seasons before retiring.
Tragically, Conigliaro had a heart attack in 1982 that left him in a vegetative state until his death in 1990.

Mike Jorgensen
In 1979, the Texas Rangers' Mike Jorgensen was struck in the head by Red Sox pitcher Andy Hassler. Jorgensen originally appeared to be okay, appearing in uniform over the next three days. But he had bad headaches and checked himself into the hospital.
Doctors discovered that he had a blood clot on his brain. While under observation, he suffered a seizure; doctors administered oxygen, saving his life. Had Jorgenson not been in the hospital, where oxygen could be administered within minutes of his seizure, he "would have joined Ray Chapman as the only major-leaguers to die as the result of being hit by a pitch," Steve Wulf wrote for Sports Illustrated.
History: Players hit by line drives
Herb Score
The Indians' Herb Score was one of baseball's best young pitchers, but in 1957 he was hit with a line drive in the right eye. "The ball crashed into his face, breaking his nose, cutting his right eyelid and causing swelling and hemorrhaging of the cheekbone and eyebrow," Bob Dolgan wrote for The Plain Dealer.
Score returned to baseball, but with a changed pitching motion. Many believed that Score changed his motion to put himself in a better position to field, but Score maintained that it was to protect a sore arm. He was never able to pitch as well as he did before the accident, though he did have a productive career.
Bryce Florie
Red Sox pitcher Bryce Florie was struck by a line drive traveling an estimated 120 mph in a 2000 game. "I was spitting up blood, I couldn't see. I went to the hospital thinking I might die," he told the GateHouse News Service. "The doctor told me not to look in the mirror. Of course, I eventually did and I looked like the Elephant Man."