Experts and managers convened this week to publicly deflate rumors about life on Mars that have been circulating on the Internet after recent promising discoveries.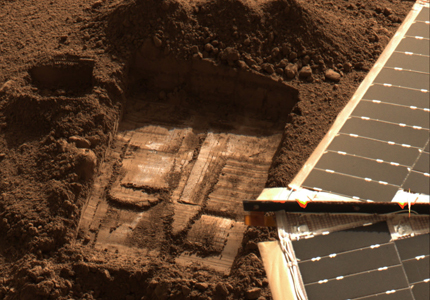 Getting Control of the Story
"Unfortunately, there's been this story out that we're hiding something and of course as soon as that story goes out, then people speculate and speculation leads to all kinds of wonderful discoveries that I wish we'd made, but we haven't," said Peter Smith, the head of the Phoenix science team, during a telephone conference call with reporters Tuesday.
According to Discovery News, the trouble began when aviation and space journalist Craig Covault wrote an article in the magazine Aviation Week on August 1, suggesting that the Phoenix science team— the group responsible for the Phoenix Mars Lander, which touched down on the Red Planet May 15—would soon brief the White House about the potential of life on Mars.
Within two days, bloggers and some media outlets were abuzz with news of life on Mars and, furthermore, were reporting that NASA was trying to hide the information from the public.
Following Covault's article, Ian O'Neill wrote in a post on the blog Universe Today that "we are assured that this announcement will be huge." The post received more than 400 comments.
NASA quickly worked to quell the rumor, sending a text message to 32,000 Phoenix followers signed up to receive project updates, that said the "reports are incorrect." Experts then convened to talk to reporters on Tuesday.
Related Articles on findingDulcinea
Background: Recent Mars discoveries
Recent discoveries made by the Phoenix Lander certainly have not confirmed life on Mars, but have been groundbreaking, nonetheless.
Most recently, the Phoenix team has confirmed the presence of water ice on the Red Planet. Also, while making the "non-announcement" about the rumors Tuesday, as Michael Meyers, head of NASA's Mars exploration program put it, scientists announced that they have discovered perchlorate—a type of salt that occurs naturally on Earth—in the planet's soil.
Analysis: What does it all mean?
Just because Mars' soil may be more like Earth's than once thought, that doesn't mean life on Mars is right around the corner.
"Finding perchlorates is neither good nor bad for life, but it does make us reassess how we think about life on Mars," said Michael Hecht of NASA's Jet Propulsion Laboratory.
Meanwhile, Covault said he stands by his reporting on the alleged White House briefing, which caused the mix-up in the first place. He claims that multiple sources gave him the information.
"I can't help it if the whole … world runs off and says life was discovered on Mars. It is extremely clear that life has not been discovered on Mars," he said.
Sources in this Story