Created on Thanksgiving Day in 1887 as an ad hoc game of indoor baseball, softball has grown immensely over the past 120 years. Today it's one of the most popular team sports in the United States, with more than 15 million Americans participating every year. We've compiled our favorite Web sites to help you learn about the game, follow competitive softball, and play the game yourself.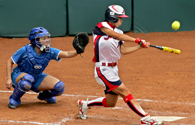 Rules and History of Softball
From a way to keep Chicago firemen busy during the bouts of inactivity between calls to an Olympic sport, softball's rules, regulations, and style of play have grown and developed with the sport's popularity. With this section we'll provide sites that narrate the story of softball's birth and expansion, and sites that outline its rules.
Dulcinea's Insight
Softball consists of three main types: fast pitch, modified fast pitch, and slow pitch. Although the basics remain the same for each, there are some differences regarding field size, base runners, etc.
Fast pitch is sometimes spelled as one word; this guide will use two words, except in the names of organizations that spell it as one word. But if you use a search engine to find softball information, try your search with both spellings.
Softball rules often vary slightly between professional and college leagues, and can vary greatly between amateur leagues. For example, more-competitive amateur leagues typically allow stolen bases and unlimited runs, while many recreation-focused leagues put restrictions on the offense, and coed leagues have diverse rules about how many women and men need to play and where they can be positioned on the field and in the batting order.
The rules sites recommended in this section give guidelines for how softball is generally played. If you are looking more in-depth rules, look for specific league rule books, which can be found on official league Web sites listed in the "Where can I find information on international and professional softball leagues?" and "Where can I find an amateur softball league to play in?" sections.
Dulcinea's Picks
For an overview of the rules …
SportsSpectator.com teaches you all the softball essentials. Position descriptions, a diagram of the field, and definitions of the sport's most widely used terms makes this guide useful for beginners, but definitely too basic for experienced players.
Mom's Guide to Sports is dedicated to educating those mothers who dutifully attend the games, matches, and contests of their children without knowing exactly what's going on. Although this site has extremely basic information, we've linked to the "Common Signals" section because of its useful diagrams of frequently used umpire signals.
The International Softball Federation is the best source for a more detailed softball rulebook. It features rules for fast pitch, slow pitch, and modified softball, as well as rules for arena and wheelchair softball. Each rulebook is in PDF format.
ETeamz is an online sports community Web site that allows users to participate in and read discussion forums about sports. Its "Softball Rules" discussion board contains an abundance of insightful comments about the intricacies of softball rules. Plus, if you ever have a question, you just have to post it and receive an answer.
For the history of softball …
SportsKnowHow.com highlights softball's impressive evolution from baseball's indoor cousin to a worldwide sporting phenomenon. This article starts with the events that led to softball's creation in 1887 and follows the game's explosive popularity in the 120 years since.
Olympic.org , the official Web site of the International Olympic Committee, not only covers the general history of softball, but also its ascension to Olympic status. This site has a glossary of technical terms and a list of the equipment necessary to play.
The International Softball Federation 's Softball Hall of Fame features short biographies of the world's best softball players since 1981. This site also has rulebooks for slow pitch, fast pitch, modified fast pitch, arena, and wheelchair softball in its "Rules and Standards" section.
The Amateur Softball Association 's National Softball Hall of Fame focuses on the best players in American softball history by supplying biographies of its inductees dating back to 1941. The site also has an online tour feature with panoramic views of its main attractions.
Who knew?
The King and his Court are a barnstorming softball team started in 1946 and made up of four players who challenge nine-man teams. They are famous for pitcher Eddie Feigner, the King himself, who could throw over 100 miles per hour and struck out major leaguers like Willie Mays and Roberto Clemente. Feigner passed away in 2007, but the team continues to travel the country. The official site includes a brief history of the team along with a tour schedule, news coverage, and memorabilia. For more information on Eddie Feigner, read Doug Lyons' biography, From an Orphan to a King.
The Pekin Lettes are America's oldest fast pitch softball team. Their Web site offers news about the past, present, and future of the Illinois-based team. So what exactly is a "Lette?" It's short for the team's original name, the Dieselettes, in reference to the construction equipment company that originally sponsored the team.
Softball Leagues and Tournaments
Softball is played competitively in more than 100 countries across the world, and there are international competitions for both men and women. In the United States, women's fast pitch is played professionally, and at most high schools and colleges. This section will show you where to find information on softball's premier leagues and organizations.
Dulcinea's Insight
The American women's team has been dominant in the Olympics, having won gold medals in each of the three Olympics in which the sport has been featured. Unfortunately, the International Olympic Committee voted in 2005 to exclude softball (and baseball) from the 2012 London games.
New Zealand is the current men's fast pitch champion, and has won the last three tournaments. The United States is the current women's fast pitch champion, and has won the last six tournaments. In college softball, the University of Arizona Wildcats won the 2007 NCAA national championship, taking home their second Women's College World Series title in a row.
In this section we reference two Web sites for the NCAA (National Collegiate Athletic Association): NCAASports.com focuses on the playing of the game, whereas NCAA.org focuses on the administrative side of the NCAA, including rules and records.
Dulcinea's Picks
For international softball …
The International Softball Federation is the official governing body of international softball, overseeing some 115 member countries on six continents. It holds the world championships in women's and men's fast pitch, junior women's and men's fast pitch, women's, men's, and coed slow pitch, and women's and men's modified pitch every four years. The site has information on rules, tournament results, doping regulations, umpire training, and much more. There is also a directory of member countries, with links to official federation sites for each country. These sites have more detailed information on softball in each particular country, though not all sites are available in English.
USA Softball is the official site of the United States' national softball teams, including senior and junior teams for both men and women. It features news, game results, player profiles, statistics, and ticket information for upcoming events. There are also photo galleries from recent tournaments and tours.
For professional softball …
National Pro Fastpitch is the only women's professional softball league in the United States. The league features six teams and stars like Jennie Finch, Cat Osterman, and Amber Jackson. Its site includes news, stats, standings, schedule, player profiles, and links to team sites.
For college softball …
The NCAA (National Collegiate Athletic Association) governs college fast pitch softball. Its site has news, stats, polls, and information about the Women's College World Series in Oklahoma City. For NCAA softball rules, see NCAA.org.
Softball News
You don't have to wait for the Olympics or College World Series to find coverage of women's fast pitch softball. The following sites will keep you up to date on the world of competitive softball.
Dulcinea's Insight
The official league sites listed in the previous section are all excellent sources of news and statistics for their respective leagues.
Dulcinea's Picks
For general softball news sources …
Softball Today magazine prints several times a year, covering both fast pitch and slow pitch. The "Fast Pitch" and "Slow Pitch" sections of the magazine's Web site have news on the respective sports, and the "Spotlight" section covers interesting developments. There is also a "Features" section, which examines equipment, and a "Diamonds in the Rough" section, which profiles high school fast pitch players from across the country.
Softball News compiles and archives softball stories from newspapers across the country. The most recent stories appear on the front page, and the archive is accessible through the menu on the left side. Once in the archive page, scroll down to the "Directories" section; the links above it don't work.
SPY Softball reports on fast pitch softball, focusing on 18-U girls, college, and Olympic competitions. Updates are provided daily during the season and frequently during the off-season.
For college softball …
College Sports TV has news on college softball here, featuring news stories, scores, and links to team sites. The site's "Video" section has a large collection of highlight clips; use the "Find Videos by" tab near the top of the page to filter out all the non-softball video.
Student Sports Softball is a part of Rivals.com, covering high school softball and college recruiting. It tracks the recruiting process and decisions of the country's top players. Some of the more in-depth content requires a Rivals.com subscription, but there are still plenty of free articles and prospect lists.
Recreational Softball Leagues
There are leagues across the country for every kind of player: man or woman, old or young, casual or serious, beginner or veteran. This section will give you the organizing bodies of amateur softball and help you find a league that fits your needs.
Dulcinea's Insight
The leagues and organizations we've included here are all national; most of their Web sites include links or contact information for local leagues and tournaments. Use this information to find teams and competitions in your area.
The sites below link to national organizations that oversee local leagues and tournaments. There are also many independent local leagues; too many, in fact, to be listed here. These leagues can be found using a common search engine: usually the name of the town or city plus "softball" is sufficient, but if you want to narrow your results, include terms like youth, adult, girls, boys, women, men, coed, competitive, recreational, fast pitch, and slow pitch.
Another good source for finding local leagues is the "Parks and Recreation" section on a town or city's Web site. Most town and city sites can be found through state sites, which are usually the state's two-letter postal code plus ".gov." For example, the New York State Web site is NY.gov.
It's important to recognize your talent level when looking for a league. Players and teams that are too good or not good enough ruin the competitive balance of the league and are sometimes even asked to leave.
Dulcinea's Picks
For softball in general …
The Amateur Softball Association of America is the national governing body for softball in the United States. The ASA runs more than 90 national championship tournaments in fast, modified, and slow pitch leagues across the country. The "Tournaments" section includes results for national championship tournaments and information on how to enter tournaments. The site also provides information on rules, equipment, and its organizational structure, including contact information for local associations.
The National Softball Association offers a wide variety of competitions for youths and adults. Its site has a complete rulebook, results from tournaments, and contact information for state NSA representatives.
The U.S. Specialty Sports Association also hosts league play and national tournaments for men's and women's fast and slow pitch softball teams. However, the USSSA doesn't have the same reach as the ASA, so you should make sure that they offer leagues in your area. The "Tournaments/Leagues" tab in the left-hand menu will allow you to search for competitions in your area, while the "Websites" tab will direct you towards state USSSA programs.
The National Federation of State High School Associations (NFHS) governs most of American high schools sports. Its site contains links to state high school associations and the official rulebook for high school softball.
For fast pitch …
The North American Fastpitch Association organizes NAFA World Series, the largest men's fast pitch tournament in the world. It hosts tournaments at six different levels, featuring amateur teams from 40 states, 6 Canadian provinces, and Mexico. Its site has rules, results, and information on how to register for the tournament.
Little League is best known for baseball, but is also features softball for girls and boys ages 5–18. For more information on the playing levels offered, see the "Divisions" section. If you are looking for a league in your area, there are tips on how to find one, including a directory of local Little League organizations with contact information and links to team sites. Keep in mind that this information isn't softball-specific and many of the organizations listed will have baseball, but not softball. The organization's Little League, Junior League, Senior League, and Big League Softball World Series each have their own Web sites, featuring schedules, results, past champions, and more.
For slow pitch …
The Independent Softball Association uses its own unique set of rules, which includes base stealing in slow pitch games and home run limits for certain divisions. In addition to league play, the ISA conducts a number of national and regional tournaments, including its own World Championship. Use the "State Links" page to find ISA competitions in your area.
The World Softball League is relatively new on the block, having only been around since 2002. Since then, however, this slow pitch–only league has grown exponentially, drawing many of softball's premier players and major sponsors. Although the league's team registrations are mainly focused in the southwest United States (especially Louisiana) the league hosts tournaments all over the country. There is an online registration form for those who want to enter their team in the WSL.
For specialty leagues …
The National Wheelchair Softball Association has been the governing body for wheelchair softball in the United States since 1976. Started by a few Midwest individuals with spinal injuries, wheelchair softball today includes more than 30 teams nationwide, with many having sponsorship ties with Major League Baseball counterparts. Its site has information on rules, league history, and the National Wheelchair Tournament. If you are interested in playing, check out the team directory or form your own team and enter it into NWSA competitions.
The North American Gay Amateur Athletic Alliance offers a nondiscriminatory atmosphere for gay, lesbian, bisexual, and transgender softball players in the United States and Canada. The NAGAAA has more than 50 leagues, including both coed and women's divisions, and it holds an annual World Series. For information on teams near you, check out the member cities page.
The International Senior Softball Association conducts national tournaments with age-specific divisions tailored to players age 35 and up. It holds World Championship tournaments for many divisions, based on both age and talent level. The site includes links to several regional leagues and organizations.
The National Softball Association of the Deaf hosts an annual tournament for the best deaf softball players in the country. Each year the tournament is held in a different city, and includes brackets for men's, women's, and co-ed teams. For information on entering your team in the NSAD annual tournament, contact the representative in your area.
Improving at Softball
Whether you're a competitive player or just playing for fun on a company team, the Web has sites full of advice on how to become a better player. We've tracked down the best.
Dulcinea's Insight
There is a distinct difference between the swing in a fast pitch game and the swing in a slow pitch game. In fast pitch, the swing must be short and quick to make contact with the speeding ball. The slow pitch swing often involves a long, slow coiling and uncoiling to generate as much power as possible.
Softball clinics and camps are a great way to improve your game. To find one in your area, use a search engine or look on the "Parks and Recreation" section of your town or city's Web site.
Dulcinea's Picks
For fast pitch …
The K-Zone is the Web site of the Keylon Randolph Fastpitch Academy, offering advice on pitching, catching, fielding, training, and the college recruiting process. The advice is directed toward coaches, with workout suggestions and tips for evaluating players, but the information is just as useful for players.
Softball Clinics offers advice for coaches, covering both on-field teaching and off-field management. There are downloadable resources available, such as pitching and hitting charts, and a pitch-grip page that can help a pitcher put the correct spin on the ball.
Fast Pitch Softball features articles written by three successful NCAA coaches. There are a number of topics covered, including how to teach hitting and fielding, how to put players in the right position in the field and in the lineup, and how to approach coaching.
Girls-Softball features articles written by a "player, coach, and fan" of softball. Much of the content focuses on preparation, strategy, and the mental side of the game, rather than on technique. The articles are easy to read, and the author often includes personal anecdotes to stress the importance of a particular point.
US Fastpitch Camps has a few tips on hitting, throwing, and buying a glove. It focuses on the mental aspect of the game and each tip can be applied easily and immediately.
For slow pitch …
Swing Mechanics teaches the art of the slow pitch softball swing. The most helpful parts of the site are the three-part swing tutorial and the explanation on how to hit fly balls, line drives, and ground balls. There are also videos to supplement the lessons, but be aware that there is some foul language in some of them.
Buying Softball Equipment and Apparel
Though it appears to use mostly the same equipment as baseball, competitive players require equipment specifically designed for softball. Even casual players might want to put down their old baseball glove and buy a softball glove, which has a larger pocket for handling the larger ball. The sites in this section will help you find the bat, glove, or other piece of equipment that's right for you.
Dulcinea's Insight
When buying a bat, make sure to check which leagues it is certified in; you will not be allowed to use it if it isn't certified specifically for your type of league. For more information on how to do this, see the Softball Bats Bat Care Guide.
The Web sites we've included in this section specialize in softball merchandise. Such sites are often your best bet for selection, but if your needs are relatively simple and mainstream you can often find lower prices at large general sporting goods retailers. You'll find our recommendations for these stores and many other great Web sites in the findingDulcinea Sports Web Guide.
Dulcinea's Picks
For a buying guide …
CBS Sportsline has a bat-buying guide that provides a good introduction to bat material, size, and technology.
For equipment …
Softball Sales has a large selection of equipment organized into many specific categories to help you quickly find the equipment you want. Each type of equipment has a "New" section, which displays the latest line of each piece of equipment.
Softball Warehouse has a large selection of equipment for fast pitch and slow pitch equipment, training machines, and accessories. It can be searched by category, brand, or position in the field.
Softball Bats specializes in exactly what you'd expect. It offers a useful bat-buying guide that even includes advice on caring for your bat. There is also a bat-comparison table, which makes it easy to compare the pros and cons of each bat.
For apparel …
Softball Outlet is the official team store of USA Softball. It offers jerseys, caps, T-shirts, and other apparel and collectibles. There is also a small selection of college team merchandise.