Being part of a family takes a lot of work: keeping in touch with everyone, planning a wedding, working on your marriage, becoming a parent, and caring for your loved ones old and young can be a challenge greater than one person can handle. We've put together a collection of Web sites that can act as a family counselor, genealogist, storyteller, long-lost friend or relative finder, and even personal organizer.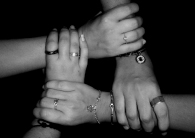 Research Family History
Researching your genealogy is about more than becoming your family's own private detective. Your ancestry can help you determine your risk for certain health problems, find long-lost relatives, and even unearth a distant connection to a royal family. Well, maybe finding fourth cousins and a history of heart disease are more likely than discovering your rightful claim to the Welsh throne, but you can always hope.
Dulcinea's Insight
The Census Bureau does not make census information about individuals publicly available until 72 years after it is collected. For more information from the Census Bureau, take a look at this site.
Starting a search for your family's history is a good time to ask an older relative about the good old days. See if you can get specific names, dates, and details about your family's history that may help you discover more family later on. The more specific your information is to begin with, the easier your search will be.
Checking online family trees might be more helpful than you think. If you share a common ancestor with another genealogist, some of your work may already have been done for you.
Dulcinea's Picks
Geni will immediately prompt you to enter your name so you can build a family tree. Click on the arrow next to your name to add a brother, sister, mother, father, or child, and then click on that person to branch out further. Geni will automatically fill in the last names as it sees fit (but you can easily fix them). It's so fast and simple that it's almost addictive. Your Geni family tree is confidential, but you can share it with anyone by sending them an e-mail invitation.
My Heritage has a downloadable software search tool to help you discover your ancestry. You can build a family tree (complete with pictures of family members), and create a Web page to keep in touch, share pictures, and organize events. The community aspect of the site allows you to search for your ancestors among the family trees already on the site. Results for searches are moderate at best. Many of the family trees are private, so verifying the identity of an ancestor is difficult if not impossible.
FamilySearch has some helpful research guidance for clues to your family history as well as tips on how to track your progress as you find your ancestors. Check out the list of helpful Web sites that can aid in your search. FamilySearch has free software to help track your family history. This site is from the Church of Jesus Christ of Latter-day Saints in association with the Family History Library in Salt Lake City, Utah.
Ancestry.com has some great tools to help you get your ancestry search started. For a fee you can access their records, or create a family tree for free here, and get in touch with other ancestry researchers like yourself. If you created a family tree using software from another Web site, you can upload it here as well. The general search feature for this site is better than the others because you can search for family trees, public documents, photos, and more. You may also get a "Did you know?" fun fact about the name or person you are searching for.
Cyndi's List is a huge categorized index of some of the sites on the Web that will help you in your genealogy research. Not all of these sites will be useful to you, and sifting through them will take quite a while. If you are looking for a very specific type of site and haven't had any luck in other places, this might be worth a try. If you are looking for help, browse the index or read the frequently asked questions that are posted on the left-hand side of the screen (you have to scroll to get to them).
The National Archives has a "Genealogists/Family Historians" section with tools and tips to help aid in your search for genealogical information. There is a "What genealogical records are online?" section that will show you what information you can expect to get from researching online.
The USGen Web Project is a volunteer-edited free service hosted by rootsweb.com. It is designed to provide resources for researching genealogy for each state and county in the United States. Expect to do a lot of clicking around on this site, as it's organized pretty badly, but you might find a good resource or two for the county you are searching. Along with sites that directly relate to genealogy, you will find census data, maps, and historical data. If you'd like to see the worldwide version of this project, visit www.worldgenweb.org.
My Family Health Portrait is a tool from the U.S. Surgeon General to help you track your family's health history and figure out how best to approach disease prevention.
About.com's Genealogy Relationship Chart is a tool to help you figure out how two people in your family are related. Confused about whether you are third cousins three times removed or second cousins four times removed? You'll find the answer here.
The Family Tree DNA Project will analyze your DNA to look for genetic links to unknown relations. Send away for a kit (they start at $121 and increase in price from there), and find out if you have any distant relatives already in the database.
The Genographic Project operates in collaboration with National Geographic to try and trace human migratory patterns through the collection of DNA. You can buy a kit for about a hundred dollars to have your DNA analyzed; you will then be able to access information about the migration of your genes through time and location. This project is not about the medical information contained in DNA, but concerned with the movement of certain peoples throughout history.
Get in Touch with Friends and Family
Sure, we all get busy with work, school, kids, and everything else life throws our way. But if the once-a-year holiday greeting doesn't provide enough opportunity to brag about your family's (or your own) accomplishments, there are plenty of online resources that can help you stay in touch all year round.
Dulcinea's Insight
Many newer sites have video demonstrations that you can watch to help you get started using the various features.
Lots of sites offer free trials—take advantage of them.
Starting a Web log (or "blog") is a great way to keep your family up to date about your life. You can set up a blog that everyone in your family can add to, and many sites will host your blog for free. For more information see our findingDulcinea Blogs Web Guide.
Think about your family's privacy when posting photos or information online.
Dulcinea's Picks
To help organize your family ...
AirSet is a hub for all of your different obligations in life. Keep track of family, work, group, and other obligations and activities. AirSet allows you to send messages to members of your groups and view a calendar of all your activities as well as share Web links and other useful information. You can also share one activity or event with another group (for example, share a work meeting with your family group so they will know where you are). The main service is free, but to get AirSet with your mobile phone requires a monthly fee.
Cingo is a family manager to the extreme. Share and manage shopping lists, create a family calendar, and utilize the task and chore manager. Find local movie listings, shopping and travel resources, as well as weather, news, and sports. Cingo has a 30-day free trial; yearly membership is $29.99 and lifetime membership is $99.99.
Famundo for Families is a way to organize your family's schedule. Community organizations can sign up with Famundo for free and put up schedules and information. When a family signs up for Famundo (free for 60 days, then $99/year) they can upload the schedules from organizations they belong to, or add events to their calendar on their own (events are color-coded for each family member). Keep track of important events and birthdays, make and track lists, leave messages, and store files on the site.
To create a centralized site for your family to connect ...
Amiglia lets you create a family tree (complete with pictures and contact information) and put it on your blog. Each family member can create a profile page with photos, bio information, as well as any other stories or information they'd like to share. You can create a family calendar, import from other photo storage sites (like Flickr), and link your photos through "albums" so that other members of your family can see them. Get a 30-day free trial, then pay $49.95 per year.
Tumblr will help you create a Tumblelog, a simplified version of a blog. As Tumblr says, "if blogs are journals, tumblelogs are scrapbooks." Tumblr makes it easy to integrate text, photos, and videos to get your message across.
Zooof is an international site helping families to connect. Build your family tree, upload photos, send your family messages, and so forth. This site is not as easy to use as some of the other family-connecting sites, but would work for families that are located in different countries or that speak more than one language, as Zooof is available in more than 30 languages.
Jubii is a way to interact with your friends and family online. It is an e-mail, chat, music, photo, and file storage and sharing site. You determine who can look at your photos and your Jubii page; you also choose whose e-mails are given priority. Although a lot of other sites provide elements found on Jubii, this site brings those different components together in one platform.
To share photos or videos with family ...
Flickr allows you to store and share your digital photos with family and friends. You can organize your photos in all sorts of innovative ways, even by putting them by location on a map. Sometimes more interesting than your own photos though, are the photos of other users on Flickr. Because you can choose to make your photos public or private, the public photos are available for viewing by anyone on the site. Just search by keyword if you are looking for a picture of, say, a bumblebee—you'll probably be able to find one. If you have any questions, the Flickr tour should help you get started.
Photobucket not only stores photos for you to share with your friends and family, it stores and shares your videos as well. You can even use Photobucket to create slideshows and remixes of your photos, and as a host for videos that you've posted on other sites.
The Kodak EasyShare Gallery allows you to e-mail people a link to a slideshow of whatever photos you'd like to share with them. You can order prints (or other fun photo keepsakes like mugs, calendars, or T-shirts), and store your digital photos online at the gallery.
Snapfish caters even to those of us that haven't made the transition to digital film; you can send in rolls of your regular film to Snapfish for developing and they will send you back the prints and negatives a few days later. As an added bonus, the film that you send in will also be scanned so that you can view and share the pictures online as well as order new prints any time you like without leaving your computer.
MailEmotion is a video mail site. The homepage will immediately prompt you to begin recording a video e-mail that you can then send to your friends and family-a good way to communicate with someone far away from home. This site can also be read in French, Spanish, German, Italian, or Chinese.
To find long-lost friends or relatives ...
Where Are You Now? is a site dedicated to helping you track the friends you meet on your travels and keep in touch with them. It is also a travel guide for different cities and countries. Meet new people who will be traveling where you are, or keep in touch with old contacts from previous travels.
Pipl searches for people on the "deep Web"-the underlying content that other search engines miss. Enter the first and last name, city, state, and country (United States or Canada), or as much of that information as you have. Pipl will give you results that first include all of your search criteria and then widen to the name within the state, then within the country. Results include newspaper articles, user profiles from social networking sites, public records, and more.
Wink is "a search engine for people." Find other people by name or by common interest. Wink scours social networking sites like linkedin.com and myspace.com to compile your results. It might be better to use this site to find people with common interests, as its search technology seems to miss individuals when you search by full name.
To get together with friends and family ...
Renkoo is a site designed to help you get together with your friends more often and organize your life better. You can invite a group of your friends to a specific event using Renkoo or you can figure out the details as you go along (choose a specific day to get together or put it up for a vote). Chat with your friends online or send them a text message through this site.
Evite lets you create and send free, customized e-mail party invitations and then tracks RSVPs for you. This site also has tips and tools to help you plan your party or event.
Dodgeball is a social networking site designed to help you meet people in real life and online. Set up networks of friends or family on the site, then use your cell phone to send text messages to the site when you are going out: the site will then tell your networks where you are going and let you know if any of your friends are within 10 blocks of your location.
Who knew?
Jyte is for those want to do is get the upper hand on a competitive relative. Its sole purpose is to let you make claims (for example, "I am the greatest basketball player of all time") and let other users vote on the credibility of your boast.
Meebo allows you to access almost any of your instant messaging programs from any location. You won't have to install any new software to use Meebo-especially valuable when you are traveling or not on your home computer.
Wedding and Marriage Resources
No matter if you are newly engaged or if you are getting ready to celebrate your 50th wedding anniversary, there are always questions about how to keep your relationship running smoothly, or how to plan a wedding or anniversary celebration—even how to manage your and your spouse's finances. No matter what your marital query, you'll find several resources on the Internet.
Dulcinea's Insight
If you have a favorite advice or how-to show, or if you like a famous advice giver (Dr. Phil or Dr. Ruth, for example) you will probably be able to find them online (and perhaps read some advice) with a quick search for their name in a search engine.
Dulcinea's Picks
For wedding planning ...
The Wedding Channel has a "My Tools" tab that is perhaps the most useful feature on the site. You'll be able to create a free Web page here to share all of your wedding details with your guests, start a budget calculator, a planning checklist with a timeline, and an online scrapbook. You'll also find inspiration for every detail of your wedding from big stuff like the venue to small details like the bride's hairstyle. You can even keep your registries on this site so your guests can go to only one place and order from any store.
Bliss! has a few interactive tools that might be handy when planning your wedding. The Floral Generator lets you know which flowers are grown in your region, are in season, or are a certain color that you'd like. The dance music list provides inspiration for choosing the songs for the special dances at your wedding, and the wedding toast generator provides ideas to those who might not know what to say at the reception. The printable checklists should help every member of the wedding party keep track of what they need to do before, and during, the big day.
Brides.com is the Web home of the magazines Brides, Modern Bride, and Elegant Bride. The color studio might help you choose your color palate, while in the beauty section you'll find tips for how to look your best (make-up, hair, dress and tuxedo ideas, even fitness) on your big day. You'll also find helpful guides that will walk you through many of the important purchases and decisions for your wedding.
The Knot has an engagement ring builder for the soon-to-be engaged. On The Knot TV you can view fashion shows, how-to's, and other wedding idea videos for free anytime you like. This site also has wedding planning tools, sites specific to your region of the country, and message boards. The Knot will also give you a free Web page to help you plan and share your wedding.
Wedding Tracker , a division of The Knot, will create a Web site for your wedding. You'll get a two-week free trial to start and your site will include your own ".com" address, plus online RSVPs, a seating chart, and an online calendar. You can upload photos and order prints, have your own e-mail address using your Web site, create polls for your wedding guests to answer, and more. After the trial period, the service costs $60/year.
VerseIt.com is the site to look at before you send out engagement announcements or wedding invitations. You'll find proper invitation etiquette for a number of different family arrangements such as remarriage or a deceased parent, in the "Ask It" section of the site. The "Verse It" section provides suggested wording for invitations and announcements for all kinds of weddings. The "Adorn It" section will give you tips on how to tie ribbon to an announcement, and the "Address It" section has tips on how to address envelopes properly and when to send out the invites.
For marriage tips and advice ...
The Nest is a site for newlyweds that helps guide you through those first years of marriage: buying your first home, learning to live together, keeping your finances in order, even city guides to keep you busy about town.
iVillage is geared toward women, but it has plenty of articles that deal with the joys and pitfalls of marriage. You'll be able to read about marriage issues like money, intimacy, communication, even divorce.
MSNBC's Today Show often has online articles written about segments from the show; you'll also find video clips of the actual broadcast here. This site contains a range of tips and advice about your marriage, family, money, and plenty of other common concerns.
FindLaw Family Law Center helps you find any family-related laws that you might need: prenuptials, child custody, divorce, adoption, and all other legal family issues.
The American Association for Marriage and Family Therapy can help you locate a therapist in your area. You can also search this site for other resources and take advantage of their comprehensive collection of books and articles on family problems.
Who knew?
Disney Weddings offers real-life "fairytale" weddings at either Disneyland or Disneyworld. On its site you'll find brochures, photos, and sample budgets.
The Chicago Public Library has a list of both the traditional and modern gifts that are typically given at each anniversary.
Dealing with Death
Although it may not be pleasant to think about your own passing, it is as certain as your taxes. And, much like your taxes, proper planning can make it much easier (emotionally and financially) on your entire family. The sites recommended below can help you prepare for your own death or deal with the death of a loved one.
Dulcinea's Insight
Many of the sites listed below will provide information to help you plan for your own passing, but might also be useful if you have just experienced the loss of a loved one and are in need of resources to help you plan the funeral or cope with loss.
For some, the thought of death brings about questions about religion. For religious resources or more information about religion in general, see the findingDulcinea Religion Web Guide.
Dulcinea's Picks
For general information about death planning ...
What Happens Now will guide you through many of life's big turning points, including the death of a loved one or preparation for your own passing.
To help plan a funeral ...
Eons has a very user-friendly section dedicated to funeral and death planning. This section has a printable funeral planner as well as guides to help you get your money and business affairs in order should you die unexpectedly. Eons also has an obituary section and takes a humorous approach to death in its celebrity trivia game Dead or Alive.
The Federal Trade Commission has an informative article about funerals and how to prepare for them. You'll find a glossary of common terminology, a printable checklist to help you compare prices, and links to additional information and organizations.
For wills and estate planning ...
The American Bar Association has an Estate Planning FAQ that explains a will, power of attorney, a trust, probate, and other legal issues related to planning for your death.
Nolo's Wills and Estate Planning center can help you plan your will and estate. Nolo is a resource that makes legal information more understandable for everyone; its range of checklists and articles should guide you through the estate planning process.
CNN Money has a section on estate planning that breaks down the subject into manageable elements and explains the importance of each step of the process. If you're not sure how estate planning should factor into your financial plan—or if it will—CNN is a place to find the basics.
For life insurance ...
SmartMoney has a worksheet that helps you figure out how much life insurance you need. On the right side of the worksheet you'll find links to other life insurance articles from the magazine that will help you choose a policy and maybe even save some money. Also worth a look for beginners is the life insurance glossary.
Insure.com has an Insurance Company Guide that lets you search for an insurance company in your area by the Standard and Poor's financial strength rating and by type of insurance they provide. If you have a company in mind but are looking for their rating, you can simply type in the company name here.
A.M. Best has an insurance company finder that allows you to search for insurance companies in your area by financial strength ratings, or issuer credit ratings. You can narrow your search by selecting as many or as few options as you'd like (search only by state or country if you want a huge list of insurers). To view the ratings you will have to subscribe to the site (for free). To better understand the ratings, click on one of the menu options on the left tool bar (for example, "Ratings Definitions").
Who knew?
The Death Clock takes a lighthearted look at our life expectancy. Enter a few pieces of information about your birth date and lifestyle and The Death Clock will estimate when you will expire.
Obitfinder will help you locate obituaries from newspapers nationwide or the Social Security Death Index.