In November, 32-year-old Rashida Tlaib won 44 percent of the vote in an eight-way Democratic primary contest for a seat in the Michigan state legislature.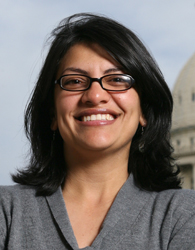 Rashida Tlaib, a lawyer and community activist, reportedly had no intention of seeking elected office until her boss, Democratic Rep. Steve Tobocman, who could not run again because of term limits, persuaded her to try for his district.
"I would have never been here today, if my Jewish boss and predecessor Steve Tobocman had not encouraged me to venture into politics," she told IslamOnline.net.
Tobocman first met Tlaib when she was working as an immigrant rights advocate for the Arab Community Center for Economic and Social Services. Tobocman was reportedly so impressed with Tlaib that he recruited her for a staff position when he became the majority floor leader.
She's someone who just intuitively understood the process right off the bat," Tobocman told the Associated Press.
The eldest child of Palestinian immigrants, Tlaib was the first member of her family to earn a high school diploma. She helped raise her 13 younger siblings while earning a B.A. in political science from Wayne State University and a law degree from Thomas Cooley Law School while working full time.
Tlaib joins Jamilah Nasheed of Missouri as one of only two female Muslim state representatives in the United States.
Sources in this Story: