In today's fast-paced world, it is becoming increasingly important for leaders to draw upon sources of wisdom and insight in order to guide, inspire, and empower their teams. For many, the Bible serves as a trusted resource for seeking guidance and lessons on effective leadership. In this blog, we'll discuss over 90 Bible verses about leadership that can provide a strong foundation for both new and seasoned leaders.
The Bible offers a wealth of knowledge on various aspects of leadership, from humility and servant leadership to the importance of discernment and wisdom. As we delve into these verses, it's essential to remember that effective leadership isn't just about leading others but also about nurturing one's own heart to align with the teachings and values portrayed in the Scriptures.
Whether you are a believer or not, these Bible verses about leadership can undoubtedly be applied to different aspects of life, providing valuable lessons and inspiration as we strive to become the leaders we hope to be. As you read on, I encourage you to reflect on each verse and consider how you can apply its message to your own leadership journey.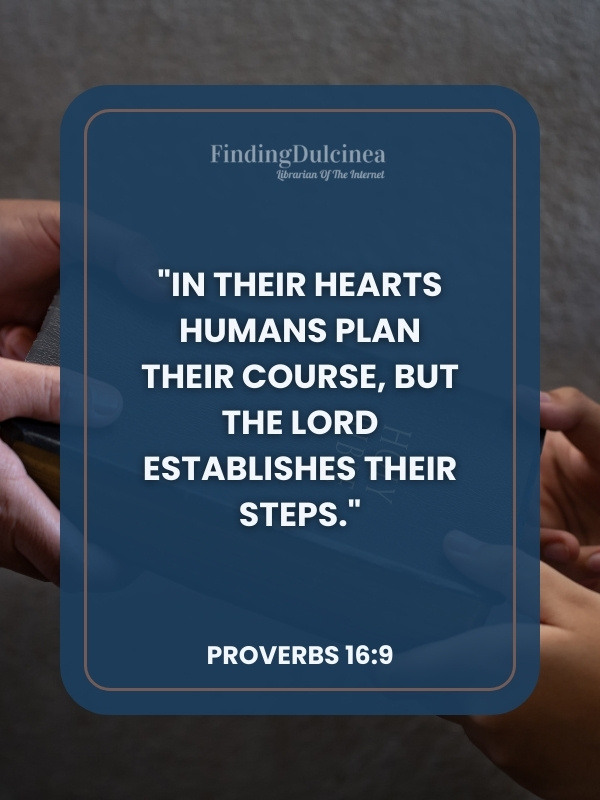 Uplifting Leadership Verses for Inspiration
1. Proverbs 16:9
"In their hearts humans plan their course, but the Lord establishes their steps."
2. Joshua 1:9
"Have I not commanded you? Be strong and courageous. Do not be afraid; do not be discouraged, for the Lord your God will be with you wherever you go."
3. Psalm 37:23-24
"The steps of a good man are ordered by the LORD, and He delights in his way. Though he fall, he shall not be utterly cast down; for the Lord upholds him with His hand."
4. Isaiah 40:31
"But those who hope in the Lord will renew their strength. They will soar on wings like eagles; they will run and not grow weary, they will walk and not be faint."
5. 1 Timothy 4:12
"Don't let anyone look down on you because you are young, but set an example for the believers in speech, in conduct, in love, in faith, and in purity."
6. Philippians 4:13
"I can do all things through Christ who strengthens me."
7. 1 Corinthians 15:58
"Therefore, my beloved brethren, be steadfast, immovable, always abounding in the work of the Lord, knowing that your labor is not in vain in the Lord."
8. Colossians 3:23
"Whatever you do, work at it with all your heart, as working for the Lord, not for human masters."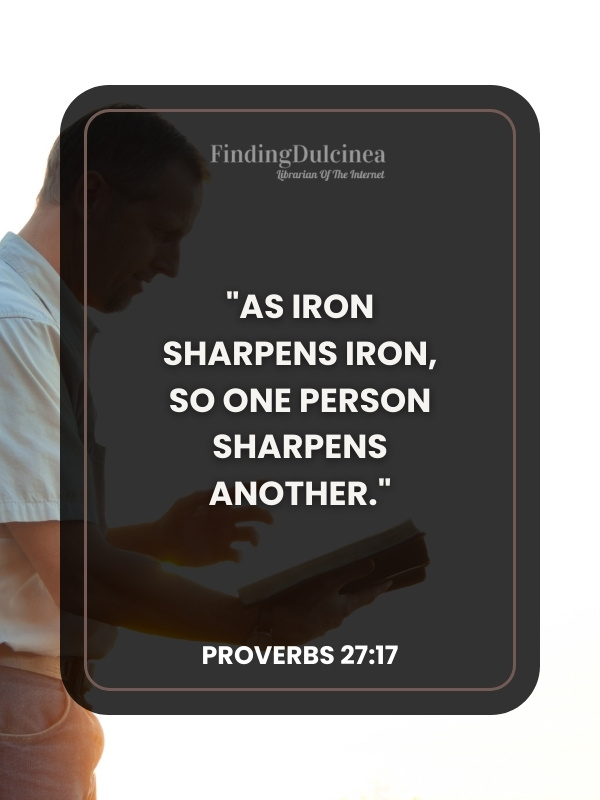 9. Proverbs 27:17
"As iron sharpens iron, so one person sharpens another."
10. Hebrews 10:24-25
"And let us consider how we may spur one another on toward love and good deeds, not giving up meeting together, as some are in the habit of doing, but encouraging one another—and all the more as you see the Day approaching."
11. Romans 12:8
"If your gift is to encourage others, be encouraging. If it is giving, give generously. If God has given you leadership ability, take the responsibility seriously. And if you have a gift for showing kindness to others, do it gladly."
12. Proverbs 20:18
"Plans are established by seeking advice; so if you wage war, obtain guidance."
13. James 1:12
"Blessed is the one who perseveres under trial because, having stood the test, that person will receive the crown of life that the Lord has promised to those who love him."
14. 1 Peter 5:2-3
"Be shepherds of God's flock that is under your care, watching over them—not because you must, but because you are willing, as God wants you to be; not pursuing dishonest gain, but eager to serve."
15. Romans 12:1
"Therefore, I urge you, brothers and sisters, in view of God's mercy, to offer your bodies as a living sacrifice, holy and pleasing to God—this is your true and proper worship."
16. Matthew 5:14-16
"You are the light of the world. A town built on a hill cannot be hidden. Neither do people light a lamp and put it under a bowl. Instead they put it on its stand, and it gives light to everyone in the house. In the same way, let your light shine before others, that they may see your good deeds and glorify your Father in heaven."
17. Psalm 78:72
"And David shepherded them with integrity of heart; with skillful hands he led them."
18. 2 Timothy 2:15
"Do your best to present yourself to God as one approved, a worker who does not need to be ashamed and who correctly handles the word of truth."
19. Ecclesiastes 9:10
"Whatever your hand finds to do, do it with all your might, for in the realm of the dead, where you are going, there is neither working nor planning nor knowledge nor wisdom."
20. Proverbs 29:2
"When the righteous are in authority, the people rejoice: but when the wicked rule, the people mourn."
More Verses:

1. 110+ Bible Verses About Joy
2. 110+ Bible Verses About Money
3. 150+ Bible Verses About Life
4. 120+ Bible Verses About Patience
5. 110+ Bible Verses About Forgiveness
6. 120+ Bible Verses About Pride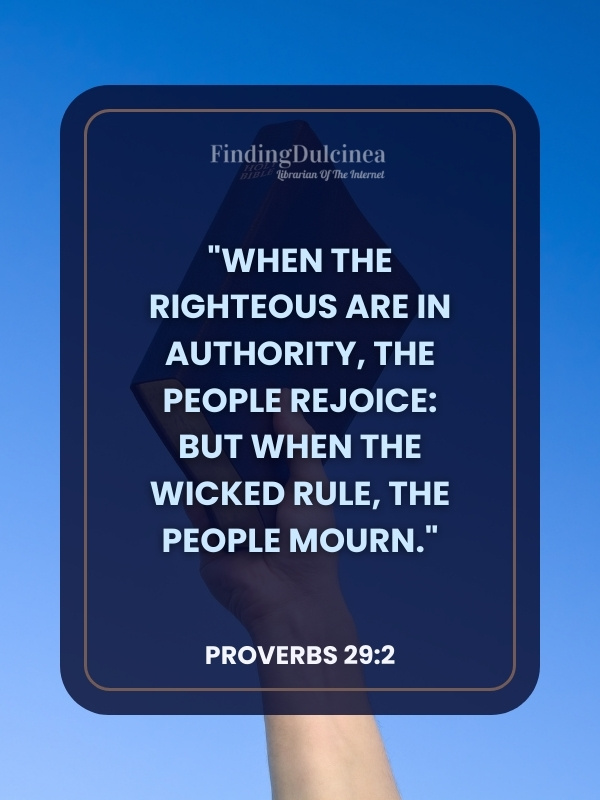 Embracing Servant Leadership Scriptures
21. Mark 9:35
"Sitting down, Jesus called the Twelve and said, 'Anyone who wants to be first must be the very last, and the servant of all.'"
22. Matthew 20:26
"Not so with you. Instead, whoever wants to become great among you must be your servant."
23. 1 Peter 4:10
"Each of you should use whatever gift you have received to serve others, as faithful stewards of God's grace in its various forms."
24. Philippians 2:3-4
"Do nothing out of selfish ambition or vain conceit. Rather, in humility value others above yourselves, not looking to your own interests but each of you to the interests of the others."
25. Galatians 5:13
"You, my brothers and sisters, were called to be free. But do not use your freedom to indulge the flesh; rather, serve one another humbly in love."
26. John 13:12-14
"When he had finished washing their feet, he put on his clothes and returned to his place. 'Do you understand what I have done for you?' he asked them. 'You call me Teacher and Lord, and rightly so, for that is what I am. Now that I, your Lord, and Teacher have washed your feet, you also should wash one another's feet.'"
27. Galatians 6:9
"Let us not become weary in doing good, for at the proper time we will reap a harvest if we do not give up."
28. Acts 20:35
"In everything I did, I showed you that by this kind of hard work we must help the weak, remembering the words the Lord Jesus himself said: 'It is more blessed to give than to receive.'"
29. Luke 22:27
"For who is greater, the one who reclines at table or the one who serves? Is it not the one who reclines at table? But I am among you as the one who serves."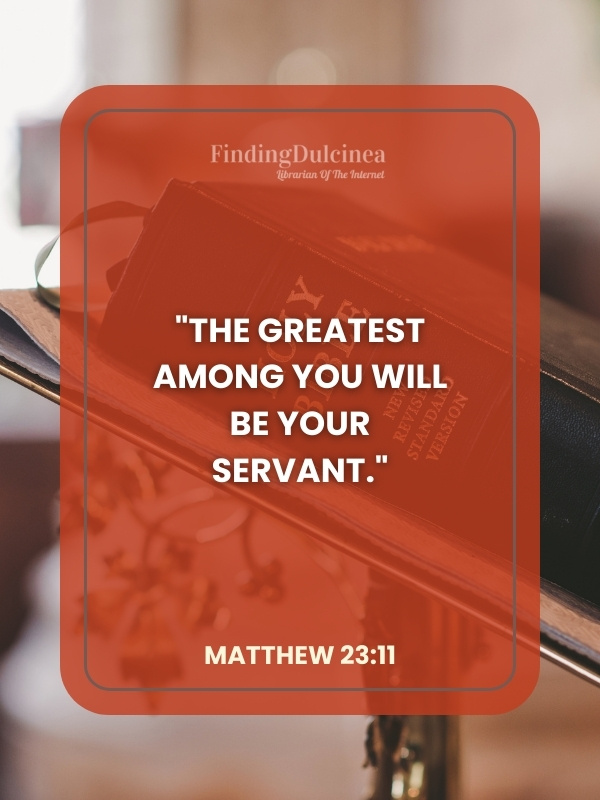 30. Matthew 23:11
"The greatest among you will be your servant."
31. Romans 15:1-2
"We who are strong ought to bear with the failings of the weak and not to please ourselves. Each of us should please our neighbors for their good, to build them up."
32. Luke 6:38
"Give, and it will be given to you. A good measure, pressed down, shaken together, and running over, will be poured into your lap. For with the measure you use, it will be measured to you."
33. 2 Corinthians 4:5
"For what we preach is not ourselves, but Jesus Christ as Lord, and ourselves as your servants for Jesus' sake."
34. Matthew 25:40
"And the King will answer and say to them, 'Assuredly, I say to you, inasmuch as you did it to one of the least of these My brethren, you did it to Me.'"
35. Micah 6:8
"He has shown you, O mortal, what is good. And what does the Lord require of you? To act justly and to love mercy and to walk humbly with your God."
Encouragement for Aspiring Spiritual Leader
36. Hebrews 13:7
"Remember your leaders, who spoke the word of God to you. Consider the outcome of their way of life and imitate their faith."
37. Titus 1:7-9
"Since an overseer manages God's household, he must be blameless—not overbearing, not quick-tempered, not given to drunkenness, not violent, not pursuing dishonest gain. Rather, he must be hospitable, one who loves what is good, who is self-controlled, upright, holy and disciplined. He must hold firmly to the trustworthy message as it has been taught so that he can encourage others by sound doctrine and refute those who oppose it."
38. 2 Timothy 4:2
"Preach the word; be prepared in season and out of season; correct, rebuke, and encourage—with great patience and careful instruction."
39. Ephesians 4:11-12
"So Christ himself gave the apostles, the prophets, the evangelists, the pastors and teachers, to equip his people for works of service, so that the body of Christ may be built up."
40. 1 Thessalonians 5:14
"And we urge you, brothers and sisters, warn those who are idle and disruptive, encourage the disheartened, help the weak, be patient with everyone."
41. 1 Timothy 3:2-3
"Now the overseer is to be above reproach, faithful to his wife, temperate, self-controlled, respectable, hospitable, able to teach, not given to drunkenness, not violent but gentle, not quarrelsome, not a lover of money."
42. Acts 14:23
"Paul and Barnabas appointed elders for them in each church and, with prayer and fasting, committed them to the Lord, in whom they had put their trust."
43. 1 Peter 5:2
"Be shepherds of God's flock that is under your care, watching over them—not because you must, but because you are willing, as God wants you to be; not pursuing dishonest gain, but eager to serve."
44. 2 Timothy 1:7
"For the Spirit God gave us does not make us timid, but gives us power, love, and self-discipline."
45. Romans 12:6-8
"We have different gifts, according to the grace given to each of us. If your gift is prophesying, then prophesy in accordance with your faith; if it is serving, then serve; if it is teaching, then teach; if it is to encourage, then give encouragement; if it is giving, then give generously; if it is to lead, do it diligently; if it is to show mercy, do it cheerfully."
46. 1 Timothy 5:17
"The elders who direct the affairs of the church well are worthy of double honor, especially those whose work is preaching and teaching."
47. 2 Timothy 2:2
"And the things you have heard me say in the presence of many witnesses entrust to reliable people who will also be qualified to teach others."
Women in Leadership: Empowering Verses
48. Proverbs 31:25-26
"Strength and dignity are her clothing, and she laughs at the time to come. She opens her mouth with wisdom, and the teaching of kindness is on her tongue."
49. Judges 4:4-5
"Now Deborah, a prophet, the wife of Lappidoth, was leading Israel at that time. She held court under the Palm of Deborah between Ramah and Bethel in the hill country of Ephraim, and the Israelites went up to her to have their disputes decided."
50. Luke 8:1-3
"After this, Jesus traveled about from one town and village to another, proclaiming the good news of the kingdom of God. The Twelve were with him, and also some women who had been cured of evil spirits and diseases: Mary (called Magdalene) from whom seven demons had come out; Joanna the wife of Chuza, the manager of Herod's household; Susanna; and many others. These women were helping to support them out of their means."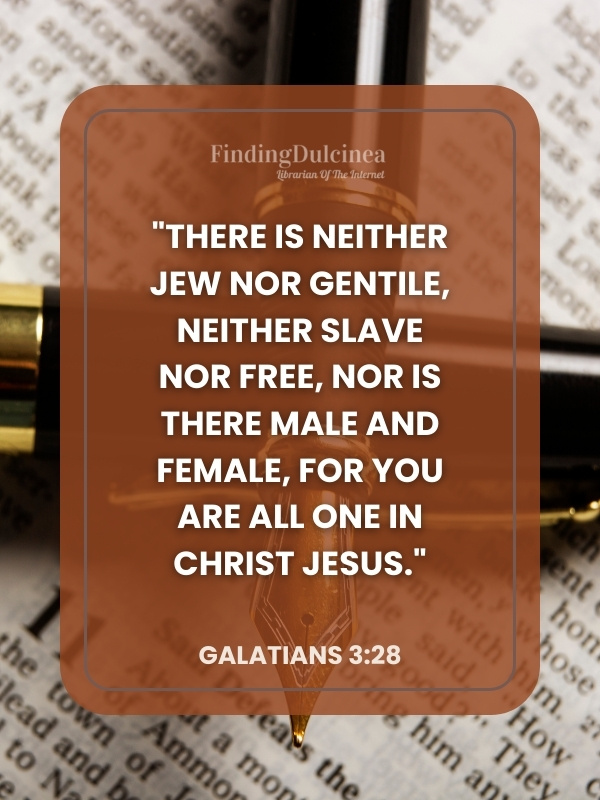 51. Galatians 3:28
"There is neither Jew nor Gentile, neither slave nor free, nor is there male and female, for you are all one in Christ Jesus."
52. Romans 16:1-2
"I commend to you our sister Phoebe, who is a servant of the church which is at Cenchrea; that you receive her in the Lord in a manner worthy of the saints, and that you help her in whatever matter she may have need of you; for she herself has also been a helper of many, and of myself as well."
53. Micah 6:8
"He has shown you, O mortal, what is good. And what does the Lord require of you? To act justly and to love mercy and to walk humbly with your God."
54. Acts 18:26
"He began to speak boldly in the synagogue. When Priscilla and Aquila heard him, they invited him to their home and explained to him the way of God more adequately."
55. Acts 2:17-18
"'In the last days, God says, I will pour out my Spirit on all people. Your sons and daughters will prophesy, your young men will see visions, your old men will dream dreams. Even on my servants, both men and women, I will pour out my Spirit in those days, and they will prophesy.'"
56. 2 Timothy 1:5
"I am reminded of your sincere faith, which first lived in your grandmother Lois and in your mother Eunice and, I am persuaded, now lives in you also."
57. Romans 16:3-4
"Greet Priscilla and Aquila, my co-workers in Christ Jesus. They risked their lives for me. Not only I but all the churches of the Gentiles are grateful to them."
58. Exodus 15:20
"Then Miriam the prophet, Aaron's sister, took a timbrel in her hand, and all the women followed her, with timbrels and dancing."
59. Acts 1:14
"They all joined together constantly in prayer, along with the women and Mary the mother of Jesus, and with his brothers."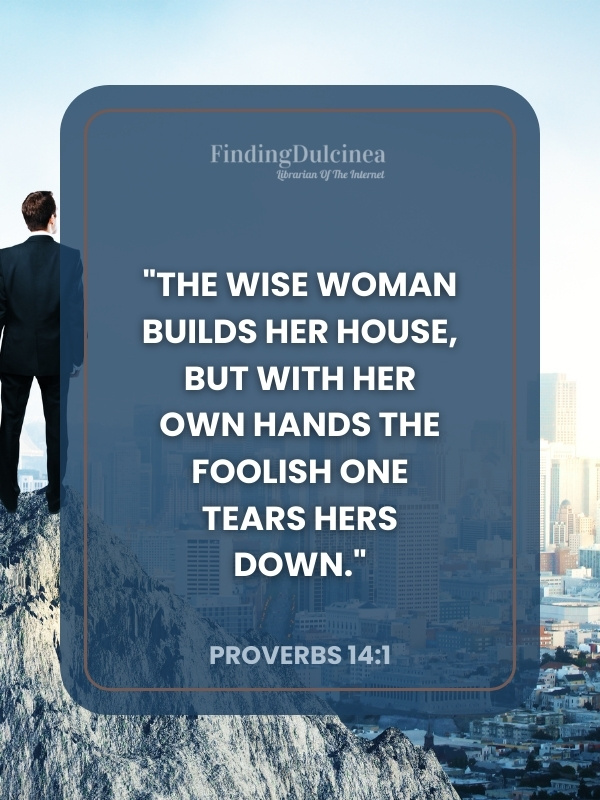 60. Proverbs 14:1
"The wise woman builds her house, but with her own hands the foolish one tears hers down."
61. Luke 10:38-42
"As Jesus and his disciples were on their way, he came to a village where a woman named Martha opened her home to him. She had a sister called Mary, who sat at the Lord's feet listening to what he said. But Martha was distracted by all the preparations that had to be made. She came to him and asked, 'Lord, do you not care that my sister has left me to do the work by myself? Tell her to help me!' 'Martha, Martha,' the Lord answered, 'you are worried and upset about many things, but few things are needed—or indeed only one. Mary has chosen what is better, and it will not be taken away from her.'"
62. Acts 9:36-42
"In Joppa, there was a disciple named Tabitha (in Greek her name is Dorcas); she was always doing good and helping the poor."
Fact Check: Who was Lilith in the Bible?
Discernment and Wisdom in Leadership
63. Proverbs 2:6
"For the Lord gives wisdom; from his mouth come knowledge and understanding."
64. James 1:5
"If any of you lacks wisdom, you should ask God, who gives generously to all without finding fault, and it will be given to you."
65. Proverbs 3:5-6
"Trust in the Lord with all your heart and lean not on your own understanding; in all your ways submit to him, and he will make your paths straight."
66. James 3:17
"But the wisdom that comes from heaven is first of all pure; then peace-loving, considerate, submissive, full of mercy and good fruit, impartial and sincere."
67. Proverbs 4:7
"The beginning of wisdom is this: Get wisdom. Though it cost all you have, get understanding."
68. Colossians 2:2-3
"My goal is that they may be encouraged in heart and united in love, so that they may have the full riches of complete understanding, in order that they may know the mystery of God, namely, Christ, in whom are hidden all the treasures of wisdom and knowledge."
69. 1 Kings 3:9
"So give your servant a discerning heart to govern your people and to distinguish between right and wrong. For who is able to govern this great people of yours?"
70. Proverbs 8:10-11
"Choose my instruction instead of silver, knowledge rather than choice gold, for wisdom is more precious than rubies, and nothing you desire can compare with her."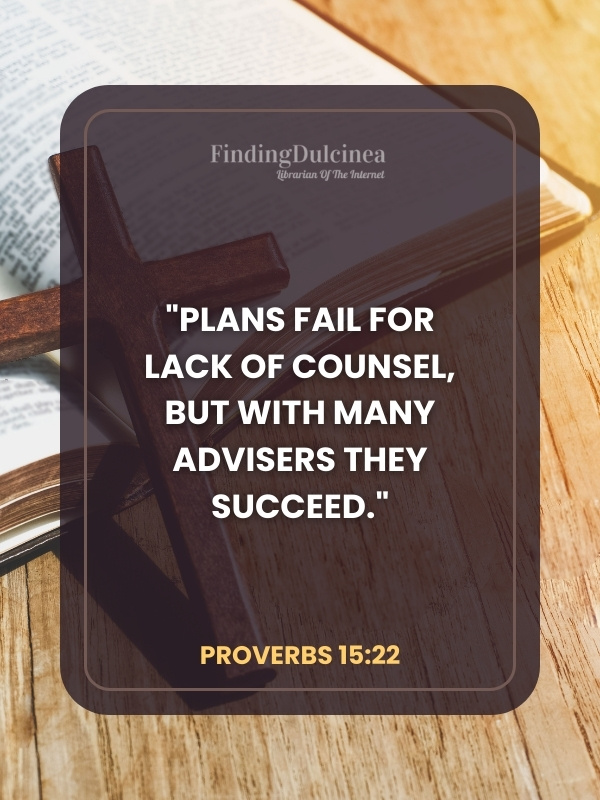 71. Proverbs 15:22
"Plans fail for lack of counsel, but with many advisers they succeed."
72. Isaiah 55:9
"As the heavens are higher than the earth, so are my ways higher than your ways and my thoughts than your thoughts."
73. Matthew 7:24
"Therefore everyone who hears these words of mine and puts them into practice is like a wise man who built his house on the rock."
74. Ephesians 5:15-17
"Be very careful, then, how you live—not as unwise but as wise, making the most of every opportunity because the days are evil. Therefore do not be foolish, but understand what the Lord's will is."
75. Proverbs 12:15
"The way of fools seems right to them, but the wise listen to advice."
76. Proverbs 18:15
"The heart of the discerning acquires knowledge, for the ears of the wise seek it out."
77. Proverbs 19:20
"Listen to advice and accept discipline, and at the end you will be counted among the wise."
78. Proverbs 13:10
"Where there is strife, there is pride, but wisdom is found in those who take advice."
79. Isaiah 41:10
"So do not fear, for I am with you; do not be dismayed, for I am your God. I will strengthen you and help you; I will uphold you with my righteous right hand."
80. John 16:33
"I have told you these things, so that in me you may have peace. In this world, you will have trouble. But take heart! I have overcome the world."
81. Ephesians 6:10-12
"Finally, be strong in the Lord and in his mighty power. Put on the full armor of God, so that you can take your stand against the devil's schemes. For our struggle is not against flesh and blood, but against the rulers, against the authorities, against the powers of this dark world, and against the spiritual forces of evil in the heavenly realms."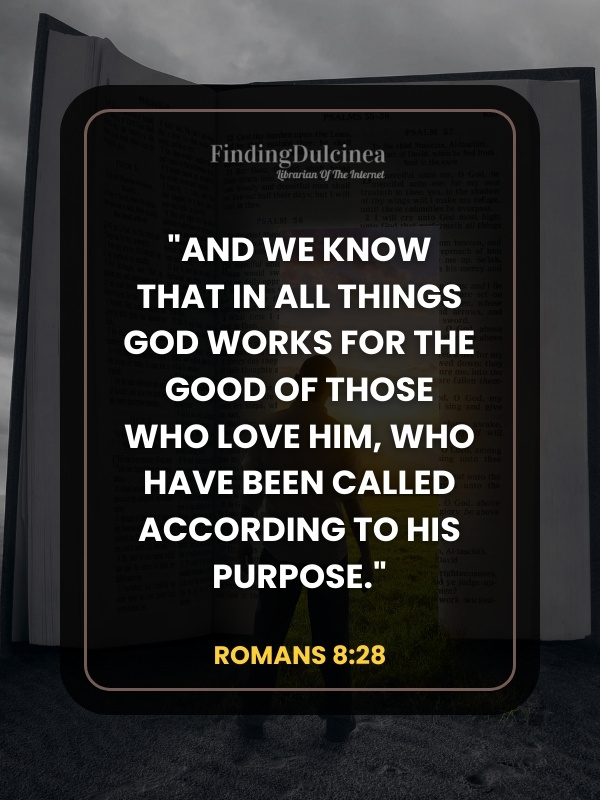 82. Romans 8:28
"And we know that in all things God works for the good of those who love him, who have been called according to his purpose."
83. Exodus 14:14
"The Lord will fight for you; you need only to be still."
84. 2 Corinthians 4:8-9
"We are hard-pressed on every side, but not crushed; perplexed, but not in despair; persecuted, but not abandoned; struck down, but not destroyed."
85. Psalm 46:1
"God is our refuge and strength, an ever-present help in trouble."
86. Philippians 4:6-7
"Do not be anxious about anything, but in every situation, by prayer and petition, with thanksgiving, present your requests to God. And the peace of God, which transcends all understanding, will guard your hearts and your minds in Christ Jesus."
87. 2 Timothy 1:7
"For the Spirit God gave us does not make us timid, but gives us power, love, and self-discipline."
88. 1 Corinthians 16:13
"Be on your guard; stand firm in the faith; be courageous; be strong."
89. Deuteronomy 31:8
"The Lord himself goes before you and will be with you; he will never leave you nor forsake you. Do not be afraid; do not be discouraged."
90. Psalm 23:4
"Even though I walk through the darkest valley, I will fear no evil, for you are with me; your rod and your staff, they comfort me."
91. Psalm 27:1
"The Lord is my light and my salvation—whom shall I fear? The Lord is the stronghold of my life—of whom shall I be afraid?"
92. Nehemiah 1:4
"When I heard these things, I sat down and wept. For some days I mourned and fasted and prayed before the God of heaven."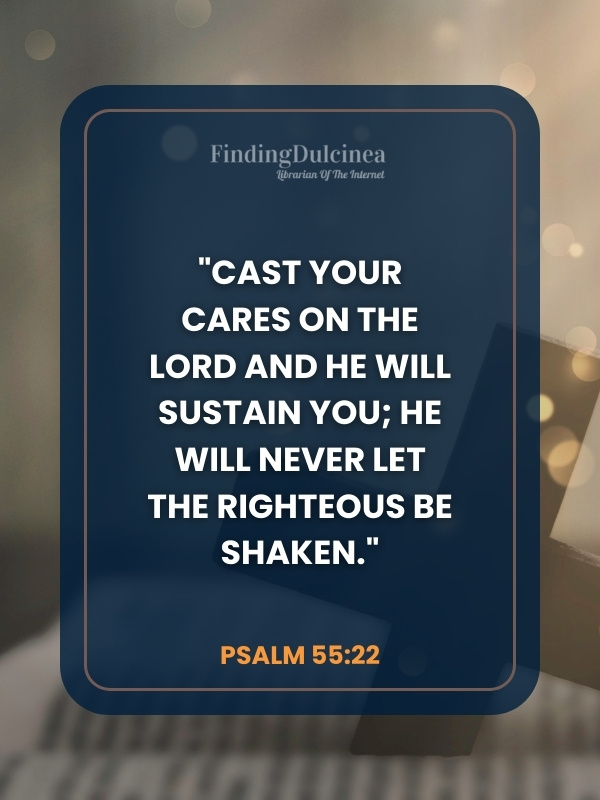 93. Psalm 55:22
"Cast your cares on the Lord and he will sustain you; he will never let the righteous be shaken."
94. Proverbs 3:5-6
"Trust in the Lord with all your heart and lean not on your own understanding; in all your ways submit to him, and he will make your paths straight."
95. Romans 5:3-4
"Not only so, but we also glory in our sufferings because we know that suffering produces perseverance; perseverance, character; and character, hope."
96. James 1:2-4
"Consider it pure joy, my brothers and sisters, whenever you face trials of many kinds because you know that the testing of your faith produces perseverance. Let perseverance finish its work so that you may be mature and complete, not lacking anything."
97. 2 Corinthians 1:3-4
"Praise be to the God and Father of our Lord Jesus Christ, the Father of compassion and the God of all comfort, who comforts us in all our troubles, so that we can comfort those in any trouble with the comfort we ourselves receive from God."
98. 20.Matthew 11:28-30
"Come to me, all you who are weary and burdened, and I will give you rest. Take my yoke upon you and learn from me, for I am gentle and humble in heart, and you will find rest for your souls. For my yoke is easy and my burden is light."
These Bible verses about leadership provide us with valuable wisdom, inspiration, guidance, and encouragement as we aspire to become better leaders in our own lives. It is important to note that leadership comes in many forms, and the wisdom found in these Scriptures can apply not only to those in traditional leadership roles but also to anyone seeking to lead their families, communities, or social circles.
As you reflect on these verses, I encourage you to take time to ponder and practice the essential qualities of leadership, such as humility, discernment, servanthood, courage, and wisdom. Ultimately, embracing these qualities and seeking guidance from God will enable you to become a more effective, ethical, and compassionate leader who genuinely makes a difference in the lives of those you lead.